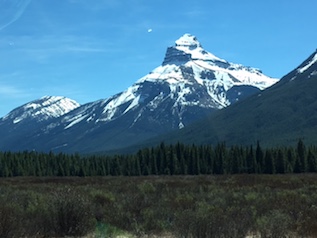 Hello. I was away traveling in the mountains last weekend during the Canadian May long weekend, which was truly gorgeous. We had spectacular sunny conditions for the annual three-day Golden Triangle bike ride and survived the long cycling routes just fine. It was really lovely out there. Along the way we saw deer, elk, and mountain goats but no bears this time; they were around the area according to all the Rangers' signs posted but must have gone out of sight into the woods by the time we passed by.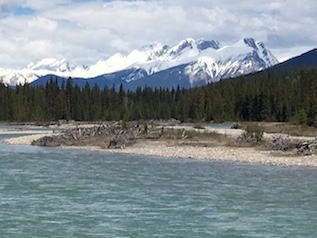 Now we are coming down from that Rocky Mountain high to fly to Michigan this U.S. Memorial Day weekend for our nephew's wedding. It should be quite exciting an event and fun to see other relatives there. Just a bit of a whirlwind. I wish all those in the U.S. a very happy Memorial weekend, and until next time I'll leave you with a review of a book I finished recently.
Oh yes, I was lucky to score a copy of Omar El Akkad's debut novel from the library, considering it's been in high demand after receiving some rave reviews recently in The New York Times among others. It's a dystopian novel about a family caught up in the days amid a second U.S. Civil War, of the North vs. the South, that takes place from 2074 to 2095. The war is caused largely by the prohibition of fossil fuels by the North, which the South doesn't want to ban.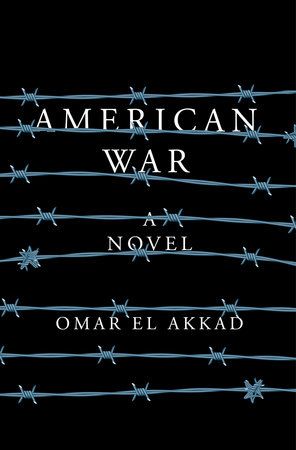 The story's main protagonist is Sarat Chestnut who is of mixed race and only 6 when the war breaks out; her father has been killed and her mother decides to flee their home in Louisiana and take her brother and her twin sister and her to a refugee camp farther north near Tennessee. There in Camp Patience among tents they live fenced in for six years with hundreds of others while trying to wait out the war. But eventually an atrocity occurs at the camp — that along with Sarat's befriending of a mysterious mentor — changes the paths of their lives and the country's forever.
Oh it's dark times indeed. The novel paints a picture in which the effects of climate change have wrecked havoc on the Earth, and northern drones, causing ruthless attacks, rule the skies. The barriers between the North and South feel like Korea's DMZ, and there's a Guantanamo Bay-like prison that Sarat must endure. Oddly enough there's not a lot of mention of racism or slavery in the book (like in the first Civil War), but once again Southerners appear to be on the losing end, poor and desperate.
The scene setting, daily grudge, and characters in it are quite vivid and perceptively drawn, though one might need to suspend his or her disbelief a bit over some of the fuel/geographic/science details of it. I actually thought as a dystopian novel, it would be more action-packed than it turned out to be. The story meanders and takes it own sweet time and has some slow pacing issues in the middle. I was starting to lose patience when luckily it picks up again near the end, building to its conclusion (as peace plans are brewing) then taking a turn and coming crashing back down. Ugh it wasn't an ending I was hoping for — the cycle of vengeance in it is quite rough. But did I really expect some light at the end of the tunnel?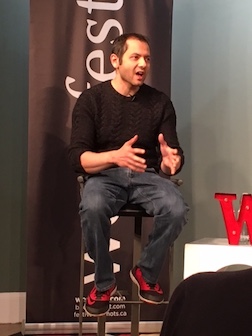 Ahh well, I guess it was pretty effective in a scary kind of way. It's a book that supposedly isn't meant to be so much about America or its past Civil War as it is about the "universal language of suffering" and what it does to people, so says the author, Omar El Akkad, who I coincidentally was able to see this week at a discussion about the book. He was in town giving a talk — right as I had finished the novel, which was perfect timing! See a photo of him at left at the event hosted by Wordfest.
Although it's a novel that appears to be timely in today's fractured world, it was started long before the days of Trump, and was in reaction to things the author witnessed in the Middle East while reporting there for the Globe and Mail. He told us he was born in Egypt and moved to Canada when he was 16. He now lives in Portland, Oregon, with his wife who teaches there.
The author admits he offers no answers with the book's story, and says the character of Sarat is not a person we have to sympathize with, or apologize for, or like, but he hopes readers will come to understand how she gets the way she is. In this way and others, it's certainly a thought-provoking novel … and rather provocative.
Although I probably liked Ben Winters's 2016 novel "Underground Airlines" — which imagines the Civil War never took place and slavery still exists —  a bit more, I'm glad to have read "American War" and to have heard the author speak about it. He was quite interesting and well-spoken. I just hope the path of his story is not the way the future turns out for any of us.
What about you — have you read "American War" or other dystopian novels like it — and if so, what did you think?