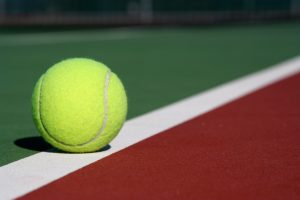 July has been busy. It seems I haven't been home much to blog, or visit blogs, so bear with me. We've had visitors to tour around since it's prime summertime, and a group of us here are gearing up to participate in the Canadian Tennis Nationals next month in Vancouver. It's a tournament by age group, so you compete against your own peers no matter which decade you're in. The local tennis men and ladies, like me, have been practicing and playing in small club tournaments to get ready. It's been quite a bit of tennis, both singles and doubles, but hopefully it'll pay off once we get there, or at least we'll have a ball trying.
Last night my husband and I went to see the movie "Dunkirk" on its opening weekend and what I can say is "Whoa" — there's some tremendous filmmaking and action in this war film based on the epic rescue in May and June 1940 to evacuate Allied soldiers — who were cut off and surrounded by German forces — from the beaches and harbor of Dunkirk in northern France.
Apparently writer and director Christopher Nolan used 6,000 extras on the shoot and as many as 62 ships on the water at once to re-create the miraculous evacuation of 338,000 Allied troops by a hastily assembled fleet of more than 800 boats. The film unfolds with little dialogue and jumps around in three perspectives of what's happening on land, air, and sea, which Nolan makes it feel like are all ongoing at once, even though the duration of these events varied: the film's action on land took a week, the action at sea a day and the air battles over an hour.
But oh my, you are in for an experience that seems to capture WWII down to the shaking in the boots, the dirt in the teeth and the blood and sacrifice required to save Western Europe. This isn't CGI crap, Nolan uses the real stuff: naval destroyers, spitfires, the works. By the end, I was slickened by the oil in the water and affected by the men's stories. One of the best parts is the small recreational boats that come to help the evacuation — in which actor Mark Rylance plays a father with two sons who steers his boat to pick up soldiers lost at sea. It's a touching and heroic effort that amazingly helped save many of the troops.
This is Nolan's first historical film — he's known for his Batman movies, though I liked his space flick "Interstellar" a bit more than those, but "Dunkirk" is far more exceptional. It brings to life the scope of the momentous rescue mission, so see it if you can.
As for novels this week, I'll leave you with two reviews of what I finished lately.
Before the Wind by Jim Lynch, 2016, 304 pages, Knopf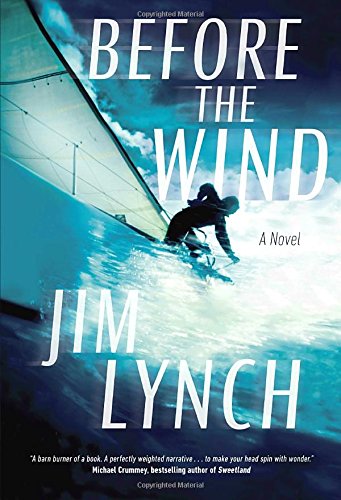 For all those who like sailing or boating and being on the water — and maybe even if you don't — then this novel is for you. It's about a crazy sailing family, the Johannssens, whose grandfather and father design and build sailboats out of Seattle and who've instilled in the three Johannssen kids the skills and drive to compete in sailboat racing after many years of endless practice. Their mother, too, is a math teacher and whiz who regales them with the science behind things on the boat and stories of Einstein's sailing days.
But years later the Johannssens, once a tight family, have gone their separate ways. The middle kid, Josh, now 31 and repairing boats at a marina south of Seattle, narrates the story of his life and his family's ups and downs. And all is not well. His siblings have flown the coop — his sister Ruby to Africa, and his brother Bernard is a fugitive somewhere at sea. His father's and grandfather's business is involved in a boat lawsuit and his mother seems to be going a bit batty. Josh too is languishing, his dating life is pretty pathetic though it provides quite comical fodder, and his job at the boatyard is filled with sailing dreamers and losers.
It's a family teetering under strains, but one that unexpectedly reunites when an important sailboat race brings them back together. What happens during the race — and the revelation that follows — will affect them all.
I enjoyed the characters of the story, especially the narrator's sister Ruby, who's the sailing star of the book. She's almost ethereal in her command of the wind and the boat, and perhaps no love for a sister has been done so well for a long while. Josh's narration too is filled with heart and a wry sense of humor, especially of the oddball characters at his boatyard of which there are plenty.
It's a story that has a lot of charm to it and really delves into the details of sailing and boats and their maintenance, which some might find to be too much for them, but I have a sailing father and spouse so I could relate to quite a bit of it. The novel felt almost like a love letter to all the ins and outs of sailing in general — and the dreamers who love it — which was sort of nice and I liked its location set in the Seattle/Puget Sound area. The only trouble I had with the novel is that some parts seemed a bit slow to me midway into it as well as the parts about Einstein's interest in sailing, which is talked about throughout the story. The focus too jumps around a bit, and it meanders on for quite awhile so I couldn't wait for the sailboat race action near the end. I needed action by then, and luckily it came through.
Despite some slowness for me, I found "Before the Wind" a poignant novel with pleasant charm and interesting characters. For those who like dysfunctional family tales or sailing novels, it's definitely worth a swirl. I'd be curious to pick up another of Jim Lynch's books sometime. Have you read him?
Since We Fell by Dennis Lehane, 2017, 419 pages, Eco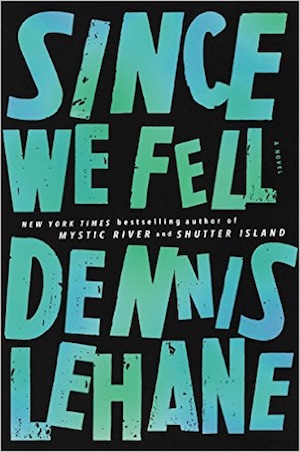 Where to begin with this one? I listened to it as an audiobook and it felt almost like two books to me. The first half of the novel, which I seemed quite into — is about a young girl (Rachel Childs) whose mother is a rather cold, self-help author who won't tell her who her father is, and thus the girl goes off on a search for him once her mother unexpectedly dies. (This part sort of reminded me of Jonathan Franzen's novel "Purity" with the flawed mother and the young female daughter on an epic search for her father.)
Though eventually that ends and Rachel makes her own way succeeding as a journalist in broadcast news, until one on-air meltdown while reporting in Haiti derails her. She loses her job, and becomes prone to panic attacks, too scared to leave her house. Still when she marries the ideal guy, she thinks her life is turning around, only to have suspicions creep in later that he may not be who he says he is. Is she being crazy? Or will she have the wherewithal to figure out what's going on?
It's sort of an enticing premise, having an unstable protagonist try to crack her life's case, but unfortunately I found too much of the second half of the book to be like an airport thriller that's too far-fetched or hard to believe. Dennis Lehane, obviously, is a great storyteller with such novels as "Mystic River," "Gone Baby Gone," and "Shutter Island," but this story leaves a lot of threads along the way and didn't seem to me up to snuff as those other books.
Truth be told, I didn't find Rachel Childs that likable or outstanding and I thought this just another summer thriller kind of book that felt a bit like nonsense in the end. Still, crazy fast-paced thrillers are sometimes what summer reading or listening is all about so I can't dismiss it fully. It is what it is.
How about you — have you read "Since We Fell" or "Before the Wind" or seen "Dunkirk" and if so, what did you think?