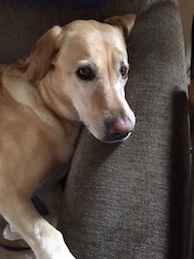 It appears the Masters golf tournament is on and baseball has started so it must be officially spring. Are the azaleas in bloom where you are? No buds are open here yet, but the yard is raked up and ready to hopefully turn green soon.
My book assistant, at left, duly noted that I gave both of the books I completed last week 3.5 stars on Goodreads. They might not have been complete home runs for me, but they were still worthwhile. I know others gave Mohsin Hamid's book 5 stars, so perhaps it was just me and my scattered brain last week that made it less so. But here are my reviews. …
Exit West by Mohsin Hamid, 2017, 240 pages, Riverhead Books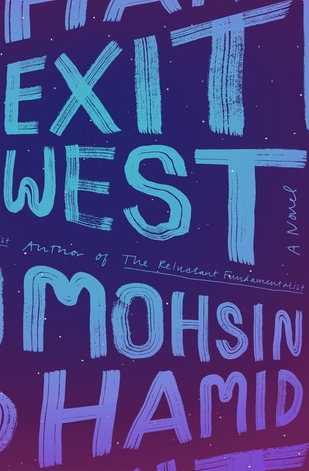 I've had this British-Pakistani author in my sights since his 2007 novel "The Reluctant Fundamentalist" gained much exposure and was shortlisted for the Man Booker Prize. I always supposed it would have made for a good book club kind of discussion book — being about a Pakistani immigrant in America in the wake of 9/11 — but then my group never selected it and I didn't get to it.
So I jumped to read Hamid's latest novel "Exit West," which is similarly timely with world events. It's a story that captures a world in flux, full of war and mass migrations that follows a young couple Saeed and Nadia, "who leave an unnamed country in the midst of a civil war and journey to Greece, England and eventually the United States in an effort to invent new lives for themselves," so writes Michiko Kakutani of the New York Times.
It's a story too that has a bit of magic to it as there are rumored to be magical doors, which Saeed and Nadia seek out, that are said to transport refugees to safer parts of the world. In interviews, the author says he used the device because he wasn't interested so much in the characters' physical migrations as he was in writing about the psychology of their exile, loss, and dislocation once they left their homeland. I found the doors played a minor role in the story and didn't disrupt from its overall picture, which I was glad about since I'm not usually a fan of magical realism and the like.
"Exit West" is a story I liked for its premise and observations about a world that reminded me of the civil war in Syria and of people fleeing unimaginable conditions. I found many of its sentences to be heartfelt, truthful, and beautifully rendered. I was curious too about Saeed and Nadia falling in love during such a time and what would become of their relationship away from their homeland.
The only trouble was the storytelling in that regard felt a bit distant and lacking to me. I wanted to be more connected to the characters and the story as my mind wandered too much while reading the novel to other things. The interspersed segments it included on other refugees also failed to fully capture me. So alas, I felt the storytelling could've been more involved and better, but still I was glad to have read it. The novel paints a stark glimpse of people forced to leave their homelands, their alienation, and the ties they leave behind.
Noah's Compass by Anne Tyler, 2009, 277 pages, Knopf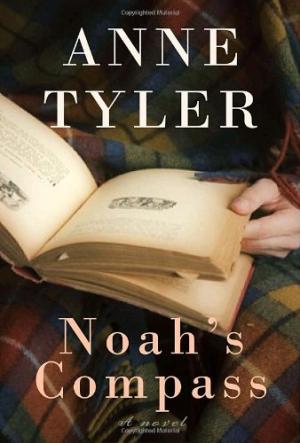 Meanwhile, I listened to this novel as an audiobook last week. It's been a long while since I picked up an Anne Tyler book — maybe not since the '80s and '90s when I read her novels "Dinner at the Homesick Restaurant" and "The Accidental Tourist." They were so good, but then for whatever reason I never read anymore of her books. Perhaps I thought they were too domestic or family-oriented stories that were all a bit quirky and similar. But boy, I think I've missed out — as this book reminds me — she is a master novelist and storyteller.
The funny thing is this novel (her 18th) is apparently considered to be one of her weakest according to her ardent fans and critics, but still I enjoyed it and found some parts funny and endearing. Tyler is said to be known for her middle-age male protagonists who are often sad sacks  that undergo violent encounters or midlife crises of some sort that ultimately change their lives with their families.
And this book is no exception. It's about 61-year-old Liam Pennywell, a divorced father of three daughters, who gets let go from his job as a 5th grade teacher and then is knocked unconscious from a burglar at his apartment. He doesn't remember a thing about the attack, but later drifts into a wayward time where he gets involved with a 38-year-old frumpy woman named Eunice, who leads him astray and ultimately makes him want to regain closer ties with his daughters and ex-wife.
The story's narration is not unlike that of a Kent Haruf book; I recently completed "Benediction" and this reminded me a bit of that — the everyday-ness of it, the concentration on domestic family members and matters, and the older male protagonist. But Tyler's tale throws in some amusing parts as well; at one point the mother (Bootsie) of the young burglar asks if Liam will meet the boy and be a character witness for her son at his trial, saying he's really a good kid despite knocking Liam unconscious and robbing various people's homes. It's a funny scene that's quite a hoot and made me shake my head in disbelief. It's probably one that only Anne Tyler could pull off so well.
It's true "Noah's Compass" is a story not without its faults, but I found it entertaining and endearing. I've heard Tyler's stories have been criticized for being sentimental, but luckily I didn't find this story to be overtly so. It's a book that actually makes me want to go back and pick up more of Tyler's stories in the future. Which one is your favorite?
And what about you — have you read either of these books or authors, and if so, what did you think?