This week was pretty productive as I finished one book, one audiobook, one TV mini-series, and watched two films. Surely I need "outlets" in these days of the new U.S. administration — ugh, but don't get me started on that. I will leave you with some brief reviews of what I finished. Note: the second TV mini series I have listed below is something my husband and I finished a few weeks ago so I thought I'd report on that now as well. I had hoped the two books included this week would be 5-star reads, considering all the high praise of them on Goodreads, but I found them more like 3-star reads for me. I liked them but I didn't overly love them. Though judging from Goodreads, I might be in the minority on this.
The Girl in Green by Derek B. Miller, 2017, 336 pages, Houghton Mifflin Harcourt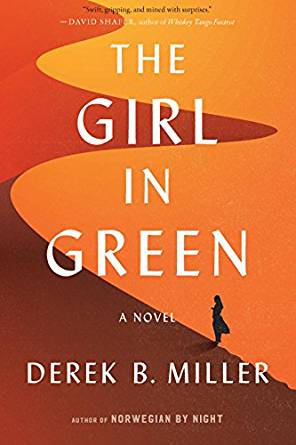 This novel is about two men who experience a brutal incident in 1991 during the Gulf War and then team up 22 years later on a mission to set things right and save a refugee girl in Iraq involved in an insurgent attack. One is a veteran British journalist who's home life is in trouble, and the other is an irreverent American soldier who does things his own way. With the help of U.N. aide workers, they set off on their mission into unfriendly lands, only to get into more trouble than they bargained for.
I really wanted to get caught up in this plot — as I know how big the refugee and immigrant crisis has been in places originating from Syria, Iraq, and Afghanistan, but the narrative and characters felt a bit distant to me, written in the third person, and I didn't get as fully gripped by their dilemmas as I had hoped. The conversations, too, between the characters are often jokey and irreverent, which I didn't always appreciate, but I liked how the novel gave a glimpse into the world of U.N. refugee workers on the front lines. They are real heroes no doubt. There's quite a few tangents in the book going on that defuse the situation and slow the plot a bit, but luckily it picks up towards the end — as the fate of the girl and the two men hang in the balance. Still I didn't find it to be a typical thriller.
In the acknowledgments at the back of the book, the author says he drew heavily for this on his PhD dissertation in which he studied the Iraqi civil war of 1991 in depth. It seemed to me a bit like that. There was information he seemed to want to impart. It also says the author worked on diplomatic missions and for the United Nations, and I wonder a bit if I would have liked this more as a memoir or nonfiction book than this story, which seemed a bit far-fetched and out of my full reach of the characters' turmoil. Hmm, it's just a thought.
The Unseen World by Liz Moore, 2016, 464 pages, W.W. Norton & Co., read for the audio by Lisa Flanagan
I listened to this as an audiobook, which took me on long walks all week, considering its length. The novel is about a young girl (Ada) who idolizes her single father, who's raising and home-schooling her. He's a scientist who runs a prestigious lab in Boston working to develop a program on artificial intelligence. But it's later in life when her father is suffering from Alzheimer's that Ada shockingly finds out that he is not really who he says he is. Thereafter she takes up trying to unravel her father's cryptic past, and the codes and files on his computer.
There are some nice storytelling elements in this novel, which spans Ada's entire life. I felt for her, as she's a lonely kid who's adopted by some neighbors after her father becomes ill. But I usually don't take to the genre of fiction in which characters aren't who they say they are to their loved ones (unless it's a spy story). A lot of novels involving secrets feel contrived to me or are not my thing, but I know they are popular. For these reasons, "The Unseen World" made a pretty decent audio, but I didn't feel the novel was fantastic. I also thought parts of it were over-written and it could have been edited for a tighter effect.
Still for those who like novels based on secrets or identity plots, I say go for it. Of those I've read, it reminded me of aspects of Kate Morton's "The Forgotten Garden," Suzanne Rindell's "The Other Typist," Jojo Moyes's "The Girl You Left Behind," and Sarah Waters's "The Paying Guests." It's sort of along these lines of stories, if you liked them.
The Night Manager — a British TV mini-series with 6 episodes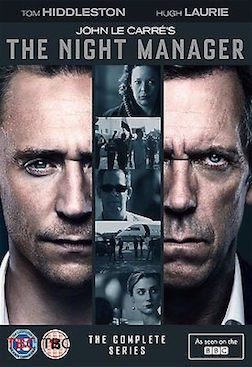 My husband and I just finished this series, which is based on John le Carre's 1993 novel, and we enjoyed it very much. It had pretty riveting suspense and action. It's about the night manager of a hotel in Cairo (played by Tom Hiddleston) who is recruited by British intelligence to infiltrate an arm dealer's inner circle.
Gosh Hugh Laurie is fantastic as the billionaire bad guy in this, and Hiddleston's character Jonathan Pine is cool as a cucumber undercover. No wonder this series won two Emmys and three Golden Globes. Some parts of it might have seemed a bit unrealistic but still it made for an entertaining spy drama. For those who were fans (like we were) of the British TV series "MI-5," which ran from 2002 to 2011, you'll definitely want to see this series as well.
Trapped — an Icelandic mystery TV mini-series with 10 episodes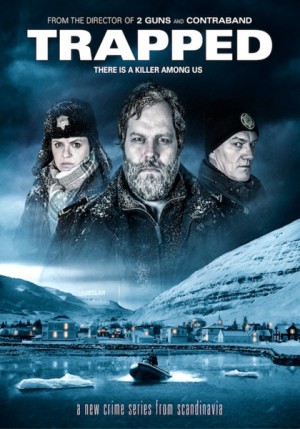 I think I found this show on Netflix by mistake but then we got caught up in it and there was no turning back. It's a whodunit murder mystery that takes place in a small town in Iceland where everyone knows everyone else. It has subtitles in English but that didn't distract me from the overall story, which is: When a human torso washes up on shore, the town's chief of police and his two junior officers must find out who's responsible. Is it a human trafficker from the ferry boat that recently arrived in town, or is it someone local with a dubious history? As the officers begin to investigate, they soon have their hands full with a number of strange incidents, including an avalanche, fire, and theft of the corpse.
This is an entertaining murder mystery and I loved its snowy, isolated setting. It's a little tricky keeping track of all the Icelandic names, but it was well worth it. Apparently, according to Wikipedia, "Trapped" is the most expensive TV series ever filmed in Iceland. Hmm, who knew.
Moonlight — a 2016 U.S. film, which has received 8 Oscar nominations
I finally got to see this at the theater. It's been so heavily hyped since its fall release that I didn't really know what to expect. While I thought it was an interesting, moving drama about a black boy who tries to find his way while growing up in a rough neighborhood in Miami, I didn't really think of it as a Best Picture film but feel free to disagree with me if you did.
It shows the boy, Chiron, in three stages of his life: adolescence, mid-teen, and young adult, which I thought were effective, especially during the teen years. You really feel for him as his mother is a drug addict and he's bullied to a pulp. I didn't realize before seeing "Moonlight" that it involves a gay relationship (duh I'm way behind on this), but I thought it was done well and realistically. In some ways, it's a subtle film, but one in which you can feel its strong undercurrents.
The Birth of a Nation — a 2016 U.S. film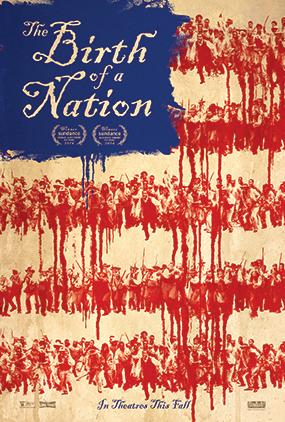 Lastly, I rented Nate Parker's film, which came out in October to much commotion. It's about the real life of Nat Turner, the literate slave and preacher, who lead an uprising in Virginia in 1831. The historical life of Nat Turner is quite fascinating and has been broached a number of times onscreen and in books. Turner's rebellion made quite an impact during its day, perhaps not unlike John Brown's raid on Harper's Ferry in 1859. It's referenced in a number of later works by escaped slaves.
The film is violent but isn't gratuitous considering the subject matter of slavery. I thought it was pretty powerful and worth watching. It made me want to know more about Turner's life and I would like to read Thomas Gray's 1831 pamphlet about him called "The Confessions of Nat Turner." While I didn't feel "The Birth of a Nation" was perhaps as stunning or as full a picture as the 2013 movie "12 Years a Slave" about Solomon Northup, I did think it was a valuable addition to the film canon of slave narratives.
What about you — have you read these books, or seen these TV shows or movies? And if so, what did you think?