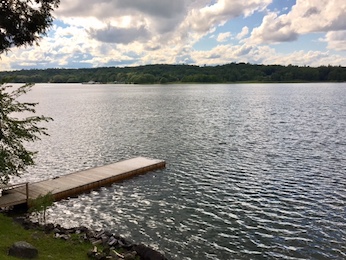 It's good to be home after a great trip and summer vacation back East. We spent a week cottaging (my new verb) on an island along the St. Lawrence River near the Thousand Islands. See the view from the photo at left. It's a beautiful area and river — where my husband grew up — that borders Canada and the U.S. and we visited both sides. Has anyone been to Gananoque, Ontario, or Clayton, N.Y., or Cape Vincent, N.Y.? Lovely little towns. We enjoyed bicycling the island, kayaking around, sunning and swimming (mostly my husband braved the waters while I read my book and enjoyed the views). It was a neat place to explore and we will think about it again maybe for next year.
We had a fair share of sun and rain there with a few big thunderstorms that crashed down rattling the small cottage. With all the water and humidity, it felt like a jungle out there covered with lush vegetation and trees — quite a change from out West where it's very dry and scorched at the moment. We returned home to Western Canada to a heat wave where things are brown, and fires are raging in B.C. (Down south my father said it was 112 where they live in California, yikes!). Thankfully we are getting a thunderstorm today and a reprieve from the heat. Meanwhile, I will leave you with a couple of reviews of novels I finished on the trip.
I'm not sure why I never read Jeannette Walls's memoir "The Glass Castle" when it came out in 2005. It was on the New York Times Best Seller List for more than five years. I think by then I might have been a bit wary or just plain scared of down-and-out memoirs about really tough childhoods. I had read Mary Karr's 1995 memoir "The Liar's Club" and Dorothy Allison's 1992 semi-autobiographical novel "Bastard Out of Carolina," both of which were pretty disturbing. There was also Tobias Wolff's 1989 memoir "This Boy's Life" and Kathryn Harrison's 1997 memoir "The Kiss," both of which I knew were pretty rough and I held off on reading. I was sort of in a recovery pause from those kinds of memoirs, but then I heard "The Glass Castle" was coming out as a movie in August, and I thought it was about time I read it and I wasn't disappointed.
In fact it surprised me just how powerful it was. I completely fell into Jeannette Walls's story on Page 1 and it kept me in its grips till the very end. For those unfamiliar with it, the memoir recounts the poverty-stricken upbringing Walls and her siblings faced at the hands of her dysfunctional parents. When she was young, the family moved around the West among small mining towns where her father hoped to find gold and strike it rich. They often lived in dirty shacks and didn't have enough to eat or clothes to wear. Eventually they inherited a place to live in Phoenix when Jeannette's grandmother died, but after some years they ran out of money and moved once again — this time to Jeannette's paternal grandparents' town in Welch, West Virginia.
It's in Welch that things become even more dicey for Jeannette and her siblings. Her alcoholic father spends their money at the bars and her mother puts her energies into doing artwork, rather than her off-and-on teaching jobs. All the while the family resides in a small rotting house with no indoor plumbing and a roof that leaks on them. Her father promises that he'll someday build his dream house, a glass castle on the property, which like all of his dreams never comes to fruition. Still Jeannette and her siblings persevere, leaving in their late teens for New York City, where they somehow make it, pursuing higher education and careers.
It's quite a story, made all the more crazy since their parents wind up following them to New York, eventually living in an abandoned building as squatters. Jeannette recounts one evening while in a taxi seeing her mother picking through a dumpster for food. Jeannette and her siblings had helped her parents to get off the streets on various occasions, eventually to no avail. It's this secret about Jeannette's life that eventually propels her to confront her shame and open up about her impoverished childhood.
It's a story that left me at times feeling quite exasperated and angered by her parents, who are truly neglectful of raising their kids and at times feeding them. I wanted to shake some sense into them along the way, yet surprisingly the kids make their way nonetheless and the family keeps together. The emotional bonds remain despite all the hardships, which I found surprising. It's not a ranting memoir by an embittered daughter but rather a coming clean story about one's past, in which the author remains in the end close to her parents.
As rough as it gets, the story luckily is not filled with a lot of physical abuse like some memoirs are about rough childhoods. I was thankful for that, and I thought Jeannette's writing was superb — candid and evocative — and not overly wrought. Just telling it like it was. If you haven't read it and get a chance, don't pass the book up; there's things to be learned from the memoir that I hope not to forget.
But judging by the movie's trailer, there's a chance the movie will not live up to the book for me. They make it seem sort of whimsical, as if the parents were just some unconventional, optimistic dreamers who wanted to challenge their gifted kids and have them learn the ropes a different way. While some of that may be true, from what I read in the book their grim poverty was real and the parents' neglect of responsibilities seemed abusive; it's a serious issue in many homes. I hope the movie treats it as such, though I agree the parents' characters were more nuanced than being just plain bad or good; they were a mix, which makes it all the more emotionally complex. Still I hope the filmmakers have been careful to match it to what happened in the book.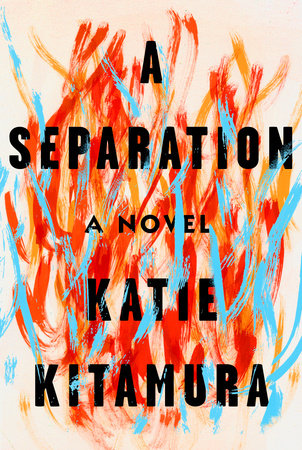 Also last week I finished the audiobook of Katie Kitamura's novel "A Separation," which came out in February. For some reason — maybe because of the book's marketing — the story was not what I expected but I liked it perhaps even more for that. It is actually much different than a "Gone Girl" type of thriller. Good grief, it's an injustice to lump it together into that genre — for both fans of that genre and others who avoided it for trying to be another "Gone Girl." For the record, "A Separation" is a slow-burn of a novel that's much more ponderous about its themes.
It's about a woman — a wife in London, whose mother-in-law sends her to Greece to find her son (the woman's husband) because she hasn't been able to get in contact with him and is worried. The husband, who's on work travels in Greece, and the wife have been married for five years, yet separated six months ago without telling friends and relatives, maybe with a chance that they'd work it out. But when the wife gets to his hotel in Greece, she finds he's not there but is known by the staff and is thought to be out doing research in the area, which has been charred earlier that summer by wildfires.
You get an ominous picture as the woman narrates the story of her travels to the hotel, her meetings with the staff there, her talks with her husband's parents, and her searches for her husband. There's not a large amount of action or dialogue in the story but it's more consumed by the woman's narration of her internal thoughts, feelings, and suspicions regarding her marriage, her husband's infidelities, which you learn about, and love and divorce.
Wow this woman rattles on and on about it all. It's quite a sad and tension-filled narration, sometimes I wanted her to stop and the story to just get on with where it was going, but most times I found her thoughts revealing and I couldn't turn away as small details about the marriage unfold as well as those about her husband and what happened to him. It's an internal kind of story no doubt, and in that way it might not appeal to everyone. Some might lose patience midway through and feel like chucking the novel against a wall, but I was kept intrigued and wondered admiringly who the author was and why I hadn't know of her earlier. I found "A Separation" to be a bit unusual and a potent small gem. I will watch for whatever Katie Kitamura puts out next. Apparently she's married to British novelist Hari Kunzru, for those who know his work.
What about you — have you read "A Separation" or "The Glass Castle," and if so, what did you think?