It's almost December — can you believe it? I hope everyone has finished as many books as they wanted to this year. I'm shooting for 60 books completed in 2017, but who knows if I will make it there. It depends how crazy this month gets. 'Tis the season of Christmas parties and events that can often consume a person. Meanwhile after a couple weeks of mild temps for these parts, most of the snow has melted away and there's no storms on the horizon — just blue skies and leftover ice on the ground. I've been trying my best not to wipeout while walking the dog, but it's dicey in places. As for books, I will leave you with two reviews of what I finished lately.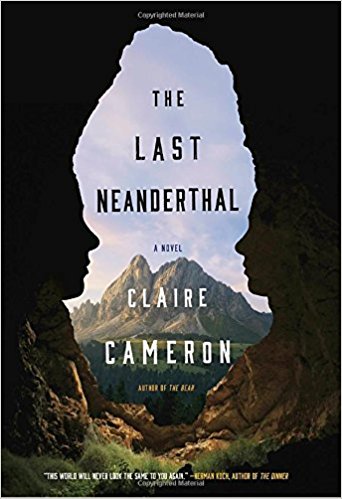 The first one is Canadian author Claire Cameron's novel "The Last Neanderthal," which alternates chapters between the stories of two female protagonists 40,000 years apart. One character is a Neanderthal girl who's part of a small depleted family that comes to interact with early Homo Sapiens, and the other is an archaeologist who unearths the girl's bones in the modern day. As the stories go on, parallels between the two through time and space become evident: both are navigating difficult pregnancies and both are brave and independent at times, also both contemplate the interactions between the species.
I enjoyed the story as it took me far away into a prehistoric world and gave me a different view of Neanderthals perhaps than I had remembered them from my school days. They probably weren't as vastly different from humans than we once thought. This novel makes you realize how close and similar Neanderthals were to early humans. In fact the author says she wrote the book after reading an article in 2010 about the Neanderthal genome that found that people of European and Asian descent have between 1 to 4 percent Neanderthal DNA in them. Wow we're all a little bit Neanderthal, which means the species overlapped during a portion of time on the planet and they interbred.
It's a fascinating scenario: just conjuring the interaction between the two similar beings some 40,000 years ago. The story touches a little bit about the hypothesis of why Neanderthals died out and humans didn't, but mostly it brings to light their similarities. And I'm not sure I fully recalled that like us Neanderthals: made and wore clothing, controlled fire, used tools, lived in shelters, hunted animals for food but also ate plants, and occasionally made ornamental objects. There's even some evidence they buried their dead and might have marked graves with offerings. But their physical features were different from ours: their skulls included a large middle part of the face with bigger noses and their bodies were shorter and stockier for living in colder environments.
Do you remember all this? Anyways, I was caught up in both segments of the story and wondered what would happen to the Neanderthal girl, and what the archaeologist from the modern day would find out, or whether she would lose control of her dig site and the upcoming exhibit of it due to her pregnancy.
There's points that I probably felt the story of the Neanderthal girl — and her interactions within her family and her cognition about the world around her — was perhaps total conjecture and maybe goes out on a limb beyond science, but I don't think you have to believe every smidge of it to be engaged by the possibility of the story and have your thoughts piqued about Neanderthals and their interaction with early Homo Sapiens. The author I think did quite a lot of research into it (apparently 5 years worth she recently told me), which was evident when I heard her speak about the book at our city's book festival back in October. It was enough for me to be taken away by her story to these beings in prehistoric times. The inner-archaeologist/paleontologist within me liked it quite a bit.
ps. I admit I haven't read any of Jean Auel's "Earth's Children" novels, which were so hugely popular back in the late 1970s and '80s. Like Cameron's book, they explore prehistoric times and the interactions between early modern humans and Neanderthals. From what I've heard, they seem like lively sagas with ongoing characters in the books. Apparently there's a huge market for all things prehistoric as Auel's books have sold more than 45 million copies worldwide, Oh my. Have you read any of hers? I'm not sure how they compare exactly to Cameron's book, but Auel's are apart of a six-part series. Surely, more findings and science about early humans have come to light since the 1980s, which Cameron has picked up on for her book "The Last Neanderthal."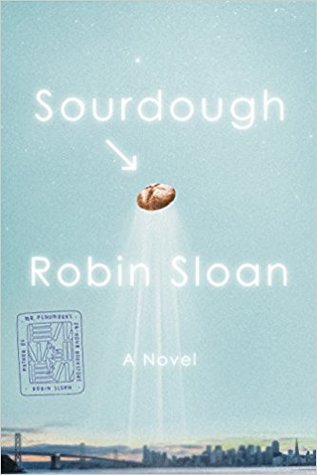 Next up, I finished the audiobook of Robin Sloan's second novel "Sourdough," which came out in September. Oh my, I don't even know how to explain this whimsical story, though I'll try to take a stab at it. It's about Lois Clary, a programmer at a robotics company in San Francisco, whose working life has left her exhausted and joyless. But then one day after work she orders some spicy soup and bread from a take-out place and she flips over how good it is. Night after night, she keeps ordering from the place, which two brothers own, but not long after they have to flee the country due to visa issues and end up entrusting her with their sourdough starter mixture.
Though Lois has never spent much time making food in her kitchen, she begins to bake using the mixture, creating pretty great sourdough loaves. She soon finds she excels at it and begins giving her loaves out to her co-workers who encourage her to try out for the local farmer's market. Instead she gets involved in an underground secret market that wants her to use her robotics knowledge to help with her sourdough creation. Oh it gets a bit crazy as it goes on.…
In other words, the story is sort of about a magical sourdough mixture that transforms this girl's life and leads her in various directions. It's a bit "out there," for sure, or far-fetching at times but also a bit of a hoot. At times I thought how did the author think this up?! It must be his ode to the taste of great bread and food or something. I found it pretty entertaining and light-ish fun and the narrator of the audio quite excellent.
What a kooky story it is, but now I'm looking to get a hold of the author's first novel "Mr. Penumbra's 24-Hour Bookstore," which seems to have some of the same magical and amusing sensibilities to it. I remember that it had been a bit of a hit when it came out in 2012 but somehow I missed it.
When I checked out the author's website I see that it says: "When not writing, I dork around with technology," which apparently means he's a bit of a programmer and has done experiments with machine learning, according to his site. He also makes olive oil from a leased grove not too far from where he lives in Oakland, Calif., so he's a bit of a renaissance man it sounds like.
I plan to keep an eye for what he writes next as I sort of like how his stories get a bit crazy and are out there. Perhaps he's a cross between authors Daniel Handler and Dave Eggers — two other Bay Area writers who he seems to share some things with. "Sourdough" feels a bit like Lemony Snicket infiltrating "The Circle," ha!
What about you — have you read any of these novels, and if so, what did you think?