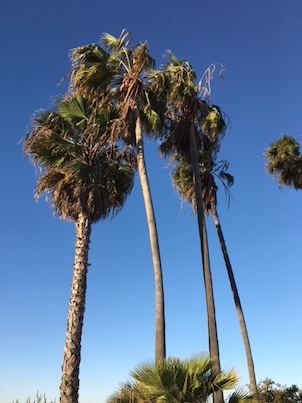 Happy Holidays to my blogging compatriots! We recently arrived in Southern California after spending a few hours sitting on a plane at a closed snowy Vancouver airport. It finally let up enough to make a mad dash (after de-icing the wings) for the border and hence we were on our way.
It's lovely to be back home for a week. At the moment there's sun, a brisk wind and a deep blue Pacific Ocean with little whitecaps across it. There's no smoke from the wildfires apparent today, but while flying over Santa Barbara County, we could see the "Thomas" fire in the back hills and I felt like throwing a pail of water out the window to help douse it. It's quite a troubling sight from the air. Godspeed to all the firefighters out there; may your hard work be over soon. Meanwhile I will leave you with a couple reviews of what I finished lately.
Judging by some of the literary novels in 2017, it seems that "child adoptions that go awry" was a popular topic. Most often the storylines involved biracial or immigrant kids who are fought over by their biological and adoptive parents — or where the kid doesn't feel like he/or she belongs to one side or the other. I'm thinking of such novels as: "Lucky Boy" by Shanthi Sekaran; "Everybody's Son" by Thrity Umrigar; "The Leavers" by Lisa Ko; and "Little Fires Everywhere" by Celeste Ng, among others. Oh my, and I keep being drawn to these novels. I just finished Ng's book and almost dived into Ko's book before thinking: 'you know, maybe I need a small break on this subject matter before plunging onward.' It's good stuff, but the themes get somewhat similar.
As for Celeste Ng's popular novel "Little Fires Everywhere" what more is there to say? It was named the 2017 Goodreads Choice Award Winner for Fiction and seems to have been blogged about everywhere. I guess what you need to know is that it's about an itinerant artist mother (Mia) and her 15-year-old daughter (Pearl) who become tenants of a rental house in Shaker Heights, Ohio, owned by an affluent couple, the Richardsons, who have four kids: Lexie, Moody, Trip and Izzy. Soon enough, the two different families become enmeshed with each other — the kids as friends and Mia as a cleaning lady at the Richardsons — and all seems peachy with them in the perfectly knit, manicured suburban town. That is until an adoption case in the community puts Mia and Mrs. Richardson on opposing sides, prompting Mrs. Richardson to dig into Mia's past and find out things that offend her sense of suburban order. Oh no, it's curtains then, with all hell breaking loose.
Once again Celeste Ng shows she's quite a good storyteller. I listened to the novel as an audiobook and felt it moved along swiftly and held my interest with its large cast of characters and its viewpoints into each of them. I liked too how its themes and characters became intertwined and how it explored issues of class and privilege and what constitutes being a mother from just about every angle. Amid this one novel, there's a character who's been a surrogate; another who's given a baby up for adoption; one who is unable to bear children, and another who undergoes having an abortion. It seems to run the gamut surrounding pregnancy and begs the questions: are the bonds of motherhood forged by blood or love? And are money and class the most important prerequisites, or culture and ethnicity?
While I liked the novel's questions, I thought some of its characters got a bit annoying — what a heap of busybodies and suburban stereotypes. The story seems steered to one family being more decent than the other — Mrs. Richardson in particular takes the brunt of being the bad one, but Mia as a mother doesn't seem so enlightened either. Each of the characters comes off rather tarnished in the story, which seems the purpose but made me want to strangle them at times. While I liked the details of the author's storytelling, sometimes I think it's a bit over-the-top too. There's not a lot of subtly to it; most often you know what she's steering you to think. Still I will continue to read her works — as there's enough good to outweigh my small qualms about it. I like Celeste Ng's sensibilities on Twitter too; she's on the right side of the resistance movement.
Next up I finished Jeffrey Eugenides's collection of short stories "Fresh Complaint." Granted I don't read a lot of short fiction collections, but I probably should. Eugenides is one such writer — as talented as he is —who can lure me to read whatever format he's writing in. "Fresh Complaint" includes 10 of his stories that were written over nearly 30 years. I liked how the collection seems to showcase his journey as a writer. The earliest story "Capricious Gardens" from 1988 — about two American female backpackers who spend the night at the home of a recently divorced Irishman — originates from Eugenides M.F.A. thesis and will make you think about having artichokes for dinner for a long time.
There's also two stories — "The Oracular Vulva," from 1999 and "Air Mail" from 1996 that include characters that later appeared in his novels. There's Dr. Peter Luce from "Middlesex" and Mitchell from "The Marriage Plot" who both meet unfortunate circumstances in these stories — one from doing field work in the Indonesian jungle, the other from dysentery on a Thai island.
Interestingly two stories from 2017 bookend the collection: the first being "Complainers" about a long friendship between two women who face challenges when the elder one gets dementia –which was likely influenced by the recent passing of the author's mother — and the last story titled "Fresh Complaint" about a young Indian-American woman's scheme to escape an arranged marriage by entrapping a married man and charging him with rape. This one I noticed on Goodreads didn't sit too well with readers of the #MeToo movement that's going on in the country. Was Eugenides choosing a side with this, or writing a story to provoke?  I don't really know.
Quite a few of his stories involve relationships that hit the skids, such as "Early Music" about a couple whose artistic ambitions flame out when they have money troubles; and "Find the Bad Guy," about a green-card marriage gone awry. But my favorite story in the collection is "Great Experiment" about a poet/editor in Chicago who contemplates defrauding his wealthy employer who's having him publish a pocket edition of de Tocqueville's Democracy in America. It's quite clever how it plays out and it includes a ripe ending — as does the story "Baster" about a woman who throws herself an Insemination Party only to have the goods switched without her knowing. Not all the stories are as great as these ones, but they were all pretty engaging to me. I was glad to have glimpsed the journey Eugenides has taken with his work over the years.
What about you — have you read either of these books, and if so, what did you think? Until next time, have a wonderful holiday season!