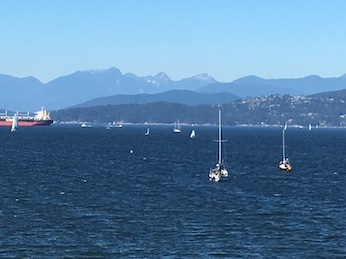 Here are a couple more photos taken from my week in Vancouver, B.C. It's a beautiful city, especially in the summertime, and I was able to get around town by bicycle. Like most of the Northwest, it's quite progressive and has some good bike lanes for commuting throughout the area. While there, I was lugging around in my backpack, along with my tennis gear, a library hardback copy of Jonathan Dee's novel "The Locals," which came out in August. It's a sprawling thing — and it sort of reminded me of last year when I brought a copy of Viet Thanh Nguyen's novel "The Sympathizer" with me to the tennis nationals, which seemed sort of crazy. Surely one could argue these are both important reads, but did I really need to challenge myself so — right there on such a fun and busy August trip?
What was I thinking? Obviously lighter fare would have been much more sensible, but sometimes you have to read things when you get them.
Anyways, "The Locals" is not a hard novel to read per se (there's some nice storytelling within it), it's just robust. Every page is filled to the brink with text without much in the way of breaks or dialogue. What is 400 pages felt a bit like 600 pages in reality. Still after a couple weeks, I came out the other side, feeling like I came off a significant mountain.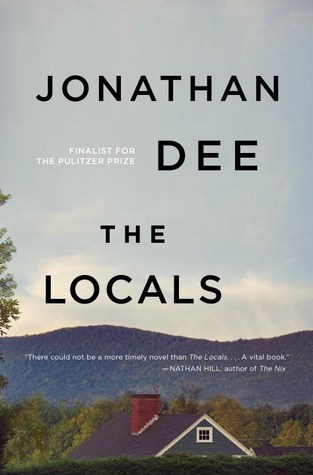 How to explain it? "The Locals" is a novel, set during the days right after 9/11 till after the housing bubble bursts in 2008-9, that tells the story of a small town of residents in the Berkshires of Massachusetts. There's quite a number of characters, maybe a dozen or so that Jonathan Dee seamlessly shifts in and out of the story detailing their lives and perspectives in the town. (This slice of life aspect of various characters in a small town reminded me a bit of Kent Haruf's novels, but then his stories are much shorter, and Dee's novel delves more into America's dramas with rising inequality, working class decline, and a new authoritarianism that takes hold of the town.)
The main characters include various members of the Firth family: Mark Firth being a contractor who's trying to re-coop his family's losses after being swindled by a financial advisor. He seems to have lost his wife Karen's trust in his financial feasibility and his daughter Haley is going through some growing pains as a teenager. Meanwhile Mark envies the wealthy weekenders whose second homes sit vacant during the winter.
Then along comes a rich NYC hedge fund manager who moves to town after 9/11 and hires Mark to fortify his mansion with security additions. The two represent different worlds that end up colliding in the novel, particularly when the ex-Wall Street manager becomes the town's first selectman and begins to implement changes that ultimately upset the town's applecart.
Other characters include Mark's sister Candace, a dissatisfied teacher who's had an affair with a parent of one of her students; and his troubled brother Gerry, recently fired, who Mark goes into business with — buying up foreclosed properties as real estate investments. These characters, along with Mark's wife, parents, and daughter, are just the tip of the iceberg in this story of a community that's headed for the economic skids.
I liked quite a bit about "The Locals," namely Dee's storytelling I thought was well done, and the atmosphere felt real; he also draws a revealing portrait of the various characters in the town (all of whom seem pretty unhappy). The only trouble I had with it was there's not a whole lot that happens in the story or much action (the most fluid part is at the novel's beginning during the week of Sept. 11, 2001, when a stranger befriends Mark while he's in New York City, uses him for dinner and a place to crash and then ends up stealing from his wallet). Ouch, it's a harsh unsettling way to experience 9/11 through the eyes of this criminal, yet in many ways it's the most grabbing part of the story.
Thereafter the novel shifts to Mark's hometown in the Berkshires where characters alternate in and out throughout the story, though I'm not sure if it really goes anywhere — other than eliciting the general malaise and economic struggles in the years after. I became a bit exhausted at points reading it, yet still I persevered, which in the end felt good. It's a different kind of 9/11 story for sure (more about the post years in a small town); still I'm glad to have perused its perspectives and characters.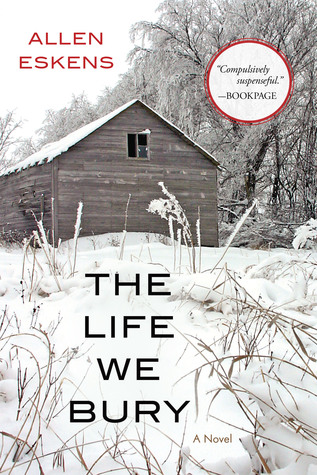 Also last week I finished the audiobook of Allen Eskens's 2014 debut novel "The Life We Bury," which turned out to be excellent. I didn't even know much about it, but I had been on the library wait list for it after Kathy at the blog Bermuda Onion had such positive things to say about it last year. And indeed "The Life We Bury" is a crime story that drew me in hook, line, and sinker. The narration, in particular, by the character Joe Talbert, who has a troubled family life and is putting himself through school at the University of Minnesota, is terrific. Good grief, I didn't really know if the audio was nonfiction or fiction for awhile — it just came out like it was a true story of what happened to this guy.
Though I eventually did clue in: it's a story, told by Joe, who goes to a retirement home for a class assignment to interview and write a brief biography of a person. There he meets Carl Iverson, a dying Vietnam vet and a convicted murderer, who's recently been paroled. As he begins to write Carl's story, Joe becomes taken with finding out whether Carl was indeed responsible for the rape and murder of a 14-year-old girl over 30 years ago. All the while, Joe must deal with the demands of his alcoholic mother and worry about his autistic brother who's under her care.
Oh it's good stuff, and the story keeps moving as Joe begins to learn things about Carl's original trial that don't seem to add up. He enlists the help of his skeptical college neighbor Lila Nash and the two make quite a team, following leads that eventually become dangerous. You won't know till the end what happens to Joe and whether Carl has been wrongly convicted.
I thought the narration, pacing, and characters were great in this, and it slightly reminded me of John Grisham's book "The Pelican Brief" because the protagonist/sleuth in that was also a college student who becomes endangered. Other than that I don't think there's too many similarities between the two. But I'm glad to have found the audio version of "The Life We Bury" because I think I might have liked it better (due to its narration) than if I had experienced it in print; go figure.
I'll be curious to see if Allen Esken's next crime novel "The Deep Dark Descending," which comes out in October, will be as good. Also the movie version of "The Life We Bury" is slated to come out in 2018, though no actors have been officially attached to it yet, but it's left readers of the book wondering about the possibilities. So far no one comes to my mind for the role of Joe right off the bat. I'll have to think on it.
What about you — have you read either of these books or authors — and if so, what did you think?