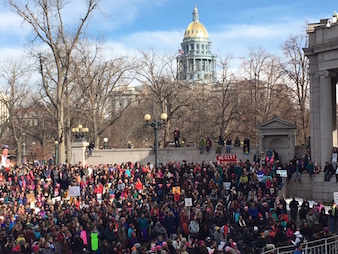 I flew from Canada to Denver on Friday evening to participate in the Women's March on Saturday, one of many marches around the country. I didn't want to miss it and I'm glad I didn't. It was a very unifying, uplifting, and nonviolent, peaceful experience in support of human rights, social justice, civil liberties, equality, the environment, and women's reproductive rights. I'm totally stoked by the response around the world and how many women, men, and families of all backgrounds participated. In Denver alone more than 100,000 people marched through the downtown streets, and across the world more than a million. I hope it will do some good in this political climate. I know the experience as positive as it was will stay with me for a long, long time, and I will continue to fight over the next four years at every turn for our rights and those of others!
Since I'm on the road at the moment, I will leave you with a few brief reviews of things I finished last week.
"The Hopefuls" by Jennifer Close, 2016, 310 pages, Knopf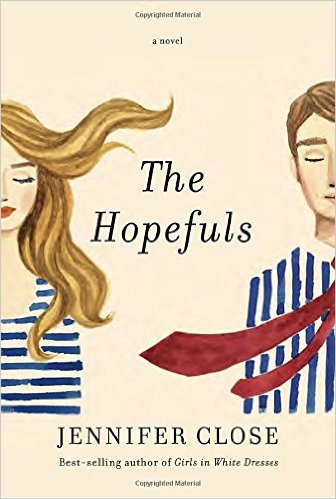 I always love a good Washington, D.C.-set, political novel and "The Hopefuls" has a lot of enticing things about it. It's about a young married couple (Beth and Matt) who move for Matt's new job in the Obama White House from N.Y. to D.C., where Beth has a lot of trouble adjusting. She deplores their new D.C. life, and all the political hacks and wannabes they go out with, but then eventually they meet another married couple they like — the charismatic White House staffer Jimmy and his wife Ashleigh from Texas, and the four become inseparable friends. Life is fun there for awhile, until Jimmy's career takes off and the four spend a year together working on Jimmy's campaign in Texas. Therein, things begin to crumble.
I kept waiting for the shoe to drop big time in this story, but it simmers along for quite awhile before a small reckoning occurs at the very end. There seems to be an inordinate amount of time spent on the characters' daily lives, and I wondered if something was ever going to happen. It's a story more about the relationship of the four characters and the jealousies, competition, and rumors among them.
I liked how it started off pretty funny, poking fun at things in D.C. I worked in the area for 15 years and had to laugh at some of the details the character Beth disdains about life there, where it's all about who you work for and what you're doing, and is filled with political nerds. The author did a good job making that life feel authentic. The second half of the novel is less humorous as the characters' lives take a turn and working on the campaign becomes exhaustive and claustrophobic. I liked parts of the novel but just wish the shoe or something had dropped earlier. It's not as light or breezy a read as I thought it was going to be.
"American Heiress: The Wild Saga of the Kidnapping, Crimes and Trial of Patty Hearst" by Jeffrey Toobin, 2016, 368 pages, Doubleday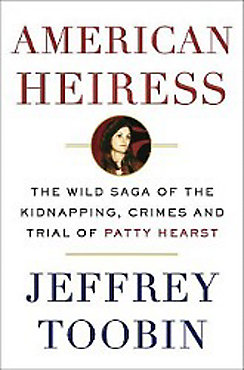 I listened to this as an audiobook and was pretty riveted to it the whole way. I gave it 5 stars on Goodreads. The book is packed to the gills with information about the incredible Patty Hearst saga and the context and various radical groups of the Bay Area during the 1970s. Holy smokes, I had no idea about some of the details of the crime spree and the Symbionese Liberation Army. I remember the trial of Patty Hearst being on the morning news when I was 10 years old, but I didn't realize all the places the S.L.A. hid out, or the shoot-out in Los Angeles, or the re-grouping on the farm in Pennsylvania, and how long it all lasted. But Toobin does a fantastic job of putting it all together — so many different people were involved — with some insightful analysis along the way. He leaves it open for you to draw your own conclusions about Hearst, though the evidence of her role is pretty overwhelming. I was amazed how she changed so dramatically from young student fiance to ardent revolutionary then back to a cop's wife within a relatively condensed time span. It spun my head around twice over. These were extraordinarily tense times, and Toobin brings it all back home.
"Loving" — This movie recounts the story of Richard and Mildred Loving, an interracial couple who were arrested in Virginia in 1958 for being married to one another, and whose case went all the way to the Supreme Court. It's an alarming and touching movie (Judy at the blog Keep the Wisdom was right of course. I could have used a Kleenex by the time the credits rolled). The actors, Ruth Nigga and Joel Edgerton are terrific and the director/writer Jeff Nichols, who's made such films as "Mud" and "Take Shelter," is always one to follow. I still want to find and watch the documentary about the Lovings, which this movie is based upon. They were quite an inspiring pair!
"Elle" — This French film is quite controversial. I had no idea before I saw it what I was in for. All I knew was that Isabelle Huppert won the Golden Globe for her performance in it, and that it had subtitles. But in reality it's about a businesswoman who plays a cat and mouse game trying to find the man who raped her. I found it disturbing and crazy (unreal), and I can't say I would recommend it. There's too many other better things to watch. My husband is still angry that I took him to see this. It's a bit hard to erase in your mind once you have.
What about you, have you read these books, or seen these movies, and if so, what did you think?