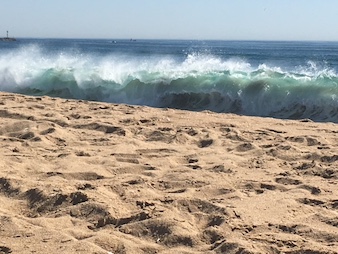 Greetings and Happy Halloween. I'll try to remember the candy for Tuesday evening. Last week, I was in Southern California visiting my parents — where I also got to see my brother and sister who gathered for a couple days. It was a scorcher there. We spent some time inland not too far from Palm Springs and also at the beach at the OC where it hit over 100 degrees. Yikes it's never that hot at the beach! Well at least since 1965, so confirmed the newspaper. I went swimming in the Pacific multiple times — which says a whole lot — as the water is usually freezing, but it felt great this time. I guess I hadn't been back during late October in a couple decades so I expected some autumn temps but apparently not lately. So much for fall. It was a bit confusing, though not all together unpleasant for a current resident of Canada.
While there, I finished Nigerian author Ayobami Adebayo's debut novel "Stay With Me." It's about Yejide and Akin — a young married couple in Nigeria who love each other very much but whose fertility issues end up driving their relationship to the brink. After a couple years, in which Yejide can't get pregnant, the husband's in-laws suggest a second wife for him, which apparently is the tradition there of having multiple wives. Though neither Yejide and Akin, who meet years before at university, really want this and conspire separately taking significant lengths for a solution to their pregnancy problems that ends up having devastating consequences.
Ohhh, there's a lot of grief in this story, which is told in alternating chapters by the husband and wife. If only they had talked their personal problems through, but no! Too much pride and tradition seems to stand in the way. At different times, I sympathized with both of the protagonists, but I also found fault with their decisions too. Their head-space seems to drive both to make some poor choices, which put me on edge about them. Despite this, I liked how the story, which is set against a backdrop of Nigeria's political upheavals, explores issues between tradition and modernity and masculinity and femininity, as well as self-identity. You get the feeling that these characters are pulling against the past in Nigeria while trying to step into a more modern and democratic time.
There's quite a bit to think on in this short novel, which rolls along at a steady pace. After finishing it, I didn't know just what I felt about it at first — for sure, I was relieved the ending was happier — but as time passed I've thought "Stay with Me" was potent, sad, thought-provoking and well done. It explores one couple's marriage a little like Lauren Groff's novel "Fates and Furies" did — combined with the backdrop and culture of Nigeria like in Chimamanda Ngozi Adichie's novel "Americanah." Both were quite effective. I'd like to read more novels from African authors, so this is a new start.
Also last week before I left for California, my husband and I saw the movie "The Glass Castle" at the $5 theater in town. Despite my misapprehensions that the movie would be bad based on the trailer and critics' reviews and that it wouldn't live up to the book, it ended up being quite good. So the movie proved me wrong big time! My husband and I had both read Jeannette Walls's 2005 best-selling memoir this summer and both liked the movie.
Although it's a rough, condensed version of her family's story, the movie still manages to hit some of the essence of her superb book. It cuts to the universality of the parent – child relationship, and doesn't go too easy on how terrible these particular parents were at times, though the mother seems noticeably a bit less of a problem than she appears in the book.
Brie Larson as Jeannette Walls and Woody Harrelson as her father end up being quite excellent. (Brie earns big kudos from me for taking on the movie adaptations of the book "Room" and now "Castle" in roles that surely weren't easy.) So despite all the negative hype about the movie, I'm glad I saw it. While it might not be as shattering or as great as the memoir is, it is still worth seeing as a heart-tugging drama about children and their parents. I especially liked how they show some of the real photos of the family and places at the end of the movie. Hooray for Jeannette.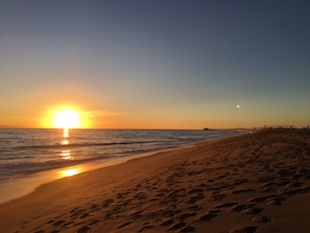 How about you — have you read "Stay With Me" or seen this movie — and if so, what did you think?
Till next time, I'll leave you with this parting shot of the sunset at the beach in California taken by my brother while I was there. Who knew — it's never too late in the season for beach reads.