Greetings, it's been a while. Last week we were on a road trip to Park City, Utah, to meet up with my sister and brother-in-law there. It took two days of driving 8 hours plus, but we made it even after a snowstorm caught up to us in central Montana. Wisely we stayed over in Butte. On the road we listened to a 2011 WWII history called "Inferno: the World at War 1939-1945" by British author Max Hastings. It's quite an epic one-volume history of the entire war (both politically and militarily) and paints the gruesome global toll of it all. We're still only a part of the way into it but had to take breaks from the bleakness it portrays. Still it's well done — both detailed and wide-ranging — and adds a lot of information that I hadn't known before. We hope to finish it for a trip we're taking  later in the year to a few WWII sites.
Meanwhile we took along our yellow Lab, Stella, so she could meet up with her half-sister, Sadie, who lives with my sister. The dogs had never met so it was fun to get them together and let them run alongside us as we took to the cross-country ski trails. They're quite different dogs but got along well, so it was nice. (See Sadie on the left, and Stella on the right). Park City is a cool town that I hadn't spent much time in before, but by happenstance the Sundance Film Festival, which showcases independent (and often lower budget) films, was going on while we were there — and by some miracle, considering the massive crowds, I got in off the wait list to see two movies. It turned out to be a bucket-list kind of experience.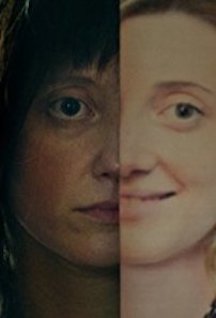 The first one was a drama-mystery film called "Nancy" about a woman who starts to believe she's the daughter of a married couple whose child went missing thirty years ago. Oh it's a bit strange and dark, the thirty-something girl (played by Andrea Riseborough) is quite down-and-out and you're not sure if she's up to tricks but she's also sad and you start pulling for her — as well as the couple that she seeks out to meet in hopes that she is their daughter.
It's an unsettling tale of two affected parties who come to help each other in unexpected ways. I was impressed by the script by filmmaker Christina Choe and by the performance by Andrea Riseborough as Nancy, which is quite eerie and tough. I last saw her in "Battle of the Sexes" and now after this, think she's quite a talent and rising star. It's a smaller-budget film but worth its sad weight.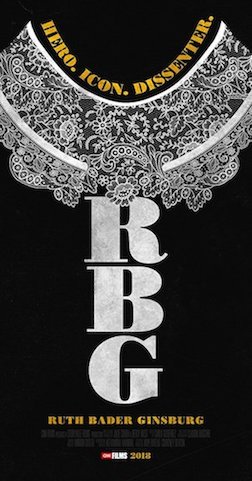 I also saw at Sundance the documentary "RBG" about the life and work of Supreme Court Justice Ruth Bader Ginsburg. Ohh it's quite excellent and emotional too. If you get a chance: run … do not walk to see it. The path Justice Ginsburg helped pave for women's rights, especially in the late 1960s and through the 1970s, is pretty extraordinary. Her personal, family life too is quite a story.
Which reminds me: I need to put the biography: "Notorious RBG: The Life and Time of Ruth Bader Ginsburg" on my list this year; I've heard it's good. It's no wonder RBG is capturing such a huge resurgence in popularity these days at 84. She's rocking. A two-time cancer survivor and an icon for human rights — she has a sly wit about her too. She laughs at her portrayal on Saturday Night Live by Kate McKinnon, which does seem pretty funny. And she works out with a trainer too, who says she's as tough as a cyborg. Is there anything, she can't do? Go RBG, Go.
Next up, I finished the audiobook of Willa Cather's 1913 novel "O Pioneers!." I had remembered Cather's book "My Antonia" fondly from my youth so I thought I would try this one out too. It's considered the first novel in Cather's prairie trilogy and is about a family of Swedish-American immigrants who struggle to make a life farming in Nebraska  at the beginning of the 20th century. Oh I wanted to like this one just as much, but for some reason it fell a bit short for me.
Granted, there's much to admire about Alexandra, the daughter who is given control of the farm once her father dies. She steers her three brothers into keeping the family farm despite the hardships they face and eventually they are able to make it prosperous. Alexandra is a seemingly strong character (perhaps ahead of her time) who postpones love to devote herself to making the farm a success. I liked too how Cather's writing about the land is quite evocative of the time and place — and life on the wind-swept prairie.
Yet at the same time the story comes off a bit plotless and meanders along sort of undramatically until … wham a violent dramatic event occurs at the end in which Alexandra sides with a jealous husband over her beloved brother and neighborhood friend. I guess the end confounded me a bit or seemed out of place, though it's likely I'm viewing it through today's lens instead of the societal mores of the times. Still it's unfair how Alexandra's ultimate turn at love and marriage contrasts with her brother's though perhaps that's the point. It reminded me slightly of Edith Wharton's "Ethan Frome," which came out just two years before this and I recently read, but that tragic story was stronger to me and put together better. But I haven't given up on Cather. I'll try out some of her others in the future and probably reread "My Antonia."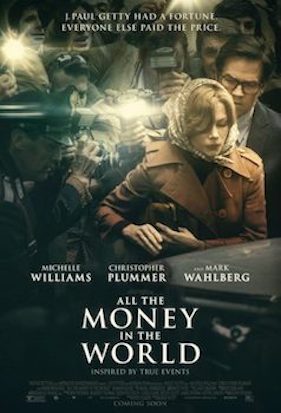 Lastly, when we got back, my husband and I saw the movie "All the Money in the World" based on the true story of the 1973 kidnapping of 16-year-old John Paul Getty III in Rome whose mother tried desperately to convince his oil tycoon grandfather to pay the ransom, which he scoffed at despite his vast wealth.
Oh it's quite a doozy of a story, played out quite expertly by Christopher Plummer as the grandfather and Michelle Williams as the mother. (I hear she's playing Janis Joplin soon.) You might not remember the case, but it's best to go into it blind so I won't say much more: other than the movie moves along at a good pace and the Getty family surely was dysfunctional. Someday I plan to get to the Getty art museum in Los Angeles and visit its Villa, which is a re-creation of the Villa of the Papyri from the Roman world. Till then this movie gave me a glimpse into the man behind it.
What about you — have you seen any of these films or been to Sundance, or read any of Willa Cather's — and if so what did you think?