We had brisk temps all week, but it now looks to be improving, and by Valentine's Day on Tuesday, it could reach 50F. How heartwarming! That will trigger a massive melt off of snow here.
I'm traveling this weekend and will be having a reunion of sorts, with a couple friends in the San Francisco area, which I'm excited about. So I will leave you with a few brief reviews of what I finished last week. Oh, and many of you know my trusty book assistant and walking partner by now, Stella, pictured at left. She was almost attacked by a coyote this week while we were walking in the hills. Luckily she got away from it after a scuffle and ran back to me. It was a scary situation — and I didn't know what would happen — but thankfully she is okay and in one piece. Gave me a slight heart attack at the time, but we have learned from this, I hope.
The Dry by Jane Harper: published by Flatiron Books, Jan. 2017, 320 pages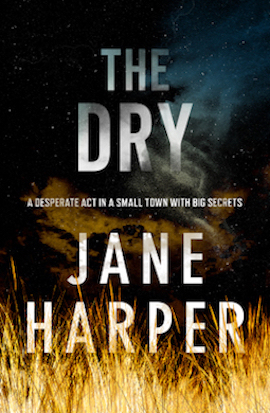 What it's about: (culled from the publisher's synopsis and me)
Federal agent Aaron Faulk returns to his small, struggling farming town in Australia for the first time in decades after the apparent murder-suicide of his best friend Luke and his family. Only things don't add up when Faulk begins poking around, and he begins to wonder if Luke's death is connected to something that happened twenty years ago when they were both teenagers. Set amid severe drought conditions, the novel follows Faulk and the local detective as they try to piece together what happened to Luke, his wife, and son.
My thoughts:
This is a slow burn of a murder mystery that despite the time it takes developing never seems to wan. I was interested in the story and the main character Falk's unraveling of it the whole way. It starts with the gruesome deaths of three family members at a farm house, which the police conclude was a murder-suicide, but was it? Falk begins to poke around, while his thoughts become infused with the days he spent there in his youth with his father and friends. He starts having flashbacks, which are intermingled and italicized frequently throughout the story. I know some readers didn't care for this, but it didn't put me off too much, as some interesting things, linked to the present case, are divulged amid the flashbacks; it's just the italics that  got a bit annoying.
But there's not really a break in the murder case until quite late in the novel. I guess I was expecting more of a "thriller" type pace to the story, though the developments in it kept me engaged. It has a great Australian setting too. I could feel the dryness and the farming town's struggles from drought, which are evocatively rendered in the novel. I thought I knew who the killer was long before the end, but it takes a turn and I was wrong about who it was. "The Dry" is well done by debut author Jane Harper, and it has an intriguing storyline. I gave it 4 stars on Goodreads.
Benediction by Kent Haruf — published by Knopf, Feb. 2013, 258 pages
This novel, which I listened to as an audiobook, is set in the same small town of Holt, Colorado, as were the author's previous novels "Plainsong" from 1999, and "Eventide" from 2004, but this one involves different characters. I had read "Plainsong" long ago and this is my second of Kent Haruf's books, though I'd like to eventually read them all. Unfortunately he passed away in 2014 and will be greatly missed. His last novel "Our Souls at Night," published in 2015, was well liked across the blogosphere and one I hope to get to.
What it's bout: (culled from the publisher's synopsis and me)
This novel is centered around Dad Lewis, a 77-year-old hardware store owner who's just been diagnosed with terminal cancer. He and wife Mary work to make his final days comfortable, while their daughter Lorraine returns home from Denver to help care for him. But Mary and Dad can't locate their estranged son Frank, to let him know, and his presence is sorely missed. The story also involves a young girl next door, who is being raised by her grandmother after the death of her mother, and the town's newly arrived minister, who faces disdain after a particular sermon doesn't go over well.
My Thoughts:
I felt for the dying Dad Lewis in this book and his family, friends, and the community of Holt. He is a codger and sort of a grump, but it seems to be because of his life and how he grew up. As he comes to grips with his diagnosis, you sense the realizations he's going through and his regrets in life — why he wasn't a more loving person, particularly to his children, neighbors, and employees.
"Benediction" is a story about life and death, people's regrets, and the ties that bind us. Although it's a quiet and relatively simple story (and may not be for everyone), I got caught up in its cast of characters, who seem very real and are all going through different things and emotions. Kent Haruf is a master of writing about small towns, families, and communities— and seemingly can do it perhaps better than anyone else. I'm slightly reminded of author Alice Munro, who's books are often filled with similar kinds of towns and people. Also the small town feel of "Benediction" made me think a bit of Elizabeth Strout's "Olive Kitteridge," but perhaps it's less quirky than that. Listening to this story was another winner for me, and I gave it 4 stars on Goodreads.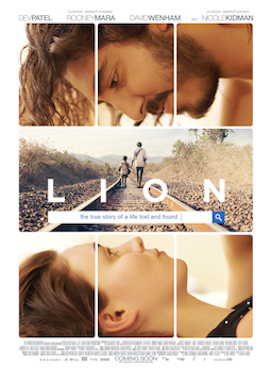 Lastly this week, I saw the movie "Lion," which is a Best Picture Academy Award nominee, and I must say it is quite excellent. I wonder if it surpasses "Manchester by the Sea" for me in terms of which one I liked better, though I know both are high on my list. "Lion" is based on a true story about a five-year-old Indian boy who gets lost from his village and winds up thousands of miles from home. Eventually he is adopted by an Australian couple and grows up there. Then 25 years later he sets off to find his biological Indian family.
This is a powerful movie and will pull at your heart strings along the way. It's an amazing story, and I actually have the book, which the movie is based on, that I was hoping to read first. But Oops! I got to the movie first. The cinematography is also pretty great, as well as the actors in it. Might "Lion" win Best Picture? Or is it not hyped enough as the others?
What about you — have you read these books are seen this movie — and if so, what did you think?