Hi, I've been out of the loop for awhile traveling. We had a great time touring around Southern California going on some bike rides and spending time in San Diego, the town of Julian, Borrego Springs, Redlands (my hometown), and Temecula. We got rained on a few days, which was unusual, but I know California could use all the moisture it can get, so I won't complain (too much).
I love the desert, which sort of feels like home to me, and we usually try to get out there once a year as a reprieve from the long Canadian winters.
It was beginning to bloom in Borrego Springs, and many areas including the canyons were quite green from all the rain in California this winter. Even the Salton Sea, the large dying lake out in the desert along the San Andreas Fault, had apparently risen a bit, according to the park ranger there.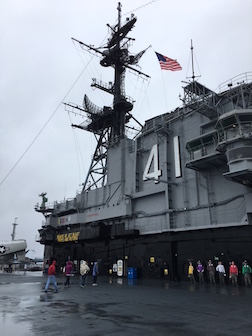 In San Diego, we stayed and toured around Coronado Island and visited the USS Midway Museum — the huge aircraft carrier that operated for 47 years and saw action in the Vietnam War as well as serving as the Persian Gulf's flagship in 1991's Operation Desert Storm.
It's fascinating to tour the ship that was once a City on the Sea to a crew of more than 4,000. It was fully equipped with a dentist and doctor's office, a laundry department that handled 43,000 pounds of clothes a week, a Post Office, a brig, and six galleys that served 13,500 meals a day, oh my. In case you're wondering, the ship is more than three football field lengths long, but still could cruise at a speed of 33 knots or 38 mph — fast enough to water ski behind. Pretty incredible. I'm pleased I didn't get lost aboard.
Meanwhile on the trip I read Kristin Hannah's 2015 bestselling novel "The Nightingale." I'm aware I'm late to the party on this popular story about two French sisters in German Occupied France during WWII. You remember Isabelle, the resistance fighter based in Paris, and her sister Vianne at home in the countryside with her daughter, billeted with a German soldier. Both sisters (who are quite different from one another) do their best, trying to survive the war and end up helping others in the process. These are scary days indeed. There are grisly things that happen in their lives, make no mistake that this is a lightweight book in that regard.
I know the novel might be considered historical fiction-lite or historical romance, but it was an absorbing page-turner while on my trip. The reading level was pretty easy, YA level perhaps, and it flowed along at a speedy pace. I thought the storytelling was well done and I was caught up in the sisters keeping alive during the war. The story did not sag for me, despite being a good-sized saga. Apparently Isabelle is based on the real life story of 19-year-old Andree de Jongh, a Belgian woman who helped hundreds of Allied aviators escape by escorting many over the Pyrenees on foot. Like Isabelle, she too spent time at Ravensbruck concentration camp. As you might have guessed "The Nightingale" is slated to be made into a movie, but who will star as the French sisters? — that is the question. Any picks for the actresses?
I've read about Occupied France in the recent novels by Sebastian Faulks, Anthony Doerr, and Irene Nemirovsky's "Suite Francaise," and "The Nightingale" captured and daunted me as well. On top of that, I'm listening this week to the audiobook of the true story of "The Zookeeper's Wife," set in Poland during WWII; how much more can I take of these crimes against humanity? If I survive this one, I'll look to get out of Occupied Europe for awhile in my reading.
While away, I also finished the audiobook of Lynsey Addario's 2015 memoir "It's What I Do: A Photographer's Life of Love and War." The author has photographed for the New York Times, the New York Times Magazine, and National Geographic among other publications, and has covered dangerous conflicts in Afghanistan, Iraq, Libya, Somalia, Sudan, and the Congo. You name it, she's been there. This memoir tells of her life becoming a photojournalist and of her days on the road in these far-flung places doing the job that she so obviously loves doing, and is driven to do.
I thought the book was told quite candidly, not as a photo expert but more about how her career unfolded as well as her fears, insecurities, and drive to be taken seriously in a male-dominated profession. It also delves into her personal life and how she struggled to try to find a balance between that and her work life. Her travels in this book are quite astounding, and the stories she tells of her photo assignments in dangerous places are pretty hairy; she gets injured and almost killed on a few occasions. Her memoir sheds light on journalists putting their lives on the line to do their jobs and unearth the truth.
I was quite amazed by how driven she is in the book (obviously she's greatly accomplished at what she does) and it reminded me of the journalists I worked with while at the Washington Post as a copy editor. We often talked to our co-workers while they were in the field over questions or updates on their stories. I remember those busy days and reading about the foreign conflicts Addario talks about.
Some of her choices I thought were pretty crazy, especially traveling to risky places while pregnant and shortly thereafter. It seemed quite nuts to me; for a couple decades it appears she never said No to an assignment, despite the risks or constant travel involved. Still she's made her life work for her. As I said, I listened to this as an audiobook, which I liked, but then I went to her website to see her photographs, which is a must to get the full experience of what she's spent her life doing. All in all, I thought it was a thought-provoking memoir, and especially would be liked by those who are interested in  journalism or conflict photography.
Lastly we rented two movies on the trip, "Patriots Day," which was a passable movie about the 2013 Boston Marathon bombing starring Mark Wahlberg among others. I judged it to be slightly above a TV kind of true-story movie, which follows the details of the case pretty closely. It grabs at the emotions pretty well but is not something I would normally go out of my way to see.
We also saw the pretty weird thriller "Nocturnal Animals" with Amy Adams and Jake Gyllenhaal about a wealthy art gallery owner who's haunted by her ex-husband's new novel. Have you seen this one? It starts off pretty scary and disturbing portraying the story from the novel then flashes back to their days together. I can't say much more about it without ruining the story, though it does have one of those huh? kind of endings. Some will like it, others will not. I'm still wondering if it really worked.
What about you, have you read these books or seen these movies — and if so what did you think?