Category Archives:
Daily Cue
My husband and I leave tomorrow for a bike trip along British Columbia's Sunshine Coast and Vancouver Island. Rain or shine, we will be out pedaling and seeing the sights. The ride is organized by our local bike club and 15 people will be cycling the route. Needless to say we are quite excited for this adventure.
It's definitely a neat part of the world. Have you ever been? Here's a map of some of the places we will be going.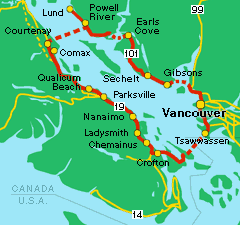 Although at this time of year "the Sunshine Coast" might get more rain than sunshine, we have plenty of rain gear to wear along the way. We're prepared for wet conditions as long as there's not a deluge of Noah's Ark proportions.
I figure if the landscape is green, mossy, and overcast, it'll likely be good reading weather at the end of each day. I'm bringing along a 2010 novel that my book club picked to discuss in May titled "Annabel" by Kathleen Winter.
She's a Canadian author, and the novel is about an intersex child who's raised as a male but whose shadow-self — he thinks of as Annabel — is never entirely extinguished. "Annabel" was shortlisted for both the Giller Prize and the Orange Prize for Fiction. So I think it'll be quite good.
Perhaps it will have similar themes to Jeffrey Eugenides's 2002 Pulitzer prize-winning novel "Middlesex," which I still need to read, especially since I enjoyed his 2011 novel "The Marriage Plot."
Anyways, I'll chat more once I get back. Until then, happy reading and happy adventures! Continue reading →