December greetings to everyone. It's that time of year when Best Of Lists are coming out for 2017. I won't put my favorites out until likely the week after Christmas, but I have been looking at a few of them that are out already. I especially like lists that narrow down the choices to the Top 10, which helps me focus on the best ones that I might still need to get to. If you're curious about Best Books of 2017 lists, here are some links:
NY Times' 10 Best Books of 2017
Washington Post's 10 Best Books of 2017
LA Times (19) Best Fiction of 2017
Publishers Weekly Top 10 Books of 2017
Kirkus Reviews 7 Best Literary Fiction of 2017
In terms of literary fiction, I think all of these lists have Jesym Ward's novel "Sing, Unburied, Sing," on them, which won this year's National Book Award, and nearly all of them have listed Naomi Alderman's novel "The Power," which I hope to get to soon. A few of them have listed Mohsin Hamid's novel "Exit West" and George Saunders's novel "Lincoln in the Bardo" — both of which I finished. Also kudos to Min Jin Lee's debut novel "Pachinko" for landing on the coveted NYT's Top 10 list — a nice surprise — as well as Hari Kunzru's novel "White Tears" for making a couple of the other lists. I would like to get to those and a few others. I think Goodreads puts out its Best Of list this week though sometimes it seems to be a bit more of a popularity contest, eh? Still I'll add the link when it's up.
As for what's coming out in December, there's not a whole lot of fiction that releases this time of year, but for the few that are, I'm most curious about British writer Fiona Mozley's novel "Elmet," which is just coming out in North America. It went all the way to being shortlisted for the Booker Prize as a debut novel, making the author a breakout star.
The story is about a family whose harmonious way of life in the remote woods in northern England is threatened when a local landowner shows up at their door and sets in motion a series of actions that can likely only end in violence. Uh-oh. I've read that it's a story that blends the pastoral and the macabre — a bit like a Grimms' Fairy Tale — so says the Mail on Sunday. We will see. Whatever the case, it sounds a bit different and worth checking out.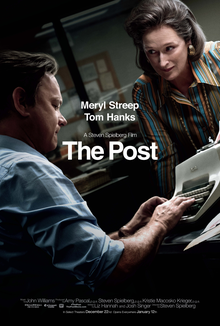 As for movie releases in December, it's the best time of year (along with those in November)! I'm looking at three that hopefully will be great. First off, director Steven Spielberg is back with "The Post," starring Meryl Streep as publisher Katharine Graham and Tom Hanks as editor Ben Bradlee, that follows the real life story about the release of the Pentagon Papers, which were classified documents on the Vietnam War.
I'm a fan of newspaper-themed movies, seeing all the recent ones including "Spotlight," "Zodiac" "Absence of Malice," "State of Play," "The Paper" and "All the President's Men." So there's no way I'm missing this one. I used to work at The Post as a copy editor and I remember hearing Mrs. Graham speak there on occasion and seeing Ben Bradlee in the halls of the building late in his life, as well as Woodward and Bernstein. Those were the days … when the hardcopy of a reputable newspaper was something to behold.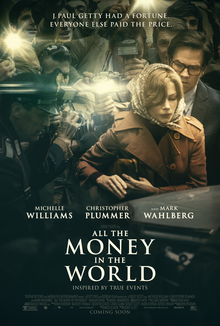 I'm also curious to see the Ridley Scott-directed film "All the Money in the World," about the real life story of the kidnapping of 16-year-old John Paul Getty III in 1973. Apparently his billionaire grandfather needed much convincing to pay his ransom, but not before the kidnappers cut off his grandson's ear. Michelle Williams looks to be excellent as the mother in this one.
It's also the movie in which parts of it had to be re-shot just last month after the sexual misconduct allegations came out about Kevin Spacey. Ridley Scott pulled the plug on Spacey as J. Paul Getty and put in Christopher Plummer instead, which cost millions to re-shoot fast enough to keep its Dec. 22 release date. Oh my, it's been down to the wire, but apparently Ridley has pulled it off just in time. We'll see.
Lastly for movies, I'm also game to see Guillermo del Toro's movie "The Shape of Water," starring Sally Hawkins and Michael Shannon. Set in 1962 during the Cold War era, it's about a lonely, mute woman, who along with her co-worker, discovers a secret classified experiment going on at the government lab where she works.
After watching the trailer, I'm reminded a bit of "The Creature from the Black Lagoon" — not that I really saw that — but there seems to be a creature like that in this one whom Sally Hawkin's character befriends. Oh, it's an otherworldly creature with a heart and soul — and a storyline like that can usually get to me. I really like the movie's poster too, ha. It might be worth seeing for the poster alone.
As for albums out this month, it's a no-brainer — I'll pick U2's newly released album "Songs of Experience," which apparently is intended to be a companion piece to the band's previous record "Songs of Innocence" from 2014.
I'm a long-time fan so whatever U2 puts out is a must-get for me. I enjoyed watching the group perform on Saturday Night Live this past weekend. It's very cool that they're back, after Bono was injured in a bad bicycle accident in Central Park in 2014. The band is awesome live, but I've only seen them once in concert, back in 1986 in Austin, Texas — where they sang "Pride (In the Name of Love)" with a lot of energy, Wow.
As for what else — it's only Christmas music from here on out for 2017. Enjoy.
What about you — which releases are looking forward to this month? And what Best Of list do you think is right on?