Ahhh February. The month of Valentine's Day and all that lovey-dovey. I hope you take advantage of it. Get out the chocolates. It's bitterly cold here right now, criminy: stay indoors! And it appears the Super Bowl is an all East Coast matchup this year, though if you're not into it, there's always the commercials to watch or the halftime show or more importantly the Puppy Bowl. Hooray, go puppies! Will you be watching the Game?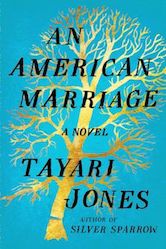 Meanwhile I've been looking at what's releasing this month and there's quite a few novels competing for my attention. I usually try to stick to five to highlight, but I'm fluctuating a bit on which ones to pick. Still I got to go with checking out Tayari Jones's new novel "An American Marriage," which is about an African-American married couple whose lives are torn apart when the husband is arrested and convicted of a crime he did not commit. Some of the novel is told in letters while the husband is in prison and the rest is about what happens to their marriage when he gets out. It's said to be a love story that explores class tensions as well as racial injustice in the contemporary South. It sounds powerful and one I'm up for. I haven't read this author before but she seems like one to watch and follow.
I'm also curious about Willy Vlautin's novel "Don't Skip Out on Me," which details the story of a young Nevada ranch hand who leaves his life of sheep herding to prove his worth as a professional boxer — first in Tucson, then in Mexico and then in the seedier sides of Las Vegas. It sounds like a gritty, but touching story about one man's search for identity and belonging. I haven't read Vlautin before but apparently he writes about those who are downtrodden and forgotten like no other. As Ann Pachett says: "The straightforward beauty of Vlautin's writing, and the tender care he shows his characters, turns a story of struggle into indispensable reading. I couldn't recommend it more highly." Hmm, count me in.
Next up, I like the looks of two debut novels: Moriel Rothman-Zecher's "Sadness Is a White Bird" and Jasmin Darznik's "Song of a Captive Bird." I don't know what it is exactly about bird titles, but both novels are receiving considerably high marks on Goodreads and praise elsewhere.
Zecher's book is about a young Israeli man who's preparing to serve in the Israeli army while also trying to reconcile his close relationship to two Palestinian twins. It's said to a be a passionate coming-of-age love-triangle narrative that captures the intense feelings on both sides of the conflict and offers insights, says author Geraldine Brooks, "into the holy and the broken place that is modern Israel."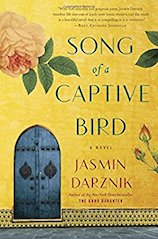 While Darznik's novel retells the real-life story of Iranian feminist, poet, and director Forugh Farrokhzad against the sweeping panorama of Iranian history: from the rise of the 1953 coup to martial law in 1979 and the start of revolution.
It's said to be a tale of a woman transcending the strictures of a patriarchal society and one that sounds fascinating. Forugh was apparently a poet who defied society's expectations and went on to find her voice and her destiny. Called a stunning and powerful debut, this hailed tribute to a  brave poet sounds like it could be just my cup of tea.
Lastly in books it's either Kristin Hannah's novel "The Great Alone," which is her latest since her very popular book "The Nightingale" in 2015, or Paul Howarth's debut novel "Only Killers and Thieves" about two brothers on a manhunt in 19th-century, colonial Australia.
Both stories sound rather violent based but are said to be compelling. Hannah's "Great Alone" includes a Vietnam vet who moves his family in 1974 to Alaska, starts to unravel, and becomes abusive to them, while Howarth's "Only Killers" is set against a time of brutality to Australia's indigenous people. I can only hope the protagonists of both tales escape their predicaments and set things right. They seem to be in a dicey fix, so check these out if you dare.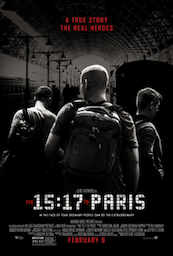 Meanwhile there doesn't seem to be a lot that's notable coming out for movies in February. But Clint Eastwood directs one called "The 15:17 to Paris" about the true story of the three Americans who stopped the terrorist attack on a train in France in 2015.
The story follows the three friends' lives from their childhood struggles through to becoming young adults, to the series of unlikely events leading up to the attack. The cool thing too is that the real guys get to play themselves in the movie. You don't get to see that very often unless it's a documentary, which this one is not. Though the movie hasn't been pre-screened yet so your bet is as good as mine as to  how decent it is.
Otherwise there's a couple of screwball comedies to get you through the winter blues. "Game Night" looks to be quite a crazy, slap-sticky movie about a group of friends whose game night turns into a murder mystery. It stars an amusing Jason Bateman and Rachel McAdams among others.
There's also the British black comedy "The Party," which might be more my cup of tea. It's about a politician who throws a party at her London flat to celebrate a job promotion and things don't exactly go as planned … when festering secrets surface that turn things into a domestic war zone. "The Party" has quite a caste especially if you're fans of Patricia Clarkson, Kristin Scott Thomas, and Emily Mortimer among others.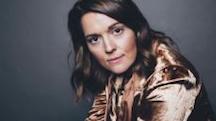 As for albums releasing in February, there's new ones by Justin Timberlake, and Australian singer/songwriter Vance Joy … as well as the Canadian band The Sheepdogs that I'll be checking out, but my pick for the month goes to Washington State singer-songwriter Brandi Carlile for her upcoming sixth studio album "By the Way, I Forgive You." She has quite a powerful voice and way with her songs.
What about you — which book, movie, or music releases this month are you most interested in?