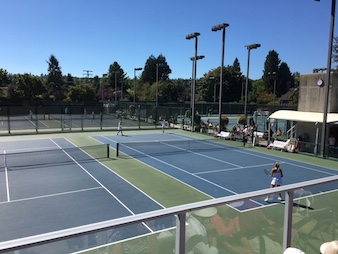 Hi all, I've recently returned from playing in the senior tennis nationals in Vancouver, B.C., which was a fun event that included many hard-fought battles from players all over the country. Even though I made it through just a couple rounds this year in the singles and doubles, I enjoyed some tough, close matches and spending time in that beautiful city. Hopefully I'll be back to play the tournament again next year, if my knees hold up, though the event will move to Montreal and clay courts in 2018.
As for Vancouver, it was wonderful. The water, sights, and weather couldn't have been better. They were all gorgeous days in the Northwest while I kept hearing all the dreadful news of flooding in Texas, holy smokes that's been unreal. They have a lot of bookstores in Vancouver too. Check out this one at left that I saw. I admit I'm not a huge fan of fantasy and sci-fi, but I have to give a thumbs up to White Dwarf Books for its displays and exuberance for the subject matter. It's a cool place with a catchy name. Check it out if you're ever in the area.
Meanwhile it's time to discuss what's coming out in September — wahoo! — one of the biggest release months of the year. I would be remiss if I didn't mention the major upcoming books, namely John le Carre's "A Legacy of Spies," which I'll give to my husband to read. He's a big fan of the spy master, who is 85 now and has completed with this one his 24th novel. So far his followers are liking it quite a bit according to Goodreads, so my husband will be eager to get his hands on a copy of it.
Also, I can't say I'm not curious to read some of Hillary Rodham Clinton's book "What Happened" about the 2016 election. Usually I wouldn't go near a politician's book or believe much of it, but the country blew it on election day (with a capital B) — just my own view — so I'm interested in getting an inside perspective on this major debacle of our times. Granted, I voted for her so I'm in that camp.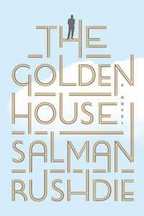 As for literary fiction, is anyone game for Salman Rushdie's new novel "The Golden House"? According to Publishers Weekly, it's set during the Obama years and is about a mysterious billionaire from overseas and his three adult sons who change their names and move to New York City in an attempt to reinvent themselves after tragedy. Hmm. It's supposed to be a bit reminiscent of "The Great Gatsby" and "The Bonfire of the Vanities," but is it? I can't recall the last time I read a Rushdie novel, so perhaps I will give this one a try.
Next up, I will likely check out Celeste Ng's second novel "Little Fires Everywhere," which explores the lives of two intertwined families in a suburb of Cleveland. Like her highly touted debut novel "Everything I Never Told You," this one seems to be packed with a lot of issues including — as Publishers Weekly says — "the complexities of adoption, surrogacy, abortion, privacy, and class, questioning all the while who earns … and who loses the right to be called a mother." Ouch. I liked aspects of her first novel, which I thought was quite grim, so I plan to read this one to see how it compares.
Also on my September list is Rene Denfeld's new novel "The Child Finder," about an investigator on a case to find a missing child in a remote forest in the Pacific Northwest. Admittedly I'm getting quite wary of the numerous missing persons kind of stories, but I was quite impressed with Denfeld's debut novel "The Enchanted" from 2014, so I want to follow up with this one, which I'm told is "intense" and I'm sure will have some of the same tragic, sad elements to it as her first novel did. Apparently the investigator / protagonist in this story must try to overcome her past traumas as she goes about solving the case of the missing child. Sound a bit alluring to you?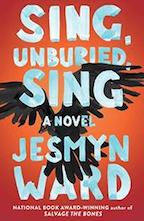 Last up in books, I'm curious to read Jesmyn Ward's new novel "Sing, Unburied, Sing," which tells the story of three generations of a struggling Mississippi family. Granted I don't know too much more about it than that, but BookPage says: it's an intricately layered story that "combines mystical elements with a brutal view of racial tensions in the modern-day American South." Oh my! I haven't tried Ward before, but she won the National Book Award in 2011 with "Salvage the Bones." So maybe I should start there first.
As for September movies, Stephen King fans will be ecstatic that the adaptation of his 1986 novel "IT" will finally be coming out. The trailer creeps me out, just seeing those evil clowns!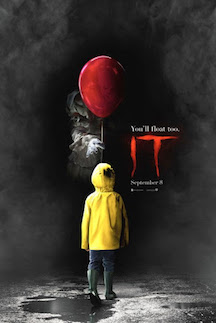 Which reminds me: I'm not sure if I ever fully recovered from seeing the film version of King's "Cujo" in 1983 or for that matter "Carrie" from 1976. I also saw King's "Misery" from 1990 and "Delores Claiborne" from 1995 — and maybe even his "Children of the Corn" from 1984. But the mastery and scariness of "The Shining" from 1980 stands out to me. So many quotable lines in it! I haven't decided if I will see "IT" on the big screen or just wait for the rental. What about you — which is your favorite adapted King movie and do you plan to view the twisted clowns?
As for other movies this month, there looks to be a bit of a weak one about the life of author J.D. Salinger called "Rebel in the Rye." Judging by the movie trailer, it just doesn't seem like Salinger to me and I'm sure the famous reclusive author would be rolling in his grave if he knew about it. So I think I'll stick with his books instead (his later life seemed a bit creepy to me, but I'm a fan of his fiction.) So far, the film versions of his life, haven't fully captured the elusive Salinger for me, though I still haven't seen the 2013 documentary about him.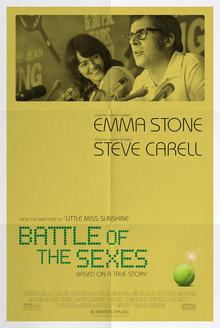 But I might be interested in seeing the upcoming sports film "Battle of the Sexes" based loosely on the 1973 tennis match between Billie Jean King and Bobby Riggs. That looks quite good to me (is it just because I'm a tennis fan, or is it more the feminist aspect of it?). Emma Stone plays Billie Jean King and Steve Carell plays Bobby Riggs — what more do you want? And were you watching the match in 1973? I was quite young, but I remember it on TV. Go King!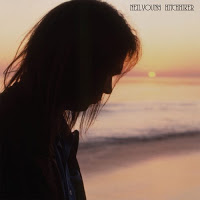 Lastly in albums for September, there's a number of news ones by such old rockers as: Neil Young, David Crosby, Van Morrison, Bruce Cockburn, Cat Stevens, Ringo Starr, and even a posthumous album by Gregg Allman. Quite a lineup! But it's a bit hard to say which among them — that I've heard bits of — that I liked best, or for that matter among the new albums by such acts as: The Killers, The Foo Fighters, The National, or even Tori Amos and Jack Johnson. But since Neil Young is releasing a long-lost acoustic album called "Hitchhiker" recorded in 1976, I'll go with that. I was once a big fan of his music.
What about you — which September books, movies, or music are looking forward to?