Below is a rundown of my stats and favorites from 2016. I had a good year (see photo of Lake Louise at left) and averaged a little over a book a week, which is the pace I feel suits me best. I was surprised that I completed the same amount of audiobooks as books read. Audios sure have gained in popularity and I enjoy listening to them on my frequent dog walks. I mixed in a fair amount of nonfiction too, which I hope to continue to do, though literary fiction is my favorite genre of all. There were a lot of great books this year so it was really hard picking which ones I liked best, but something gave the edge to Imbolo Mbue's novel "Behold the Dreamers" and Bruce Springsteen's autobiography "Born to Run," my favorite reads in fiction and nonfiction respectively for 2016.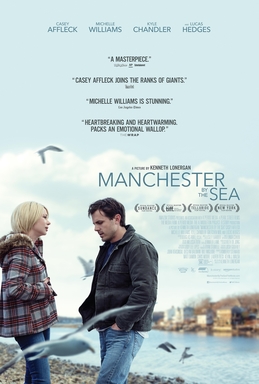 As for movies, I just saw "Manchester By the Sea," which is quite potent in an understated way and I thought deserving to go on top of my list (for a saddish drama, it is excellent), but there are still others I plan to see before the Academy Awards takes place on Feb. 27. See the list below. Still "Manchester By the Sea" is a strong contender and Casey Affleck gives an affecting performance as an uncle who is asked to become the guardian of his teenage nephew. I cannot say too much more about it without giving too much away, but it did leave me thinking about it for days after. The setting, too, of the Massachusetts seaside town is very much ingrained in the film. You can sense the feeling of the place from a mile away.
As for music, I realize that a majority of people nowadays don't listen to "albums" as they once did. Music streaming services such as Spotify among other things have changed the way people listen or compile music. Indeed I only bought five albums this year, which made up my list below.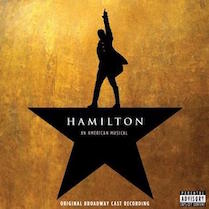 I guess I should feel remiss for not putting the "Hamilton" musical Broadway soundtrack on it, which a friend assures me all the kids she knows have memorized. I guess she's right, probably the biggest thing in the arts going on in 2016 was "Hamilton" on Broadway. If you didn't get into it, you missed it. And alas, I'm still in that category. Who knew this Founding Father would be all the rage in 2016. I still want to read the book by Ron Chernow, which my brother-in-law says, is the best biography he's ever read. All 731 pages of it, enjoy! And happy reading in 2017.
Books Completed: 54
Nonfiction: 10
Fiction: 44
Audiobooks: 27
Books Read: 27
Male Authors: 18
Female Authors: 36
Canadian authors: 4
British & duel citizen authors: 11
U.S. & duel citizen authors: 39
Favorite Nonfiction That I Read in 2016
"Born to Run" by Bruce Springsteen (2016)
"The Wright Brothers" by David McCullough (2015)
"Lab Girl" by Hope Jahren (2016)
"Wave" by Sonali Deraniyagala (2013)
"When Breath Becomes Air" by Paul Kalanithi (2016)
"Between the World and Me" by Ta-Nehisi Coates (2015)
"Savage Harvest: A Tale of Cannibals, Colonialism, and Michael Rockefeller's Tragic Quest for Primitive Art" by Carl Hoffman (2014)
"Shrill: Notes from a Loud Woman" by Lindy West (2016)
Favorite Fiction That I Read in 2016
"Behold the Dreamers" by Imbolo Mbue (2016)
"Underground Airlines" by Ben H. Winters (2016)
"The Tortilla Curtain" by T.C. Boyle (1995)
"The North Water" by Ian McGuire (2016)
"The Sympathizer" by Viet Thanh Nguyen (2015)
Other Novels I Enjoyed That Were Published in 2016
"Eligible" by Curtis Sittenfeld (2016)
"Siracusa" by Delia Ephron (2016)
"The Longest Night" by Andria Williams (2016)
"The Girls" by Emma Cline (2016)
"Shelter" by Jung Yun (2016)
"News From the World" by Paulette Jiles (2016)
"Sweet Lamb of Heaven" by Lydia Millet (2016)
"The Mothers" by Brit Bennett (2016)
Favorite Movies From 2016 So Far
"Manchester By the Sea"
"Deepwater Horizon"
"Sully"
"La La Land"
"Allied"
"Hell or High Water"
"The Light Between Oceans"
"Me Before You"
"Arrival"
"Our Kind of Traitor"
"Captain Fantastic"
Movies I Still Want to See From 2016
"Loving"
"Jackie"
"Moonlight"
"Gold"
"Silence"
"Billy Lynn's Long Halftime Walk"
"Fences"
"The Birth of a Nation"
Favorite Albums of 2016
The Lumineers — "Cleopatra"
Norah Jones — "Day Breaks"
The Avett Brothers — "True Sadness"
Vance Joy — "Dream Your Life Away"
Michael Kiwanuka — "Love & Hate"
What about you — how were your stats and what were your top favorites in 2016?