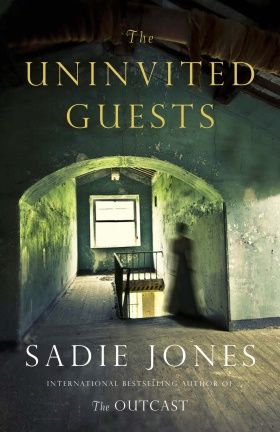 I was glad to fall into Sadie Jones's 2012 novel "The Uninvited Guests" for my book club read this month as it's a far cry from the mayhem of "American Sniper," which I had just read before it. Alas, I found "The Uninvited Guests" to be a good remedy and a quick escape from today's world.
It's set in the early years of the twentieth century at a grand old manor house in the English countryside. (Think Downton Abbey era.) The lady of the household, who's remarried after the death of her first husband, resides there with her new husband and three children, the oldest of whom (Emerald) is celebrating her twentieth birthday with a couple of friends on a rainy evening. But then a terrible train wreck nearby propels a group of survivors from the train's third class to seek shelter at the house, throwing the household into chaos and mischief. The uninvited guests turn Emerald's birthday upside down as well as her younger sister who decides it's time for a dubious undertaking and a mysterious male survivor from the train wreck who divulges a shocking secret from their mother's past. Shenanigans at the rickety old manor ensues with a touch of the supernatural thrown in.
What starts as a tale quite stuffy and amusing comes splattering down like the rooms and wall at the manor. The characters undergo a reckoning that although harsh seemingly does some good, shaking them from their lofty pedestals.
The writing reminded me of a Dickens tale and I found it quite enjoyable. "The Uninvited Guests" definitely makes me want to read other titles by the talented British author Sadie Jones in the future. Apparently Jones's first novel "The Outcast" from 2008 is coming out as a television drama on the BBC sometime this year. I likely will have to pick up that novel before then.
It made me wonder what other recent novels take place in big spooky houses and I'm thinking perhaps of Sarah Waters's novel "The Paying Guests" and Garth Stein's novel "A Sudden Light." Both of which are from last year and are ones I still have to read. Are there others? It seems spooky old houses are popular settings once again.
How about you have you read "The Uninvited Guests" or any others by Sadie Jones? And if so, what did you think?