I have been MIA lately on the blog, but that's not too unusual in the late stages of a busy summer. I'm still riveted to watching the Olympics, too. Tomorrow I'm flying to Ottawa to participate in the Senior Tennis Nationals, which divides competition into age groups. Hey, who are you calling senior?! I'm sure it will be fun with the friends I am going with.
While on the plane, I will continue on with reading Viet Thanh Nguyen's Pulitzer Prize-winning novel "The Sympathizer." I've reached Page 200, and I'm underlining sentences in it with a black pen. It reminds me of one of those war or foreign policy novels (such as "The Ugly American" and "Catch-22") that you read in university English or History class and have to come up with a profound and coherent essay discussing. It's a book that's pretty critical of the U.S. no doubt. So far it's interesting but not exactly a summer read, if you get my drift. (It makes me slightly wonder if my book club might shoot me over assigning it during the summer vacation season.) But I will see what happens in "The Sympathizer" …. and get back to you on it. The narrator is quite unusual — an atypical truthsayer of sorts.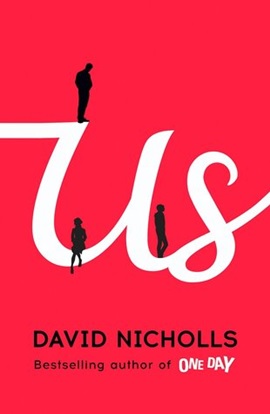 Meanwhile I lightened things up by finishing the audiobook of British author David Nicholls's 2014 novel "Us." This one seems to fit the category of a fun summer read, though I was surprised to see that it was actually long-listed for the Man Booker Prize a couple years back. Huh, are you kidding me?! Nicholls is definitely popular after his novel "One Day" was such a success in England. I haven't read it, but I did see bits of the movie of it on cable. It was a relationship kind of flick, with Anne Hathaway — you might recall, where she and a guy she knew check in with each other on the same date of each year to see where they are in their lives. Hmm, what a ploy …. hasn't something similar been done before?
On the other hand, Nicholls's novel "Us" is also a relationship-kind of novel about a wife (Connie) who tells her husband (Douglas) that she is thinking of leaving their marriage after 25 plus years. Still they decide to take one final European trip together along with their 17-year-old son, Albie. Douglas, who narrates the story, hopes that during the trip that he can change his wife's mind not to leave him, and that he can get closer to his son, too.
It's a novel whose story and characters didn't initially appeal to me — the scope of it is meandering at first — the wife Connie is an artist and Douglas is a nerdy scientist. They are opposites in various ways — she is passionate and a bit flaky and he is uptight and practical. Their teenage son is moody and problematic and doesn't see eye to eye with his dad. The story jumps back and forth between the present day and the days of when Douglas first met Connie. Yada yada yada. The characters can at times be annoying.
But somewhere during their family European vacation, which goes terribly awry, the story and characters grew on me as things became more humorous and endearing. Oh it's supposed to be Douglas's Grand Tour for his family of Paris, Venice, Amsterdam, Florence and Rome. But it doesn't exactly turn out that way. Oh the troubles of the modern family! Pretty soon Albie, the son, wants to pack it in and goes missing, the wife heads home, and Douglas is off on a trek across Europe to find wherever Albie went. So much for winning over his family.
"Us" is pretty amusing at times. I especially liked the wacky Kat Kilgore, the New Zealand busker whom they meet in Amsterdam and befriends Albie. She made me laugh. I also liked their misadventures and the European stops along the way. There's some good culture and descriptions in the book. I felt for Douglas, who desperately tries to make things right with those he loves. I probably would've edited the book a bit shorter; it's sort of an exhaustive read with these characters. You spend so much time traveling with them. And I can't say that I liked the ending too too much. It was a bit perplexing after all of that. But still on the whole I enjoyed "Us" and found it quite entertaining.
It's another novel that touches on marriage, which reminds me of Jeffrey Eugenides' novel "The Marriage Plot" and Lauren Groff's "Fates and Furies," both of which I found interesting. Hmm what other similar books am I missing?
How about you — have you read "Us" or other similarly themed books, and if so what did you think?