This coming week is the last week of July — yikes summer is going by quickly. If you live in a northern country there always seems to be a rush to get everything in before summer ends — as it can be a short season. Luckily the sun has been restored recently to these parts and the temps are comfortably in the 70s. On Sunday we will go to the mountains to bicycle from Banff to Lake Louise and back, which should be gorgeous. Photos to come later.
These days I'm in full summer mode, consuming thriller-type fiction. Currently I'm reading Jung Yun's debut novel "Shelter," which JoAnn over at Lakeside Musing reminded me about with her enthusiastic review. Miraculously, "Shelter" was no longer on hold at the library and I nabbed a copy. I decided not to know anything about it before opening its pages, which is often a fun way to go about suspense kinds of books. I'm also listening to the audiobook of Michael Koryta's 2014 novel "Those Who Wish Me Dead," which takes place in the Beartooth Mountains of Montana and Wyoming not too far from where my brother lives in Bozeman. This one is pretty scary so far. Reviews of both to come later.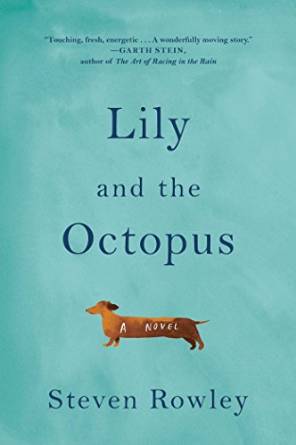 Meanwhile I finished Steven Rowley's debut novel "Lily and the Octopus," which came out in June. I had put this one on my list after the raves it got on Goodreads about how wonderful a story it is about a man and his aging dachshund. I'm a sucker for good dog stories — being a dog lover myself — and after Emma Cline's novel "The Girls" I was looking for something a bit heartwarming and humorous. What could go wrong? Sigh, apparently a bit. I guess I just didn't find that much to the story, or else it didn't work for me as well as it has for others.
"Lily and the Octopus" is about Ted Flask, a single gay man in L.A. who's recently ended a six-year relationship with his boyfriend when his beloved 12-year-old dog Lily gets an ominous growth on her head, which sends Ted into a tailspin crisis. Ted perceives Lily's growth as an octopus attached to her head, trying to hurt her. Seemingly in denial, he comes to share Lily's "octopus" with the vet, his therapist, and family and friends, while struggling to come to grips with the truth himself.
"Lily and the Octopus" deals with worthy, touching issues that many have gone through. I've been in that situation with my own beloved pets. My problem with the novel is that nearly the whole story follows the conceit of the octopus way beyond what you think it should, and the character of Ted seems juvenile to a fault. The story also seemed pretty thin and autobiographical. There were parts that were cute and humorous but not enough to carry the entire book from being just meh to me. How surprising, I thought I'd really like it. Maybe if it had been a memoir, the author Steven Rowley could have dug deeper and reached me more. What I thought after "Lily" was: did Rowley really pull in a nearly seven-figure book deal based on this? Holy smokes, I couldn't believe it.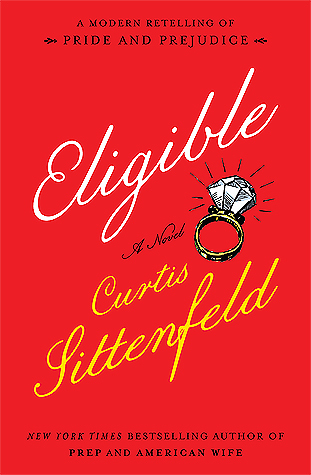 Luckily I did thoroughly enjoy the audiobook of Curtis Sittenfeld's novel "Eligible" (a modern retelling of "Pride and Prejudice"), which came out in April. Sittenfeld's book was published as part of "The Austen Project," which pairs six contemporary authors with Jane Austen's six complete works. I'm no expert or huge Austen buff, and I usually don't partake in such retellings or the hundreds of spin-offs on "Pride and Prejudice," but Sittenfeld's book sounded like good fun. I have a decent memory of P & P, though it's not like you really need it in order to enjoy "Eligible," but it just makes it a bit more interesting.
In Sittenfeld's version the five Bennet daughters regroup at their childhood home in Cincinnati after Mr. Bennet suffers a heart attack. Liz, a magazine writer in her late 30s, and Jane, a yoga instructor coming upon 40, have been living in New York, while their three sisters have been living off their parents at home. Mrs. Bennet of course wants to marry them off to well-to-do men before their biological clocks grind to a halt. Thereby she arranges for the family to attend a Fourth of July barbecue, where the handsome Chip Bingley, a recent contestant on the reality TV dating show Eligible, will be, along with his friend, neurosurgeon Fitzwilliam Darcy.
Oh it's Chip and Jane who pair up, and Liz and Darcy who get off on the wrong foot with each other. You recall how the story goes. It follows P & P pretty closely, but in a much more modern way. For one thing there's sex described in it and storylines on healthcare, home foreclosure, race, and gay and transgender issues. And don't be surprised by the swearing, and reality TV aspects in it. The Bennet world has surely changed since Austen first gave life to the characters in 1813. I can't say for sure whether hard-core Austen aficionados will like or dislike "Eligible." That is for them to say. I'm sure there will be some of both.
To me, Curtis Sittenfeld's version is wonderfully entertaining and astute. It's long (181, short chapters!), but I was right there with it, sucked into the various characters' lives, especially the main character Liz's, and laughing along the way. "Eligible" is funny and spoof-laced, but also perceptive and romantic too. It makes for a perfect summer read or audiobook as it's light and fun. Kudos to Cassandra Campbell for her excellent narration of the various characters on the audio. My only quibble or puzzlement with "Eligible" was perhaps the final chapter, which fizzles a bit dwelling on the unattached and not very likable sister Mary — when, by that time, all we want is more of Liz and Darcy. I guess Sittenfeld just couldn't resist adding to the final mix a comment on the worthiness of singledom to go with the oddball pairings.
So that's it for this week. What about you — have you read either novel "Lily and the Octopus" or "Eligible" and if so, what did you think? Or what is your favorite dog novel, or Austen spin-off?