Wow it's almost Thanksgiving and the start of the busy holiday season, my, how time flies! I wish everyone in the States a very happy turkey day with family and friends. In Canada I hope to re-celebrate the holiday with a smaller feast with my husband and dog since it's a regular work week here, blah. Where's the fun in that?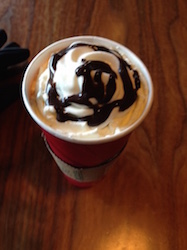 We are supposed to see some new snowflakes this week so I might have to splurge and get a hot cocoa like this decadent one I consumed recently. It was oh so good but gave me a headache from the intense sugar rush. How cold has it been where you are? Hopefully not as bad as the snowbelt of Buffalo. Those poor people are having to tunnel out of their houses!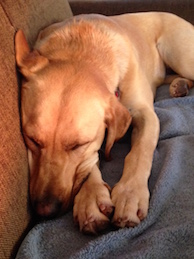 My two-year-old Lab, Stella, sure knows how to spend these wintry afternoons. She likes to run at the park in the early mornings and evenings but in the afternoons she dozes off into dreamland, preferably near the floor heater. I think she's dreaming sometimes about chasing bunnies and squirrels because her paws wiggle and she makes funny sounds.
This week I finished the 2007 nonfiction memoir "Kabul Beauty School: An American Woman Goes Behind the Veil" by Deborah Rodriguez & Kristin Ohlson, which was a book club read that our group discussed on Thursday. It's about a woman from Michigan, Deborah, who travels with an aid organization to Afghanistan in 2002 shortly after the Taliban has been driven out. There, she gets the idea to help set up a beauty school for Afghan women to train to become hairdressers and salon owners. The memoir chronicles Deborah's efforts to help set up the school during the four to five years she's there and the women she meets along the way, many of whom become her students. The book gives a glimpse into Kabul and Afghan society that many in the West don't know too much about.
I appreciated her efforts to try to help the Afghan women and the insights she provides into life there. I thought she was bold — and a bit foolish perhaps — to go to Kabul when the country was still so torn from war and when she still had two boys at home. Like others in my book group, I liked parts of the memoir, which is filled with stories of women's lives there, but also thought the book has some drawbacks. It's not written particularly well, and the woman, Deborah, makes some cultural blunders along the way that at times puts her Afghan women friends and students in awkward or dangerous situations. Also why she marries an Afghan man who she's barely just met there after going through two bad marriages in the States seems beyond perplexing. She's definitely got an impulsive, crazy, and emotional streak about her that a few in our group found pretty annoying.
Still I'm glad I read it for opening my eyes a bit more to life in Afghanistan, which I've also read about in Khaled Hosseini's novels. Anything that can help women to work or make money there, I'm definitely for. "Kabul Beauty School" certainly paints a bleak picture of women's lives in Kabul, but it also captures women's eagerness for change and gaining rights to make their own living and lives. You definitely root for them in this book, which counts as my nonfiction November read, which is a meme co-hosted by Kim over at the blog Sophicated Dorkiness. Check out all the nonfiction this month people are reading!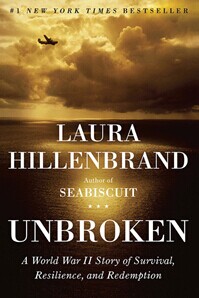 Meanwhile I picked up two novels from the library: "Life Drawing" by Robin Black and "The Girls of Corona del Mar" by Rufi Thorpe. I hope to race through both before consuming the nonfiction epic "Unbroken: World War II Story of Survival, Resilience, and Redemption" by Laura Hillenbrand, which is coming out as a movie at Christmas. Hmm … so much reading, so little time.
What about you — have you read any of these and what did you think? And what does your reading look like over the holidays?