For those in the U.S., Thanksgiving is nearly here so I'm wishing everyone a very happy turkey day in advance. My husband and I usually do not travel for Thanksgiving but this year we are going to San Francisco for a rare family get-together at my sister's. I think 15 relatives or so will be there, which is pretty exciting. What are you doing for Thanksgiving?
Meanwhile this week I finished Australian author Kate Grenville's 2005 novel "The Secret River," which is set during the early 1800s about an English bargeman, William Thornhill, who is deported (for stealing) along with his wife to the colony of New South Wales in what later would become Australia. After a few years, Thornhill's pardoned and settles with his family fifty miles beyond Sydney on the frontier — with dreams of owning his own farm land along the banks of the Hawkesbury River. The only problem is the land has long been the territory of an Aboriginal group that uses the land as well. A culture clash between the settlers and the natives ensues with the hostility gradually escalating until one final act ends up changing all of their lives forever.
What starts out as a pretty measured-paced novel builds to a crescendo toward the end. Grenville is quite a gifted storyteller and I felt in "The Secret River" she captured the sensibilities of the characters, the densely forested landscape along the river, and the settler-Aboriginal conflict very well. It was like I was on the edge of the Australian frontier in 1814 with circumstances and the heat about to boil over — the wife wanting to return to England, Thornhill wanting to stay, and the other settlers pushing to settle things with the natives once and for all. I credit Grenville for writing such a well-researched historical novel that flows so easily; she definitely seems to be a born storyteller. Apparently, according to Wikipedia, "The Secret River" was inspired by Grenville's interest in finding out about an ancestor of hers who settled along the Hawkesbury River, and it took her five years and twenty drafts to complete. Oh my, no wonder the novel turned out right.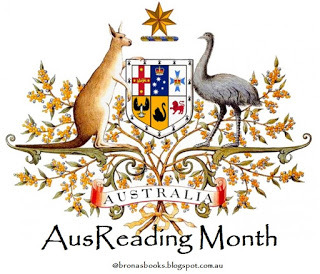 I read "The Secret River" as part of AusReadingMonth, which is being hosted by Brona at Brona's Books. She helped pick out this novel for me and I'm glad because it seemed right up my alley. I've read a lot of fiction by Australian author Tim Winton but never had read Grenville before. "The Secret River" is the first novel in a trilogy and I'm interested in reading the other two books about the Thornhill family. From the first one, I could visualize Australia so well even though I've never been there, but I sure would like to go. I meet quite a few Aussies here in Western Canada — as the people of the Commonwealth countries sure seem to keep together.
In other news last week, I finished the audiobook of Madeleine L'Engle's 1962 children's classic "A Wrinkle in Time." I had not remembered the fine details of the book from my youth so I returned to rectify that. I'm so glad I did. I really enjoyed listening to the story of Meg and her younger brother Charles Wallace (who can forget Charles?) as they journey along with schoolmate Calvin O'Keefe to find their missing father, a scientist who had been working on fifth dimensional time-travel before disappearing. I loved the trio of their helpers: Mrs. Whatsit, Mrs. Who, and Mrs. Which, and was appropriately intimidated by the dark planet of Camazotz and the disembodied brain that controls the place. Blech! Run Charles Wallace, Run! Luckily Meg seems to learn some valuable lessons about fighting conformity and evil along the way. I listened to the audiobook narrated by actress Hope Davis that came out with the 50th anniversary edition a few years ago. I highly recommend Hope's reading of "A Wrinkle in Time." It's good fun.
Also my Hub and I finally saw Steven Spielberg's Cold War film "Bridge of Spies" last week. It has all the historical intrigue and ingredients to be quite fascinating — and it is to a certain extent. It's about an American lawyer trying to get back a captured U.S. spy pilot in a prisoner exchange with a Soviet spy. The movie is good, but in some respects "Bridge of Spies" seems to come across a tad dry (I think from the script) despite how much tension and anxiety you would think such circumstances would involve during the Cold War. The movie is definitely worth going to — it's quite an interesting event in history. I just felt it could've had more intensity or pulse to it (instead there is a bit of Coen Brothers' humor in there). For goodness sakes, world annihilation was on the line.
Lastly in news, congratulations to last week's National Book Award winners: Adam Johnson for his short story collection "Fortune Smiles" and Ta-Nehisi Coates for his nonfiction book "Between the World and Me." I haven't read either author just yet, but I have their books on my radar. Both seem quite thought-provoking.
How about you — have you read any of these books mentioned above or seen the Spielberg movie — and if so, what did you think?