We're off to participate in the Golden Triangle bike ride this Canadian long weekend and will be unplugged from gadgets. I'll be bringing a paperback copy of Lily King's 2014 novel "Euphoria" with me to finish. So I plan to review that next week.
Meanwhile the hub and I finally saw the Helen Mirren, Ryan Reynolds movie "Woman in Gold" last night, which came out in April, and we both really enjoyed it. It's much better than all the previews made it seem, or the reviews for that matter. I was surprised that the Rotten Tomatoes' summary called it a "disappointingly dull treatment of a fascinating true story."
I didn't find the movie dull in the least, and was utterly absorbed by Maria Altmann's real life story. Most know by now, that the "Woman in Gold" is about an elderly Jewish woman living in Los Angeles who embarks in 2004, along with her inexperienced young lawyer, on a battle to reclaim her family's paintings seized by the Nazis during WWII. Among the paintings was Gustav Klimt's famous portrait of Adele Bloch-Bauer I, who was Maria's aunt and lived with her family while Maria was growing up in Austria.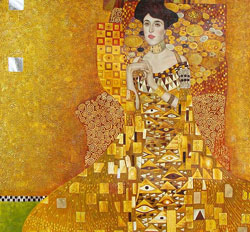 Helen Mirren, who plays Maria, is once again terrific in her role as is Ryan Reynolds as her nerdy lawyer, Randol Schoenberg. Both give dynamic performances in their quest of court cases to get the paintings back. Though what really makes the movie come to life are its frequent flashbacks to Maria's younger years with her aunt and family in Austria and what happens to them when Nazi Germany takes over the country in 1938. There's chilling and heartbreaking scenes that make the latter story of the paintings reclamation all the more significant.
It's truly a remarkable story about remembrance and justice for Holocaust victims and one that continues to play out for other Jewish refugees and heirs who are reclaiming possessions and art works from the war. Just today the New York Times reported a Matisse painting was returned to a descendant of Paul Rosenberg's, a leading art dealer of the times whose collection was looted by the Nazis. See the story here.
For more on Nazi Germany's plundering of Europe's great art works during WWII, I would also like to see the 2006 documentary "The Rape of Europa," which was adapted from the prize-winning 1994 book by Lynn H. Nicholas, and I've read is good. I have seen George Clooney's 2014 movie "The Monuments Men" and unfortunately that movie didn't seem half as good to me as "Woman in Gold."
What about you — have you seen the "Woman in Gold," or any films on that similar topic? And if so, what did you think?