May is now upon us — can you believe it? Lately I've been busy playing in a couple tennis tournaments, trading in an old car, and making plans to attend the memorial service of my friend back East and then continue on to the BookExpo America in Chicago. It could be a crazy trip. If you're going, I hope to see you there. Meanwhile this past week I've been reading British author Jonathan Lee's historical novel "High Dive," which is about the real-life assassination attempt by the IRA of British Prime Minister Margaret Thatcher and her cabinet in 1984 at the seaside town of Brighton, England. It's quite excellent so far. I also finished the audiobook of Maggie Shipstead's alluring 2014 novel "Astonish Me," which involves the world of professional dance and the defection of a Russian ballet star. Have you read either of these? I plan to review them this coming week.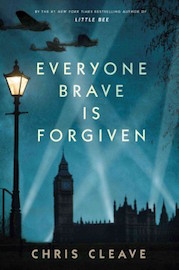 In fiction releases for May, quite a few acclaimed authors have new novels coming out, notably: Richard Russo, Don DeLillo, Louise Erdrich, and Julian Barnes among others. You might want to jump on these ASAP. But of course, I can't resist Chris Cleave's latest novel "Everyone Brave Is Forgiven," which is set during World War II and is apparently inspired by the real-life love letters between Cleave's grandparents. I know, I know, it's another WWII novel, and you likely have the same fatigue over that subject matter as I do, but I've read all of Cleave's novels including "Incendiary," "Little Bee," and "Gold" so I can't stop now. His books have held me in their clutches before.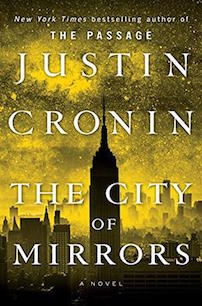 But nothing this month is more highly anticipated than Justin Cronin's post-apocalyptic novel "The City of Mirrors," which is the finale of his Passage trilogy. I gave the first two books to my husband and watched as he lapped them up like nobody's business. I will dish out the third and see his reaction. I have yet to get to these epic tomes and the survivors in the desert, but oh I will! I have heard so many good things about the books — it's just a matter of which deserted island — or alas, back deck — I will take them to — and when the heavens will part for my total immersion. I'll keep you posted.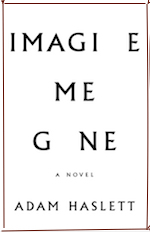 A few other novels that are piquing my interest this month are Adam Haslett's new one "Imagine Me Gone" about the ravages of mental illness on a family. Publisher's Weekly says "Haslett's latest is a sprawling, ambitious epic about a family bound not only by familial love, but by that sense of impending emergency that hovers around Michael, who has inherited his father John's abiding depression and anxiety. … In Michael, Haslett has created a most memorable character." Said to be both gut-wrenching and at times hilarious, the novel seems an excellent one worth exploring.
I also like the look of Karan Bajaj's novel "The Yoga of Max's Discontent" about a man who leaves his successful life behind as a Wall Street analyst and embarks on a spiritual journey that takes him to the farthest reaches of India. Part adventure story and part journey of transformation, this novel is receiving highly favorable reviews on Goodreads. I'm not sure if it strives to be a modern-day channeling of Hermann Hesse, but I'm open to yoga and stories of awakenings, so count me in for this.
Lastly in fiction this month, I'm curious about Jennifer Haigh's new novel "Heat and Light" — about the residents of a rural Pennsylvania town caught up in the fracking boom. I was impressed by Haigh's last novel "Faith" about the Catholic Church abuse scandal, which I read for book club, so I'm geared up for this one too. Haigh seems an author who presents various sides of an issue in powerful and thought-provoking ways. This one appears to be an environmental novel pertinent to today's national debate surrounding energy resources and drilling.
As for movies in May, I am not a big fan of summer blockbusters — it's true — but they are here! If you like all things Marvel then you will be happy about seeing "Captain America: Civil War" and "X-Men: Apocalypse" both in the same month. I'm guessing Captain America will win that box-office battle. There's also Disney's sequel to "Alice in Wonderland" — "Alice Through the Looking Glass" with returning stars Johnny Depp as the Mad Hatter and Mia Wasikowska as Alice. I like Mia as Alice. But what about the Jodie Foster-directed thriller "Money Monster" with Julia Roberts and George Clooney? I watched the trailer and it looks sort of didactic — so I'm a bit hesitant if it's worth stomaching. Though indeed George is in it.
I guess there's no May movie I'm dying to see, but the trailer of "The Lobster" looks a bit quirky and funny. It's a satire, set in a dystopian near future, in which single people, by law, are taken to a place where they are obliged to find a romantic partner in forty-five days or are transformed into beasts and sent off into the woods. Who thinks these things up? "The Lobster" looks pretty peculiar and stars Colin Farrell playing the deadpan lead character. I'm hoping maybe it might be slightly reminiscent of the quirky but heartwarming movie "Her" with Joaquin Phoenix, which I really liked, but I don't expect it'll be nearly as good.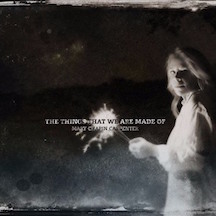 As for albums in May, such icons as Eric Clapton and Bob Dylan have new ones coming out, which sound quite interesting, — as do Keith Urban, Blake Shelton, Ziggy Marley, and Cyndi Lauper, too. I'd like to check out Corinne Bailey Rae's new album "The Heart Speaks in Whispers" as well as the new one called "The Things We Are Made Of" by an old favorite of mine Mary Chapin Carpenter. She's always been a crowd favorite each summer on the lawn at Wolf Trap.
What about you — which books, movies, or albums are you looking forward to this month?