I've long known that the word here in Canada is that you're supposed to wait — to be on the safe side — till after the May long weekend holiday (which was last weekend) before planting your summer annuals and garden. I always want to jump the gun, but no, I guess it's best to be prudent and follow the local wisdom. After all it did snow in town last weekend, but luckily now the sun is back so we're in the clear from here on out … right?
My husband and I followed our May long-weekend tradition of participating in the annual three-day Golden Triangle bike ride in the mountains, which is a local club ride of about 400 cyclists going over 100 km per day.
We had a good time, and only got drenched on Day 2, when it rained and was cold all day. Not good. But we biked on, taking in the sights and avoiding hypothermia.
During Day 1 my husband came across a Mama grizzly and her cub by the side of the road. He kept his distance and biked past them. Later that evening we went back up the canyon by car to take pictures, and saw the same two bears again. They were busy munching on grass and dandelions by the ton. I was worried they were so close to the road where vehicles were whizzing by at 60 to 70 mph that they would be hit, but apparently the bears know the area and often manage these precarious situations.
All in all, it was a great weekend, which started off with a bang on Friday evening when our public library hosted authors Chris Cleave and Michael Crummey together for a reading and talk. I repeat Chris Cleave and Michael Crummey came here! Two authors I really like. Good gracious it was wonderful. I just had seen Cleave the week before at Book Expo and now he was following me to my town. What's going on?! This is no cultural mecca. I was so pleased to hear them both. I have read Cleave's three prior novels, and I look forward to his new one "Everyone Brave Is Forgiven," which is based loosely on the love letters his grandparents wrote to each other during WWII. Apparently his grandfather was stationed on Malta during the war and he was separated from his wife for three and a half years. Cleave gave an interesting slide show of his grandparents and London during the Blitz. His novel is a tribute to them and a meditation on courage, Cleave said, and I'm sure it will be a weeper. Have you read it?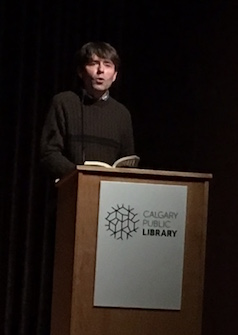 As for Canadian author Michael Crummey, I really liked his novel "Sweetland" last year, about an old man who refuses to leave a remote island off Newfoundland when the mainland government decides to resettle the population. It quietly blew me away and made me say: "Who is this guy? I need to read more of his books." Crummey has written a few novels and some excellent poetry collections as well. He was there reading from his latest book of poetry called "Little Dogs," which made me realize I must find time for reading poetry! Crummey's writing often draws on the history and landscape of his native Newfoundland and Labrador. Both of which I would like to visit someday.
As for books last week, I finished the audiobook of Carl Hoffman's 2014 nonfiction work "Savage Harvest: A Tale of Cannibals, Colonialism, and Michael Rockefeller's Tragic Quest for Primitive Art." Oh my, I didn't know much about Michael's sad fate before getting into this, but now I feel I know it from almost every angle. It's safe to say author Carl Hoffman became very obsessed in solving the long-ago disappearance of 23-year-old Michael Rockefeller, who vanished in 1961 off the coast of New Guinea when his boat overturned. Did Rockefeller drown trying to swim to shore as his family believes? Or did he make it to shore only to be killed and eaten by a remote cannibalistic Asmat tribe? (No body was ever found.)
In this book Hoffman provocatively makes the case — after much research and time in the Asmat region among the people — that the tribe killed Rockefeller and was avenging the deaths of members of its group at the hands of whites years earlier. He also suggests there was a Dutch cover-up in hiding what truly happened to Michael.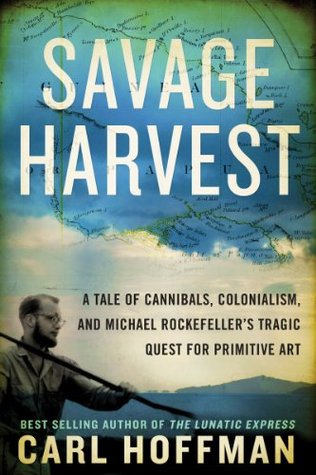 Admittedly I'm a sucker for such vanishing stories of influential people whether it's the tragic cases of Amelia Earhart over the Pacific, or the Lindbergh baby — I found Michael Rockefeller's story similarly entrancing, especially since it was more than 50 years ago. Hoffman's book includes a lot about the tribes in the Asmat region: their history, society, and the tropical jungles and conditions in which they lived. So if you like anthropology, like I do, this book could be your cup of tea. But fair warning: some of the descriptions in the book are graphic and violent. It's not exactly Disneyland there. Hoffman also provides context of what was going on under Dutch colonialism then and circumstances surrounding Rockefeller's death and what he was doing collecting primitive art there at the time.
I was impressed by Hoffman's research and how he put himself into the story and experienced the tribes much like Rockefeller did. He seemed drawn to Michael and his pursuits in the remote tribal world. But I also thought there were times when Hoffman's ideas seemed presumptuous and that he was over the top in solving the case.
As the book goes on, Hoffman's theories swirl round and round and get a bit repetitive. No doubt it's a thorough and exhaustive exploration of Michael Rockefeller's disappearance, but the book likely would have been better if it had been a bit shorter and more focused. While I listened to "Savage Harvest" as an audiobook, on second thought I would have rather have liked to read it — as there are many foreign proper nouns in it that would have been easier to follow in print. Still the audio kept me intrigued. (Kudos to Joe Barrett for his excellent narration.)
I kept thinking Hoffman would unveil a smoking gun in the case, but alas — although what he finds out is quite convincing and stunning — it's not a totally done deal. Whatever happened to Michael Rockefeller perhaps will never be fully known, but I'm glad to have learned about him through this journey.
What about you have you read "Savage Harvest" or about Michael Rockefeller before? Or have you read any of the books by Chris Cleave or Michael Crummey — and if so, what did you think?