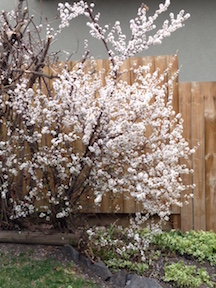 Leaves and buds are just opening here, and it's been a productive couple of weeks of home and yard projects. I'm excited that I might be able to do my spring planting earlier this year as the weather is being fairly cooperative. I almost forgot how nice spring can feel. We plan to take a long bike ride in the backcountry on Sunday.
The town here is all abuzz about the NHL hockey playoffs since our team can clinch a first-round series win tonight at home, if only they would. I'm hoping it doesn't prove elusive. In terms of playoff hockey, it's been a long dry spell here and the dream of another round is within reach. And from what I've learned: never underestimate hockey in a northern country.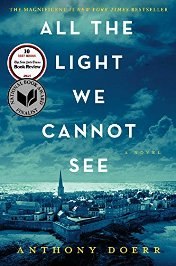 Meanwhile this week I want to congratulate author Anthony Doerr for winning the 2015 Pulitzer Prize for Fiction for his World War II novel "All the Light We Cannot See." My Dad gave me this book for Christmas, and I'm excited to dive into it this spring. It's waiting for me on the shelf, and I've heard from others how good it is. Set in occupied France, it interweaves the story of a blind 14-year-old French girl and a young German soldier whose lives cross paths toward the end of the book. I hear it's terrific. Have you read it?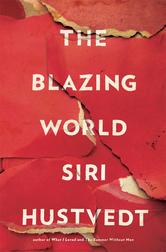 Also congratulations to Siri Hustvedt who just won the 2014 Los Angeles Times Book Prize for Fiction for her novel "The Blazing World." According to the publisher, it tells the story of an enigmatic artist who, after years of having her work ignored, ignites an explosive scandal in New York's art world when she recruits three young men to present her creations as their own. Yet when the shows succeed and she steps forward, one of the men betrays her and they get involved in a deadly game. I remember Barbara over at the blog wellwell touting this novel, and I'm sure it's great as years ago I recall being pretty blown away by Hustvedt's 2003 novel "What I Loved." Her latest one seems to be brimming full of ideas, and Booklist calls it a "wrenching novel of creativity, identity, and longing." Count me in for it.
In other book news, I came across a few cool articles this week that I thought I'd pass along. The first one in The Washington Post titled "I read books by only minority authors for a year. It showed me just how white our reading world is" by Sunili Govinnage definitely caught my eye. It makes a lot of strong points about the importance of reading diversity, and it seems like a great idea to take a year and read such a book list. I expect I'd explore novels in a number of countries and learn a lot. It seems a worthy, interesting goal.
The next article, "Owning a bookstore means you always get to tell people what to read," is another good one by Ann Patchett, which was in The Washington Post. It extols the many joys of recommending books to people. I'm sure that's why so many people like blogging about books. And many of today's bloggers, like me, also worked in bookstores or the publishing industry along the way. Many still get a kick from pushing good reads.
The last article, "Romanticizing the Reader" by Diane Ackerman in the New York Times is a neat one about how "readers and writers provide a kind of outside family for one another" and that she sees the "reader as a collaborator" who "leaves individual imprints on a book they have read." Just as a reader might romanticize an author so too does an author romanticize a reader. There's "something inevitable and touchingly human about it," she says. If you have time, you might want to check these articles out.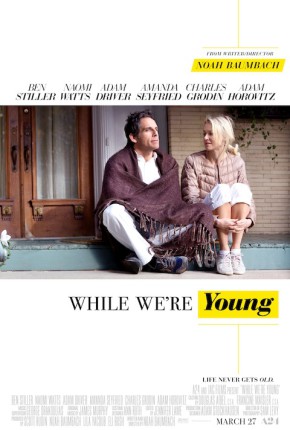 Meanwhile, the Noah Baumbach indie movie "While We're Young" just made it to our neck of the woods and we saw it Friday night. It's quite an enjoyable comedy about a mid-forties New York married couple — played by Ben Stiller and Naomi Watts — whose staid lives change when they start hanging out with a young hip couple they meet — played by Adam Driver and Amanda Seyfried. Oh the film is funny, but it also touches on some truths about parenthood, friendship, ambition and aging that its viewers likely have had. It speaks to middle-agers mostly, but can be enjoyed by a variety perhaps. It reminded me a bit of an old Woody Allen New York comedy about married couples, and I liked it more than I thought I would.
It's definitely my favorite Noah Baumbach movie so far … if you've seen "Frances Ha" (2012), "Greenberg" (2010), "Margot at the Wedding" (2007) or "The Squid and the Whale" (2005). They're all sort of quirky, but in those earlier ones the protagonists are usually sort of grumpy and not very likable. "While We're Young" is more accessible and the main characters are more sympathetic. It's both funny and interesting and includes a great cast. Kudos to Ben Stiller for his best role in years? Something tells me I should go back and rent "The Secret Life of Walter Mitty" — just to see his facial expressions.
What about you — have you read any of these books or seen any of these movies — and if so, what did you think?