Well it's been a fairly calm week. I am behind on carving pumpkins and getting the candy stocked for Halloween, but wait, there's still time! The snow is gone here but most of the leaves are down. I raked them into bags for a couple hours this week and was able to finish the audiobook of Delia Ephron's 2016 novel "Siracusa," which is a doozy of a story about two married couples that vacation together in Italy along with the enigmatic 10-year-old daughter of one of the couples. They go to Rome first and then on to the city of Siracusa on the coast of Sicily, where things quickly unravel and something happens that changes their lives forever.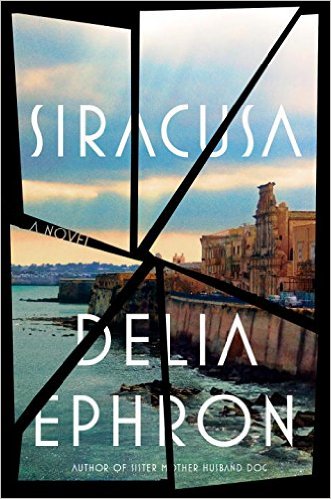 Narrated from the two wives' and two husbands' perspectives, this story is pretty hard to put down. There's Lizzie and Michael who are writers from New York, and Taylor and Finn, who own a restaurant in Portland, Maine and have a daughter named Snow. Lizzie and Finn had once dated back in their 20s, but now that's over and this is the second vacation in later life they've taken together with their spouses. I'm not sure that this would necessarily happen in my household but … I was willing to go with it.
I think I heard about the novel "Siracusa" from Catherine over at The Gilmore Guide to Books, who liked it quite a bit, and I found it didn't disappoint. I particularly recommend the audio because the four parts are read by four different actors who do a heck of a job with these different characters. You'll find them an interesting mix with each their own secrets. Taylor, for one, is a helicopter mom from hell who cares only for her shy, beautiful daughter, Snow. And Finn still holds a flame for Lizzie, while Michael's affections have turned cold towards her. Lizzie though is looking to win Michael back in Italy and jump-start her career as a journalist. But then in Siracusa all goes to hell in a handbasket.
The descriptions in the book and the characters make it an enticing read, but the story is pretty dark and cynical. It reminded me slightly of Herman Koch's eerie novel "The Dinner," which is also about two couples in Europe whose families go through something disturbing. But the stories also differ a bit. "Siracusa" is not totally without flaws, you likely will be able to forecast what will happen long before it does, though I still liked hearing how the characters played out their parts, and the ideas they came away with.
I had not read much from Delia Ephron before, though I knew of her from from her 1998 movie "You've Got Mail" and of course her famous sister Nora Ephron whose books often made me laugh. I had read parts of Delia's nonfiction book "Sister, Mother, Husband, Dog: Etc.," which for some reason I had put down, but nothing like "Siracusa." It is much darker than I would've guessed of her fiction. It's not exactly fit for an early Meg Ryan type of role: such as "You've Got Mail" and "Sleepless in Seattle."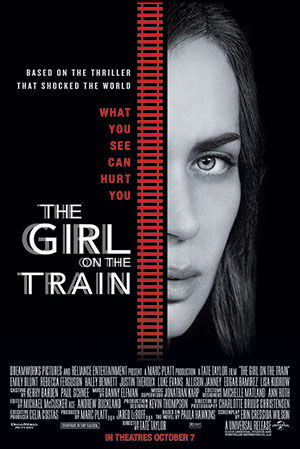 Speaking of which, I dragged my husband to the movie "The Girl on the Train" this week. (He said when we were leaving the theater he was the only guy in there. Ha ha ha, gotcha.) But "The Girl" was good, if you like this kind of movie. It followed Paula Hawkins's blockbuster-selling novel closely.
Luckily Emily Blunt starred in it, which made all the difference. She made one hell of a messed-up Rachel Watson, hooray. Just like Rachel is in the book. I'm not sure the movie was all that suspenseful since I already knew what was going to happen — even my husband figured it out pretty early on without having read the book — but still I'm glad I went. Come on, I wasn't going to miss it.
And the fact that they change the novel's setting from London to New York for the movie didn't seem to make much difference. Blunt pares down her English accent quite a bit, and there's a couple of beautiful shots of the train along the Hudson River, which seemed good to me. While "The Girl on the Train" might not be as good as "Gone Girl," it still was entertaining in a wacky thriller kind of way.
What about you, have you read "Siracusa," or seen the movie "The Girl on the Train," and if so, what did you think?