Hi, I'm back now after a lovely trip to the Basque Country of northern Spain and southwestern France. Wow, what a great region. I will leave you with some photos of our visit, in which we met up with relatives and bicycled in the Rioja region and some of the western Pyrenees. Some of it was dry and windy wine country (hooray) and other parts were green and lush sheep-herding country (awesome).
Despite all we saw, I feel it was just the tip of the iceberg and there's much more to explore for another time. Still I'm glad with what we managed to fit in on this excursion, which turned out great as well for catching up with siblings and in-laws. The weather was good at the start but then rained the last five days or so. It was a bit cooler and wetter than we expected but still warm enough to bicycle comfortably. Next time I plan to bring a better raincoat! That is key.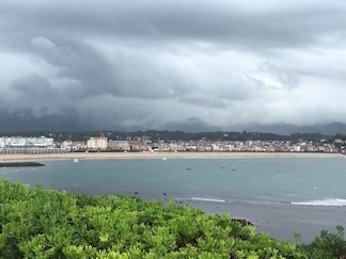 The last few days we were along the coast, looking upon the waves of the Atlantic Ocean. The city of Biarritz where we stayed for a night is known for it's surfing. Unfortunately a storm greeted us there and we did not get much beach time. As George Costanza once said: "the sea was angry that day my friends." But instead my hub and I took some nice walks under an umbrella, one of which was a few days later along the Camino del Norte pilgrimage trail in Spain, which in its entirety goes from San Sebastian to Santiago (about 825 km or 513 miles).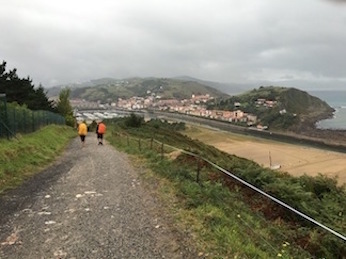 We hiked the trail for just a few hours from one beach town over a mountain to another. It was scenic and lovely, and has us considering whether we want to return sometime to hike more of it. I think so. But for now, we are back home, trying to adjust to jet lag and a time zone change of eight hours — as well as the imminent Canadian winter. I'm so confused. 🙂
While on the trip, I finished Chris Cleave's WWII novel "Everyone Brave Is Forgiven" and the audiobook of Ben Winters' novel "Underground Airlines." Both of which came out this year and are pretty good. Here are my takes on each: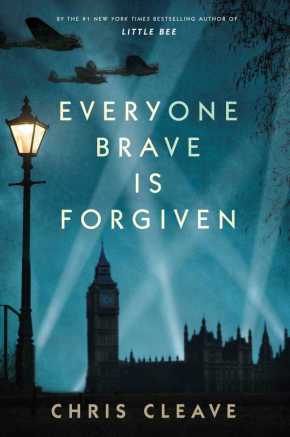 The main character of Cleave's latest novel is a young socialite (Mary) who takes up teaching a small group of children in London who have been left behind from the evacuated school kids taken to the countryside at the onset of WWII. A few are mentally disabled and one is a black boy whose father performs in the racially typecast minstrel shows of the times. Socially, Mary begins a relationship with Tom, the education administrator who got her the job, but when she meets his roommate Alistair, home briefly from the war, something between them seems to develop. But then Alistair is sent back to serve on the island of Malta under siege from the Axis Powers, while Mary takes up driving ambulances (along with her friend Hilda) during the heavy bombing of the Blitz. All suffer greatly due to the war, and it's not until the book's end do you discover if Alistair and Mary, who've corresponded through letters all the while, get together, or if their lives are too shattered and changed at war's end.
Oh it's the usual suffering in a Chris Cleave book. If you've read his other novels "Incendiary" and "Little Bee," you know his characters often endure terrible grief and human suffering. Though I liked those books, I wonder if I'm tiring of all the tragedy inflicted on his characters a bit. What is enticing is that the novel was inspired by the real letters the author's grandparents wrote to one another during the war — apparently they had become engaged in 1941 and then didn't see each other for three years until the end of the war. His grandmother had lived through the Blitz in London and his grandfather was stationed on Malta during the siege, both of which come to life and are quite vivid in the book. I had not read much about Malta in WWII before and it made me curious to look it up online to learn more, which I did.
I also found interesting that the novel brings up the minstrel shows, apparently of the times, which were a form of entertainment — basically skits that peddled in racial stereotypes. I had not thought too much about these before, or the unfortunate children who were left behind in London and not evacuated to the countryside. The themes, too, of forgiveness, fighting inequality, and conjuring what changes the war would bring were well done. On the whole, while I liked the novel, I didn't overly love it. The story held my interest but the unevenness of the telling perhaps didn't engross me in it as much as I had hoped. Some parts I found could've been sped up, other parts more developed. Still "Everyone Brave Is Forgiven" rang true for me with some poignant lines about living through such life-altering times.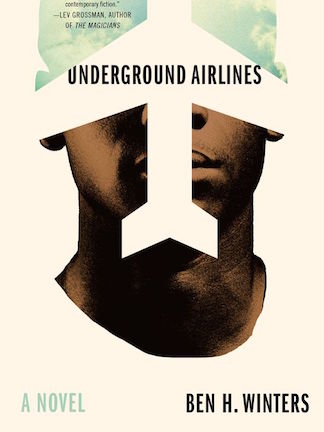 A novel that gripped me more was Ben Winter's latest thriller "Underground Airlines," which likely is one of my favorite books of the year so far. I listened to it as an audiobook and was held by it every step of the way. Something about its narration and creativity reminded me a bit of the novel "Station Eleven," which I had liked a lot last year. Though this book's subject matter is quite different. It's an alternative history story about a black man called Victor who's a bounty hunter in a modern America that includes slave states as well as free states. (It's a book that imagines the Civil War never happened, and what the U.S. would be like if it hadn't.) Victor was once a slave but the government gave him the option of freedom by coercing him into finding runaway slaves and having them returned. But during one such case Victor finds himself in crisis over what he's doing, and soon all hell breaks loose.
"Underground Airlines" is a thriller that's provocative, riveting, and well done. It manages to speak to both America's past (slavery) and present (racism) — and is a timely harsh critique of both. Yet it does it in such a way that is utterly fresh and compelling. I've never really been into novels that dwell on alternative history imaginings before, nor would I have thought a thriller would be among my best-of-year kind-of books, but this one proved its worth. My only slight criticism of it perhaps is that towards the end its story goes through quite a few twists — perhaps one too many for my liking. It doesn't need that many — a reader can get a bit lost, but still on the whole I found the novel quite excellent. I haven't read Ben Winters's other novels, namely his "Last Policeman" trilogy, but since I liked this one quite a bit, I plan to read them in the future. I also want to check out Colson Whitehead's highly praised recent novel "The Underground Railroad," which is similar in its topic but with a different style.
Also last week my hub and I saw the movie "The Light Between the Oceans" and I thought it represented the book quite well. Usually I find movie adaptations don't live up to the books they're taken from but this one I thought was pretty close. The cinematography was wonderful and Michael Fassbender, as usual, was excellent. It's a story that portrays such a tragic, difficult situation. You empathize with both sides, and the loss they go through feels brutal. I found watching it was squirm-worthy in parts.
What about you — have you read these books, or seen "The Light Between the Oceans" — and if so, what did you think?