February is already here and trying to escape me. Tomorrow I leave for D.C. and Virginia for a week to visit friends and my old digs. It should be fun but what's this talk about a chance of more snow there? Meanwhile I've been looking at what's coming out in February releases, and it appears such well-known authors as Joyce Maynard, Ethan Canin, and Yann Martel have new fiction out. After how good "Life of Pi" was, I was really looking to grab Martel's latest novel "The High Mountains of Portugal," which I still might, but it seems it's been getting some lukewarm reviews. Hmm. Could it be true?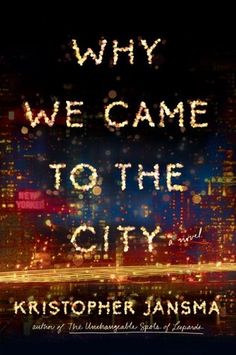 So instead I'm looking at a few other fiction releases. Kristopher Jansma's new novel "Why We Came to the City" might be just the ticket. It's supposed to be both funny and heartfelt about a group of twentysomething friends in New York whose lives are upended by tragedy. Author Emily St. John says it's an "elegant and deeply moving meditation on friendship and mortality" and Publishers Weekly calls it a "compelling paean to New York City" about "post-college friends who manage the vagaries of love and friendship against the backdrop of living in the big city." Hmm I'm game, as long as it's not Sex and the City Part 2.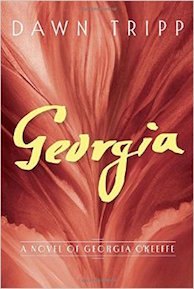 Then there's Dawn Tripp's new novel "Georgia" about the life of artist Georgia O'Keefe. I know I've said in the past I'm not big on novels that fictionalize the lives of famous real people, but this one is getting a lot of strong reviews, and how can I resist reading about O'Keefe's life, once again? Author B.A. Shapiro says "Georgia" is a "dazzling, brilliant work about the struggle between artist and woman, between self and the other, between love and the necessity to break free of it." Hmm. Count me in.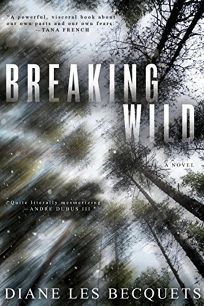 Also February wouldn't be complete without a good survival tale to add to the TBR pile so I'll mention Diane Les Becquets's debut novel "Breaking Wild." It tells the story of a missing woman in Colorado and the female ranger who's hellbent on finding her before it's too late. Author Andre Dubus III says "what sets this novel apart is how deeply its author dares to venture into the psyches of her two unforgettable protagonists." It's also touted by authors Wiley Cash and Tana French among others. So it might be the perfect thing for a quick winter read.
Lastly in new fiction, I'm curious about Canadian author Peter Behrens's historical epic "Carry Me" about a complex love affair of a non-Jewish man and Jewish woman hovering precariously between the two World Wars. They grow up on the Isle of Wight and later reunite in Frankfurt and Berlin, where, after Hitler's rise to power, they look to escape. I don't know too much more than that, but the novel has received quite a few five-star reviews from readers on Goodreads and Amazon, many of whom say Behrens is a master storyteller and one not to miss. I have not read his two earlier novels, so this may be my chance to try his writing out.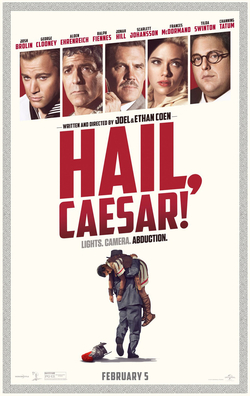 As for movies in February, I'm probably not going to be rushing to the theater for any. There's a couple of comedies such as "Zoolander 2" and "How to Be Single" that might have a few laughs — and two sports movies "Race" about runner Jesse Owens and "Eddie the Eagle" about the U.K.'s first ski jumper, but it's not like I'm looking to see these on the big screen. So for my movie pick this month, I'll choose the Coen brothers' spoof of old Hollywood "Hail, Caesar" because it looks absurd and fun at the same time — and it's hard to resist the makers of "The Big Lebowski" and "Fargo" among others. I usually can't.
Lastly for albums out this month, there's some big names with new releases: Kanye West, Elton John, Bonnie Raitt, Vince Gill, Lucinda Williams, and Wynonna Judd among others. I've really liked both Bonnie's and Lucinda's music in the past. They're Giants. Titans. Masters. Of course I'll listen to their albums. But for something new, I'll pick the talented young Canadian singer Basia Bulat's album "Good Advice" as my choice this month.
What about you — which books, movies, or music are you looking forward to in February?