Happy Mother's Day to all those out there. I haven't posted in awhile because it took me some time to get through the novel "Beartown" and I've been busy with the yard and getting ready for a three-day bicycle trip next weekend. It's the annual Golden Triangle bike ride that about 400 cyclists do every Canadian May long weekend. We are hoping for good weather but you never know until it gets here. I will report back on it, until then I will leave you with a few reviews of what I finished lately.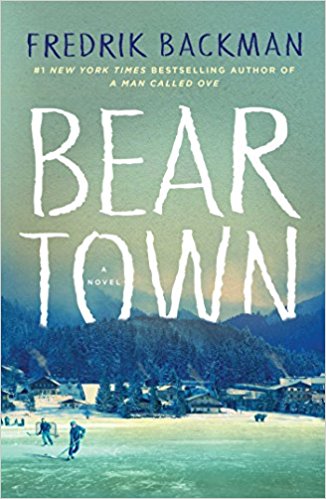 It's true I like an occasional sports novel. I've read Chad Harbach's baseball novel "The Art of Fielding," John Grisham's football novel "Playing for Pizza," and Chris Cleave's bike racing novel "Gold" among others — so with the hockey playoffs going on, I was game for Fredrik Backman's novel "Beartown," which is about a small depressed community, set deep within a forest, whose junior ice hockey team means about everything to the people who live there. Molded by years of endless practice and coaching, the team has a real shot at the country's championship — that is until a crime takes place involving its 17-year-old star player and the 15-year-old daughter of its general manager, which changes things in the community forever.
It's an alluring premise and setting, and the novel skips around in snippets among a lively cast of quite a few characters that includes players, coaches, parents, the GM's family, the town's bar owner and others. Of these, I liked the young immigrant boy, Amat, who is small but very fast on skates and is trying to make the team. A lot rests on him and what he knows in the aftermath of the crime.
This was my first book by the Swedish author — who also wrote the bestseller "The Man Called Ove." His novels seem to border on popular fiction, which is okay if it moves along accordingly. He definitely seems to know his hockey, which there is quite a bit of in this story. My only trouble was that the first half of the novel seemed rather repetitive about how important hockey and the team meant to the dying town — there's quite a bit of backstory that takes awhile to get where it's going — and while the novel's second half moves better with the crime and aftermath, I found it was a bit heavy-handed and lacking in subtly. There's an occasional voiceover narration — in addition to those of the characters' — that seems to drum its message into you. I guess I didn't care for that, or being molded about how to feel about the situation — let us decide for ourselves.
Still judging by all the raves on Goodreads, I'm in the minority on this one, giving it three stars, which to me means I liked it okay but didn't overly love it.  Thanks to NetGalley for sending me an e-copy of the book to review.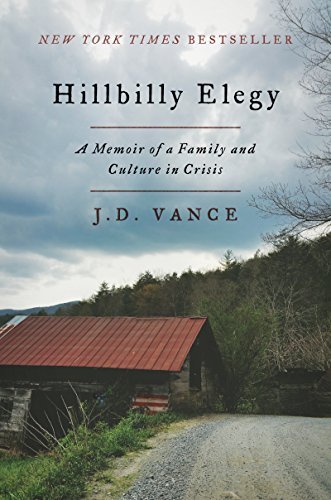 Next up, I listened to the audiobook of J.D. Vance's book "Hillbilly Elegy: A Memoir of a Family and Culture in Crisis," which the author does a fine job of reading. It came out last June, and I feel like I might be one of the last bloggers to get to it. It's been that popular! I had no idea, really, but the book's sales sure took off amid the pre- and post-election hoopla, despite not being about politics or even mentioning Trump. Nor did I know the author was just 31 when it came out last year — it's a memoir by a young person one could say.
As many know it's about the author and his family's life growing up poor in the Rust Belt — first in Kentucky's Appalachia region then in Ohio, where his grandparents moved hoping to escape the poverty. J.D. chronicles how he was raised along with his sister mostly by his grandparents since his parents divorced — his dad moved away and his mother struggled with addiction problems and a trove of men and unsuccessful relationships.
To say his family life was chaotic would be putting it mildly. But luckily for him, his tough, gun-toting grandmother provided the stability and guidance he needed to get through high school. She is quite a character, who was not to be messed with. A couple years in the Marines also gave him discipline and structure and he went on to attend Ohio State University and thereafter Yale Law School and a high-paying job.
It's quite a rise and the book chronicles his life's changes in details that make for an interesting read. I admire how J.D. overcame so much (especially dealing with his mother) to get his education and job and make his life better. His genuineness in the book and the audio's narration come through, and he tells it in a way that is straightforward and pretty humble. It's mostly a memoir but also talks about the white working-class; he seems to love his hillbilly family and neighbors but is also critical of them.
Perhaps one of my takeaways of the book is that it takes a village or a support system to raise a child, especially when you don't have reliable parents (surprisingly this sounds like Hillary). He credits his grandparents, sister, and mentors along the way for helping him. That seems key. I also like how he talks about taking personal responsibility and not always blaming others or the government for one's place.
Apparently J.D.'s a conservative Republican who didn't vote for Trump or Clinton, but someone else. But I'd be surprised from what I read in the book if he fully sees eye to eye with Kentucky Sen. Mitch McConnell, are you kidding me? Does he? I didn't find the book abundantly political — and I may not agree with everything in it — but I thought it was thought-provoking, and I'll be curious to see where the author's thoughts and life take him from here.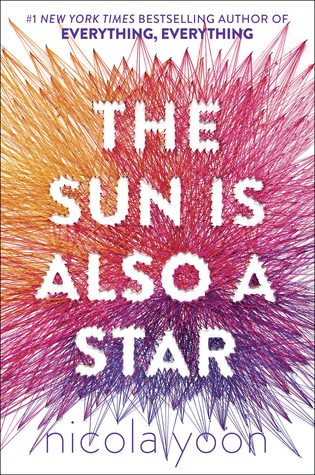 Lastly in fiction, I also listened to the audiobook of Nicola Yoon's young-adult novel "The Sun Is Also a Star," which is about a teenage girl (Natasha) in New York, who along with her family faces deportation to Jamaica in 12 hours, and a first generation Korean American boy (Daniel) who is being pushed by his parents to attend a college and career path he doesn't want. Daniel and Natasha fatefully meet, and over the course of a long day, traipsing around the city trying to solve their problems, fall for one another, while their personal histories and those of their families unfold.
I thought there were a lot of excellent things about this story: the dialogue and details with which Yoon writes about teenage life and love seem pretty authentic and she knows a lot about the magic of love and how to write about it. The families and perspectives also seemed fairly realistic, though they came off a bit stereotypical. It's a timely premise with today's climate of increasing deportations, and the anxiety in it seemed palpable. I actually liked this book of Yoon's better than her first bestselling novel "Everything, Everything," which is coming out as a movie this month.
Though I might be too jaded to fully believe that two people can fall in love with one another in 12 hours. When I pick up a YA book, I often feel like I'm the wrong audience for the genre as the whole melodrama of the teenage experience isn't often my cup of tea. So it's usually me and not the book to blame. A few parts of this novel got a bit cheesy to me, and other parts I thought included an overabundance of cursing by the boy Daniel. Still I'm glad I finished it, and I think Yoon has a lot of talent writing YA fiction if she doesn't go too overboard. I like her optimism and the spirit of love in her stories.
As for TV shows we've been watching, we finished Season 6 of "Homeland," which ends with the president-elect pretty much going bonkers with retribution and cutting civil liberties. Hmm, is anyone paying attention? Now we're into the TV series of "The Handmaid's Tale" — based on the 1985 dystopian novel by Margaret Atwood in which a totalitarian and Christian fundamentalist government rules the former United States amidst an ongoing civil war — where society is organized with classes of women being brutally subjugated.
Oh my it's grim, bleak stuff! After three episodes, my husband has declared it darker than Cormac McCarthy's "The Road." Still it's hard to turn away from and there is hope for the resistance. Filmed around Ontario, Canada, the series apparently has been renewed for a second season to premiere in 2018. Viva the resistance!
What about you have you seen these shows, or read any of these books, and if so, what did you think?