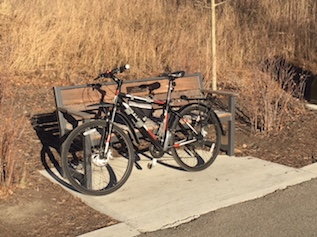 It's been quite a week, has it not? In addition to all the crazy news out there, it seems the weather around North America has sort of flip-flopped. Some of the South saw snow and the temps in western Canada have been balmy and spring-like, with most of the snow being gone here. I was even able to bike around this week, which is hard to believe. Biking in December? Unheard of. I might even rake up leaves today in the yard.
Yet all the news of fires and wind in Southern California has been alarming. We are heading there for the holidays (not close to any of the fire zones), though it seems the whole area could use a big rain dance right about now. So sorry to those whose homes are threatened and the lands that are being charred. Not too Christmas-y. Still we hope to do our Christmas shopping once we get there. How are you enjoying the holiday season so far? Hope all is well where you are. Meanwhile I will leave you with a couple reviews of what I finished last week.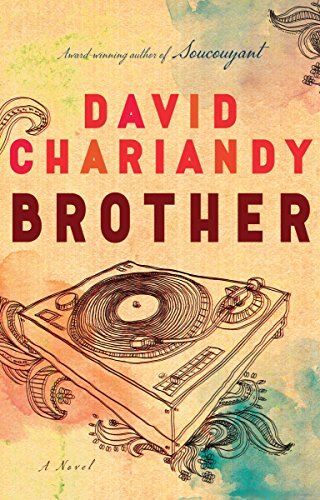 Oh this is a beautifully written and moving story. It's one of those novels you can sense within the first three pages it's going to be good because of how it's written — just how good surprised me quite a bit because I didn't know anything about Canadian author David Chariandy or what his novel "Brother" was about. But it's one of those shorter novels (just under 200 pages) that packs a quiet wallop to the heart. How it didn't win this year's Giller Prize, or get shortlisted for it, I don't know. Just being on the longlist didn't do it justice. But luckily it just won the Rogers Writers Trust Fiction Award in Canada so I was pleased to see that.
It's a novel about two brothers, sons of Trinidadian immigrants, who are coming of age in the simmering summer of 1991 and raised by a single mother in a housing complex along a busy street. Their neighborhood is one of concrete towers and strip malls in the disparaged outskirts of sprawling Toronto.
Michael is the younger one who tells the story and looks up to his older brother Francis and they both dote on their hard-working mother who commutes by bus to cleaning jobs around the city. Early on, you learn something has happened to Francis but you don't know what until the end. The story jumps back and forth in time — from the present while Michael takes care of his grieving mother — to the past where Michael and Francis are kids navigating their surroundings filled with gangs, bullies, and prejudice.
They often escape to the one hidden green area — the Rouge Valley — that runs under a bridge through their neighborhood, where they feel free to imagine better lives. Francis dreams of a future in hip-hop music, while Michael dreams of Aisha, the smartest girl in their high school, who seeks a future elsewhere. But in the end a tragic act of violence thwarts their hopes and changes their family forever.
It's quite a powerful story. I liked it because the writing wields so much feeling within it. Right away you know the closeness of the two brothers, and their mother, and the marginalized community that they're living in. It's a story about kinship and family ties — and a portrait of the author's own hometown. I found it quite moving and one of my favorites for 2017.  It's funny how I seem to come across these strong novels right in the last month of the year. Sometime in 2018 I'll have to look for David Chariandy's first novel called "Soucouyant" from 2007, which apparently is also a coming-of-age novel that explores similar themes of family ties and race. He apparently wanted to explore his themes further with this book. Surely he's a writer to watch and one to read.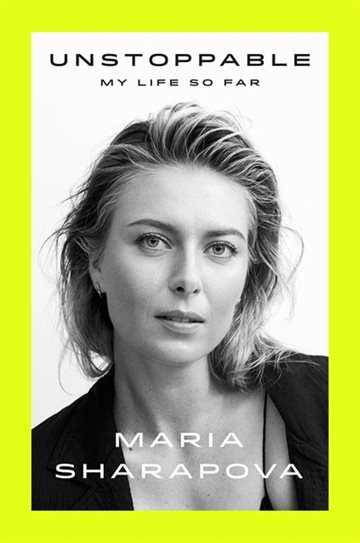 Next up I finished the audiobook of pro tennis player Maria Sharapova's memoir "Unstoppable: My Life So Far." You didn't think I was going to miss this, did you? I'm a tennis junkie: I play the game, I follow it … like the lines on a yellow ball. It wasn't that I'm particularly a Sharapova fan, I'm not really, just a fan of the game. I know what you're thinking: athlete stories, like celebrity stories, are flimsy, lightweight things not worth serious consideration. But they're not all like that. I actually didn't expect much from this one, but then was pleasantly captivated by Sharapova's life story, which she reads for the audio. (Okay, she's only age 30 now, but somehow she seems much older. She was born the year I graduated college, ouch.)
It's quite a rags-to-riches story that hooked me from the beginning. Her parents fled the city of Gomel, which is now Belarus, shortly before Maria was born due to the 1986 Chernobyl nuclear accident. She was born instead in Siberia where her grandparents lived, and later the family moved to the resort town of Sochi, Russia, where she began to hit a tennis ball at age 4 on gray clay. Her father saw a determination in her to play for hours and got her lessons early on. Thereafter she briefly met Martina Navratilova at a tennis camp in Moscow who told Maria's father she could play and to get her out of the country to the U.S. where she could develop her game. Incredibly, after interviewing for it, they were granted three year visas to come to the U.S., which were almost never given.
It's tidbits like these that make the story compelling — all these chance encounters and lucky breaks that happened that made it possible for Maria to pursue tennis; they multiply as things go on. Stuff I didn't know too — like Maria's real name is actually Masha, but she changed it when she came to the U.S. because she didn't want to be "Marcia." She had to leave her mother behind (for a couple years), boarding a plane at age 6 with her father, arriving in Miami with $700 left and unable to speak the language.
But they were determined to get coaching in Florida, and follow their dreams. Ultimately it paid off when Maria beat Serena Williams at age 17 and won Wimbledon in 2004. Thereafter it changed her life and she went on in the years later to win four more Grand Slam titles, despite having a layoff due to shoulder surgery in 2008, which forever changed her serve. For quite awhile she's been one of the most recognizable and richest female athletes in the world.
All of that I already knew, but what I liked about the book was hearing about the journey — all the details of how she made it, which coaches she worked with, what it's like on the pro tour, and the rivalries, especially with Serena Williams, who has a 19-2 record over Maria. Maria is quite complimentary of her chief opponent but says they aren't friends, nor does she really have friends on the tour because she says her job is to play them as opponents and she wants to beat them all.
Surely her competitiveness shines through in the book as well as her single-mindedness to win tennis matches and her ability to paste the ball, but what I liked was how she told her story seemingly honestly and quite openly; she's not afraid to speak her mind. She's a bright girl and a fine storyteller, much better than you'd imagine of a world class athlete. Her book is an engaging listen.
Though some might find her controversial (she's not exactly popular among other female players) and she was suspended from the tour in 2016 for 15 months for using a banned substance. She owns up to this mistake, but argues that it wasn't a malevolent intentional act and that the drug (often used for heart conditions) had always been legal before 2016 — she just didn't know it wasn't any longer. I guess from what I've read the drug doesn't seem to be a steroid and she admitted right away to using it and served a suspension for it so I'm not one to ultimately condemn her forever, but many on the tour vehemently did. Oh my, you would've thought she was another Lance Armstrong, but that doesn't seem actually to be the case. For those who liked Andre Agassi's autobiography "Open," I'd think you'd find Maria's book interesting too.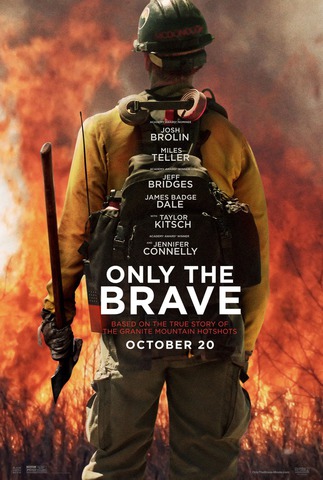 Lastly, I just want to quickly say we saw the movie "Only the Brave" last night at the $5 theater in town. It's based on the true story about the 19 Arizona elite firefighters who lost their lives fighting a wildfire near the town of Yarnell, Arizona in June 2013. It's reenacted quite well in the movie by a large cast with Josh Brolin, Jennifer Connelly, Jeff Bridges and Miles Teller among others.
The story goes into who the firefighters were, their outfit, the fires they fought (some of the action is quite hair-raising), and what happened on that last and very tragic day though it remains a bit of a mystery too — why the unit's members left their safe zone and moved to where they did in a canyon. The fast-moving shifting winds spread the fire right towards them and cut off their escape.
Gosh, it's just a crushing story. The film captures the essence of who these men were, how they fought fires, and the families they left behind. It shows the real photos of them at the end. It's a tough and somber reckoning that sticks with you — have some Kleenex ready.
What about you have you read any of these books, or seen this movie — if so what did you think?