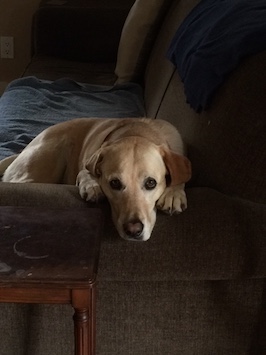 Greetings. I hope everyone is enjoying August. Warm and smoky weather persists here with most of the smoke coming from the numerous wildfires going on in the province west of us — British Columbia. I only hope firefighters can get a handle on the blazes there, or at least some help from mother nature. They could use some rain.
You see my book assistant, at left, looks concerned, but it's likely she's just wondering what we're having for lunch. Food — not fires or books — is usually her main preoccupation. I'll be in Vancouver two weekends from now to play in the national age-group tennis tournament. Let's hope the smoky air quality there improves; they say it's a bit like Beijing's air at the moment. Meanwhile I'll leave you with two reviews of what I finished lately.
Everybody's Son by Thrity Umrigar / Harper's / 352 pages / 2017
This was a novel I had on my summer reading list and my first by this author who was born in Bombay, India, and now lives and teaches in Cleveland. I had heard quite a bit about her novels, and this story, which examines race and privilege in the U.S., didn't disappoint.
In a nutshell, it's about a nine-year-old African American boy (Anton), who after an incident is taken from his drug-using birth mother and becomes a foster child to a rich, white, U.S. judge and his wife whose son was killed in an accident. The judge is so taken by Anton that eventually he has strings pulled in order to adopt him, giving him the affluent life he never imagined. But later in life when Anton comes to discover the truth about his birth mother and what happened, he's left to reassess those who've meant the most to him.
This novel I thought was well done. It's a bit like a morality play involving race and class — and a boy caught between two backgrounds as he grows up and goes to university and then law school. It made me get into the characters' minds about the circumstances right off the bat. I was lured into their world and felt a bit for each of them in a situation that never seems fully clearcut or good guy / bad guy — although the line the foster father crosses to adopt Anton is truly squirm-worthy.
It reminded me a bit of the novel "The Light Between Oceans" as both involve stories about raising a child that is not biologically yours. Though "Everybody's Son" asks different questions — about one's identity and being black or white, and rich or poor. As Anton's college girlfriend tells him: "I can't decide if you're the whitest black man I've ever known or the blackest white man I've ever known."
It also drives home the point that while one's parents might love and have the best intentions in raising their kids, they don't always do what's right by them — as Anton finds out with his birth and foster parents. If you like such sticky-situation stories then this one is for you. I found the characters felt pretty real even if the construct of the story played out a bit simplistically at times. All in all, it makes me want to try out other novels by Thrity Umrigar in the future, such as perhaps "The Story Hour" from 2014. Which is your favorite of hers?
You Don't Have to Say You Love Me: A Memoir by Sherman Alexie / Little, Brown / 464 pages / 2017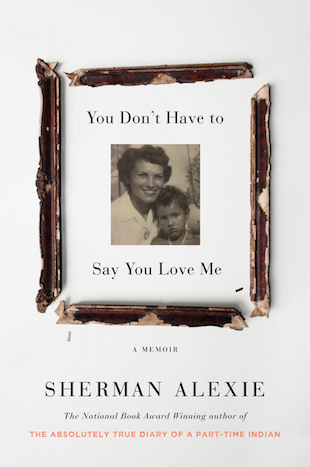 Wow this book has a bit of everything to it — part family memoir, part poetry, part remembrance, part grief book, part essay, part cultural reckoning. It took me a couple of weeks to listen to all of it as an audiobook read by the author, which I'm glad I chose since he seems born to orally narrate his works.
I'm a bit of newbie to knowing about Native American author Sherman Alexie, age 50, who I vaguely remember won the National Book Award in 2007 for his young adult novel "The Absolutely True Diary of a Part-Time Indian." Somehow I missed this well-known book, but I recently heard him interviewed by Eleanor Wachtel on her CBC program "Writers & Company" and I thought I'd try out his memoir.
It revolves mostly around the bittersweet relationship the author had with his mother and the years he spent growing up on the Spokane Indian Reservation. At the onset, he replays his mother's illness and funeral at age 78 in 2015, and then he looks back on his years with her and his siblings. His mother had saved their lives when she quit drinking and supported them with the quilts she made, yet she was tough on them too. Alexie's father was an alcoholic, and not the breadwinner, and Alexie's years were often spent hungry and challenged on the reservation. He had to have a brain operation when he was six months old and was bullied at school. But somehow he persevered, and both parents apparently supported his leaving the reservation to attend high school 22 miles away in Reardon, Washington, and he never fully went back.
Sherman Alexie has quite a story, and it's dramatically told. He doesn't shy away from anything, whether it's personal or he's talking about genocide or prejudices against Native Americans. I thought some parts of the book were excellent and the author's candid grief, anger, and humor shine through. I sympathized with him over the death of his mother, which has caused him so much pain, the brain operations he's gone through, his life on the reservation, and the stuff he found out about a couple relatives being raped  (though I was a bit unsure from his narrative whether his mother was a product of a rape or his half-sister was, or both were). Regardless it's a pretty emotional narrative in parts.
I also liked his poetry that he includes and narrates well. It's interesting too he talks not only about the genocide done by whites and the damage it has caused, but also is quite highly critical of the violence and harm that Indians do to one another. Particularly he is unnerved when other Natives question his Indian-ness or his tribal affiliation, and he takes to task Indian violence on the reservations.
I gave the book 3.5 stars on Goodreads, which put me in the minority of many who liked it more. My only trouble with his memoir was that he rambles on and on from chapter to chapter (it's not exactly chronologically told) and it felt unfocused quite a bit and overly long. It seemed to circle around and around repetitively to the same topics and I grew tired of the run-on-ness of it. It was a bit like a marathon and an endurance event (at 160 chapters!), and I wasn't sure a few times if I was going to finish it, but in the end I managed to. It felt a bit uneven, but still I'm glad I read it; many parts of it I found were quite powerful and he had plenty of interesting things to say.
What about you — have you read this book or author, or Thrity Umrigar's — and if so, what  did you think?