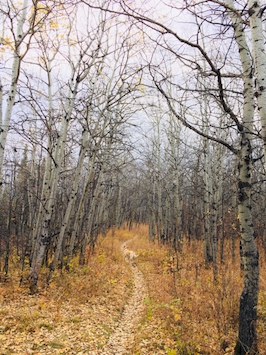 How is your fall going? A lot of the leaves are down here now so I need to get out and rake, rake, rake the yard. We had some snow but luckily it didn't stick around too long, though more flakes are in the forecast. This week is busy with the book festival, Wordfest, going on here; I think I'm attending eight author events. Most notably perhaps is an evening with authors Tom Perrotta and Ruth Ware. I'm also looking forward to seeing nonfiction author Michael Finkel who wrote "The Stranger in the Woods: The Extraordinary Story of the Last True Hermit," which came out this year and I'm on the wait list for at the library. I'm sure there will be plenty of other interesting readings and talks,  mostly by Canadian authors who are featured here, so I will let you know how it goes.
Also kudos to British author Kazuo Ishiguro for winning the Nobel Prize in Literature last week, Wow. I thought it was a good choice. I loved his novels "The Remains of the Day" (1989) and "Never Let Me Go" (2005) — so sad and good. I'd like to read more of his books including "A Pale View of Hills" (1982) and "An Artist of the Floating World" (1986) among others. I've heard various people say that "An Artist of the Floating World" is their favorite of his novels, but I think "Never Let Me Go" is hard to beat. Which one is your favorite of his?
Meanwhile I will leave you with a couple reviews of what I finished last week. Both of them happen to be shortlisted for this year's Man Booker Prize.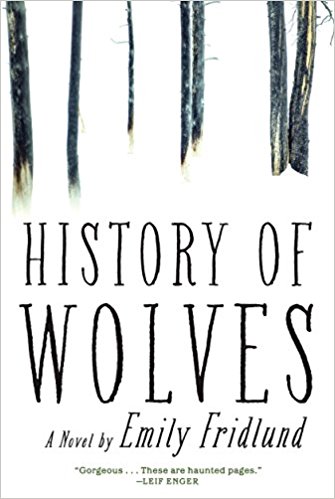 Set in Northern Minnesota, Emily Fridlund's debut novel "History of Wolves" is a coming-of-age story that is quite unsettling. It's about a 14-year-old girl (Linda) who lives with her parents in a drafty cabin in the woods by a lake, where they once were apart of a commune. She's a lonely girl, unsupervised most of the time, who comes to be the babysitter for a 4-year-old boy whose parents have a place a mile or so away. Something happens to the boy — you learn this at the very beginning, though it's not revealed then how — and the girl, Linda, who doesn't see it coming, is haunted by it in the years after.
Told in the first person by Linda, the story delves back and forth in time over her young life there and her relations with the boy and his parents — as well as there's a side story about Linda's high school history teacher, who she's drawn to, that's accused by a student of wrongdoing. This side part turns out to have some thematic parallels with the main story about the boy, though it's not evidently clear what those are until the very end.
I'm still rolling over in my mind what I thought of the novel. It sort of creeped me out in a bit of an icky way, but it did get under my skin. It very slightly reminded me of Celeste Ng's novel "Everything I Never Told You" because the boy's fate is known at the beginning (like Ng's character's is), and because I wanted to shake some sense into each of these characters at some point, just like I did with Ng's book. You'll figure out what happens long before Emily Fridlund's character Linda does, but like her, you probably won't want to see it coming.
I guess I'm a bit surprised "History of Wolves" was shortlisted for this year's prestigious Man Booker Prize. For one thing, it's a debut novel — and for another, I didn't realize they pick many in this psychological thriller genre for the award (but maybe that's just my own misconception). Also some of the threads of the story seemed to strain one's sense a bit — though I do agree it is a pretty visceral debut — both a bit moving and disturbing. I will watch to see what the author writes next.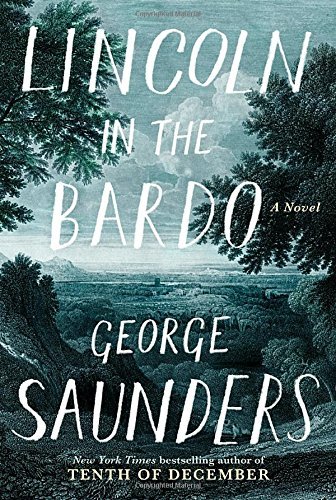 Second up, I finished listening to the audiobook of George Saunders's offbeat and much-talked-about novel "Lincoln in the Bardo," which features 166 different actors' voices for the many parts — perhaps the record for any audiobook. Surely all the different voices light up the story. It's a lyrical narrative and at times the chapters sound like poetry and at other times the scenes of the interaction between characters come off like a play.
The novel has quite a few components to it, but mainly it intermixes historical parts about President Abraham Lincoln after his 11-year-old son Willie dies in 1862 — with a fictional story about ghosts in limbo of those dead, including Willie, who hang out at the cemetery where he is buried. It's quite a motley crew of the undead who are in various states of decay that befriend Willie. They yammer amongst themselves about their past lives and their anxieties of their current limbo.
I didn't know exactly what to make of all the ghosts. Some are comical and some tragic; they made me contemplate otherworldly states a bit. But despite their colorful liveliness, I was more drawn in the story to the interspersed historical parts about Lincoln that Saunders compiles from bits of letters, diaries, newspaper articles, testimonies, and history books. Some of these sources are fictional, while others are real. They are quite fascinating, and give a portrait of Lincoln that shows his utter grief over his son's death, the struggles he has with his faith, and the loss of lives in the Civil War. It's a sobering and sad view of the president and all that was happening at the time. (I guess I didn't realize either that there was a party given at the White House the night Willie lay ill and dying upstairs, which only compounded the Lincolns' grief later.)
All in all, I enjoyed the language of "Lincoln in the Bardo" — which made it feel like it was 1862 — and its imagery and history. Though there were times in the audio that I became lost with who was speaking and what was happening — due to the immense number of characters and facets to the story, and therefore I should go back at some point and read the print version as well. Despite its brevity, there's quite a bit to take in. Some parts of the novel worked better for me than others, yet I still think it's likely to win this year's Booker Prize.
Finally last week my husband and I saw the movie "Battle of the Sexes" about the 1973 tennis match between then-world No. 1 Billie Jean King and ex-champ and hustler Bobby Riggs. Oh it's an enjoyable movie and is about much more than tennis (which is mostly at the end of the film). It delves into the personal lives of both Billie Jean and Bobby at the time, and the social change that was going on in the country. With Emma Stone as Billie Jean and Steve Carell as Bobby what are you waiting for? They are terrific in the roles — even if slightly nuanced from the real Bobby and Billie Jean.
Surely pro athletes such as Maria Sharapova and Serena Williams have much to thank (as we all do) for the early women pioneers of the sport, who are highlighted in the movie, though there's still plenty of room for improvement of women's equality and workplace fairness … which is clearly evident this week by the abhorrent story of Harvey Weinstein and how he conducted business at Miramax films for decades. In regards to all these cases that have recently come forward (with Cosby, Roger Ailes, and Bill O'Reilly etc.) —   "Battle of the Sexes" seems to be still highly relevant and timely in a number of ways.
That's all for now. What about you — have you read these books or seen this movie and if so, what did you think?