Last week, I tagged along a couple days on my husband's work conference to Banff, and then when I returned home I was in a tennis tournament over the weekend so it's been busy. Being in Banff was really nice as usual, especially as it is still a bit of the quieter shoulder season there, though the ski season is just beginning and things are starting to pick up.
I took a few walks around town and along the river and went to one of my favorite spots — the Whyte Museum of the Canadian Rockies. It usually has an exhibit or two worth seeing.
This year it was Colleen Campbell's art work of her 20 year career as a field biologist in Banff National Park tracking the patterns of bears along the eastern slopes of the Rockies. Her drawings detail the bears' individuality and show the challenges they face in the increasingly high-traffic corridor of the park. Sadly many bears over the past decades have been hit and killed by cars on the highway or by trains, though park officials are trying hard to mitigate this. I kick myself for not getting a few shots of Campbell's work while I was there, though some of it was quite detailed and might not have shown up too well using the iPhone camera. Still it was fascinating.
Since my last post, I finished Kamila Shamsie's novel "Home Fire," which was long-listed for this year's Man Booker Prize Award, as well as Edith Wharton's timeless 1911 classic "Ethan Frome." Both lead up to endings that come to shattering reckonings. Shamsie's novel is said to be a modern re-telling of Sophocles' play "Antigone," but it's not something you really need to know about to follow her story. Only afterwards, did I look up "Antigone" to reacquaint my memory that it's about a woman who attempts to secure a proper burial for her brother who is killed in battle. She has a sister too, who, unlike Antigone, hesitates to bury him out of obedience to the king's authority.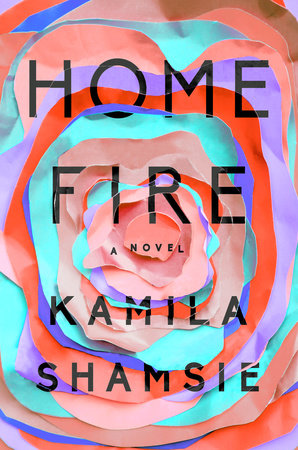 Meanwhile, Shamie's story is set in London and follows the lives of 19-year-old twins, Aneeka and her brother Parvaiz, who were raised by their older sister, Isma, the devout orphaned daughter of an Islamic jihadi fighter. It's only when Isma leaves for a Ph.D program in the U.S., that things take a drastic turn. Parvaiz disappears to Syria to try to prove himself to the father he never knew, while his twin Aneeka becomes involved with the son of the British Home Secretary (a secularlized Muslim) to try to get help for her brother. But what starts as a relationship driven by motive soon develops into something much more.
Oh what a tangled web is weaved. What plays out between the two families from different neighborhoods — Isma's and the Home Secretary's — holds the story in the balance. Told from different characters' perspectives, "Home Fire" deals with terrorism, religion, and politics in ways that are quite bold. I found it to be a timely and absorbing read that explores themes of love, loyalty, family, and justice. It caught me in its grip to the point that I listened to both the novel as an audiobook from the library, then when it expired too soon, I read it in hardback to pick up more of the details. I recommend both formats, though maybe even more so the audio as it's superbly rendered and the hardback uses a font that seems unnecessarily tiny. Why do they do this to me?!
All in all, I'm thinking "Home Fire" is one of my favorite novels of the year. How it didn't get shortlisted for the Booker Prize I don't know. I thought it was better than Emily Fridlund's novel "History of Wolves," which made the Booker's short list — or perhaps the subject matter of "Home Fire" just interested me more. It definitely surprised me because I had read Shamsie's previous novel "A God in Every Stone" and found it a bit slow and cumbersome and a chore, but this one was lively and kept me turning the pages.
I didn't find the story overtly pro-Muslim or anti-Muslim (the author is a Pakistani who was raised in Karachi and moved to London in 2007), but it showed people of various adherences of faith from the peaceful to the radical as well as to the secular … against the back drop of the dangerous and politicized times we live in. The roots of radicalism are explored in it as well as the pull of family — slightly similar to another novel I found thought-provoking — Karan Mahajan's "The Association of Small Bombs." "Home Fire" too has an ending that will send you scurrying for cover. A bit of a love story with a modern-day crisis about it, the novel's themes carried the day for me.
Speaking of love story, I picked up a copy of Edith Wharton's short novel "Ethan Frome" that was lying around my parents house when I visited them back in October. My folks had recently been in Massachusetts and had stopped by Wharton's estate in Lennox, which is now a historic house museum. I gather my Dad was fond of the story from his school days and so bought a Signet Classic paperback Centennial Edition from the house museum. It's the one that starts with a Foreword from author Anita Shreve who says "Ethan Frome" has "always been her favorite novel" and though she's read it at least 20 times, she says the novel "never grows old or even fully known to me."
And so with that, I plunged into the story set in a desolate winter landscape around the fictional farming town of Starkfield in western Massachusetts. Oh it's a frigid place and time of year: cold, cold, cold! Brrr, the story makes you experience the freezing temps and the icy slopes as the protagonist Ethan wields his horse buggy along the rural snowbound roads. And from early on, you know something is not quite right with Ethan (now a man of 52); he's had a "smash-up" of some sort that's left him in a ruinous state along with his farm, where he lives with his shrew of a wife Zeena. But try as you must, you won't find out what happened to him decades earlier until the episode plays back at the novel's end.
It's not a complex story. It's about what happens when a young cousin of Ethan's wife (Mattie Silver) comes to live with them on the farm. In due time, Ethan falls in love with Mattie but is trapped in his marriage to the awful, ailing Zeena, who moves to take from him the greatest chance at happiness he has left. Oh the story's a heartbreaker whose shattering ending is far worse (I agree with Shreve in the Foreward) than we could have imagined.
It's hard not to see it as semi-autobiographical — based on Wharton's own dismal marriage that she was trapped in for 28 years to a mentally unstable man before she divorced him in 1913. Apparently she had an affair towards the end of her marriage to an American journalist that was brief but made her happy. It's the story of Ethan Frome in reverse!
I tried to find the movie version of "Ethan Frome" from 1993 with Liam Neeson as the protagonist and Patricia Arquette as Mattie, but it wasn't on Netflix or Apple TV. But too bad. Maybe it's on YouTube. Guess who plays the sickly and cruel wife Zeena in the movie version? None other than the seemingly tough actress Joan Allen, who you might remember as CIA Director Pamela Landy in two of the Jason Bourne movies. Oh I fear she makes a harsh Zeena!
So thanks to my Dad for lending me a copy of his Signet edition of "Ethan Frome" and also to Brian over at the blog Babbling Books who reviewed Wharton's short novel in October and urged me to read it. I indeed found it a classic worth visiting and Wharton a masterful author at the height of her powers.
What about you — have you read either of these novels or seen the movie — and if so, what did you think?