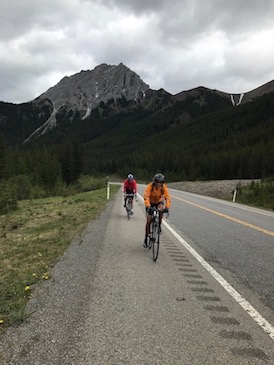 Summer days have been busy so I have been away from the blog a bit. I returned from a short trip to California to visit my folks and plunged headfirst into summer chores and activities here. See the photo at left of our bike ride in the mountains from last week. My reading has taken a bit of a hit as a result as it's been left on the back burner, but I hope to get it back on track soon.
The two novels I finished lately both had a little about religion and faith to them, though they were not alike. You'll notice neither are on my "summer reading list" that I put forth in my last post but I started them before "the List" was created. So I will have to jump back to that now. Meanwhile here are my reviews of the two recent books.
(The following summary was culled in part from the publisher's description)
J. Courtney Sullivan's 2017 novel "Saints For All Occasions" is about two close, Irish Catholic sisters that immigrate to the U.S. in the late 1950s to start a new life in Boston. The older, responsible one (21-year-old Nora) is shy and serious and engaged to a man she doesn't know if she wants to marry; the other (17-year-old Theresa) is pretty and outgoing and loves the social scene in Boston. But when Theresa becomes pregnant, Nora comes up with a plan to right the situation that will have life-long repercussions for both of them. Fifty years later, Nora is the mother to four grown children and Theresa is a cloistered nun, living in an abbey in rural Vermont. They haven't spoken in decades, but a sudden death in the family forces them to confront the choices they made from long ago.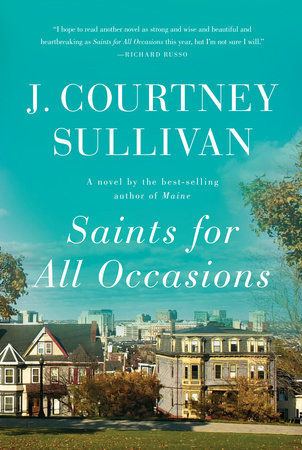 The story alternates chapters of the sisters in the 1950s with those from 2009 among Nora's grown kids and the two sisters, now in their 70s. The oldest son Patrick, who was a troublemaker growing up, is now a bar owner; then there's John, a successful political consultant (married with an adopted child); followed by Bridget, quietly planning to have a baby with her girlfriend; and lastly Brian, living at home after a failed baseball career. It's a well-done story and I got caught up into each of the family members' modern lives and perspectives and how those differed from their mother Nora's immigrant one. You get a bit from Theresa, too, about her life at the abbey and why she chose the nunnery — and most importantly why the two sisters' lives diverged so suddenly and much.
It reminded me a bit of other Irish Catholic family tales, though I haven't read a lot in this genre. I found it rather frustrating because of the secret kept and things left unsaid among the family members that threaten to undo them (which made me want to yell at each to spill the truth). None of the characters are exactly saints in the story and perhaps that's the point of the book's title. I particularly wanted to strangle the mother Nora for her stern ways, grudges, and for making matters worse, but then again she's not altogether bad, but is caring in her own ways, which makes the novel more complex. It's a story tinged with sadness and regret that made me think about it for quite awhile afterwards.
This was my first novel that I read by J. Courtney Sullivan and I'd be curious to read her others. I've heard that her 2011 novel "Maine" perhaps is the one readers have liked the most, though her two others "Commencement" and "The Engagements" are also talked about. As for "Saints For All Occasions," I gave it a worthy 3.7 stars on Goodreads.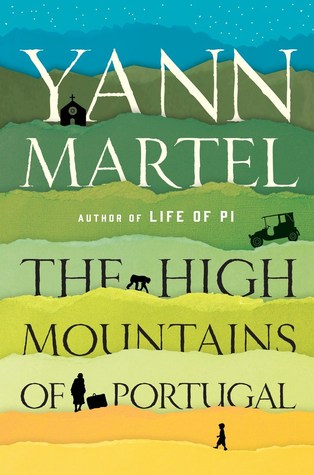 Next up, I finished the audiobook of Yann Martel's 2016 novel "The High Mountains of Portugal." You might recall from his award-winning novel "Life of Pi" that Martel's stories often unfold like fables, delving in allegory and magical realism and containing animals in them. And this novel is no exception.
The book is broken up into three different sections — each like a novella unto themselves with different main characters and set in different decades, but the stories are slightly inter-connected and all come to pass in the same area of Portugal.
It's a strange novel that touches on faith and religion, and animals and humans. I almost gave up on the book during Part I as nothing much seemed to be happening to keep my attention. This part is set in Portugal in 1904 where a man, whose family has died, embarks on a journey using one of the earliest motor cars to find an artifact of a mysterious crucifix in the high mountains of Portugal. The premise seems enticing, but early on the story waxes on and on about the inner workings of the car and the man's frustrations with it — and after while I just wanted to throw the audio against the wall. I was surprised — was this really the work of the great Yann Martel, the same author of "Life of Pi"? I couldn't believe it. But somehow I kept going and eventually odd things about the crucifix artifact were revealed, including its chimp-like qualities.
Thankfully Part II picks up a bit and tells an odd story set in 1938 about a Portuguese pathologist who receives a visit from his wife who waxes on about Christianity in the works of his favorite author Agatha Christie. Afterwards the pathologist has a strange occurrence while doing an autopsy on a man whose body is filled with unusual items, including a curled up chimpanzee. What the story all means, I couldn't exactly tell you.
But Part III is by far the best. Set in 1981, it tells the story of a Canadian senator who, grieving his wife's death, moves to Portugal bringing with him a chimpanzee — freed from an animal research facility — as his companion. This last part is wonderfully told and almost fully made up for the other two lesser parts. All three sections are inter-connected by a character and include a protagonist who is grieving a great loss — moreover they all include chimpanzees. As far as I can tell, each story seems to be about faith or the lack of it, though I'm not sure I understood everything in them — or if Yann Martel was smoking too much dope at the time. But he seems to raise and pursue the Darwinian notion that: "We are risen apes, not fallen Angels," which he quotes at the end of Part I.
If you liked Martel's novel "Life of Pi," as I did, (or the movie) you might give this one a try too. It's not as great as that one was — but still has a few interesting things about it.
What about you — have you read either of these authors, and if so, what did you think?