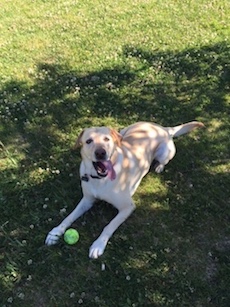 I was in an outdoor club tennis tournament over the weekend that was fun but took a lot of time. It was hot and windy and yesterday temps hit 90F degrees, which is big for Western Canada; people generally sort of melt here under such conditions, but they seemed to be having fun along the river, floating rafts downstream and throwing balls for dogs.
Meanwhile my husband and Labrador were out sailing and hiking. See Stella at left. She's a big water dog and likes to show off, leaping into the river at full run. She believes she's the best swimmer in town, which is pretty hard to argue with since she's so fanatical about it.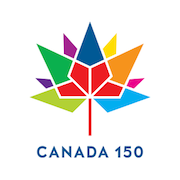 We are going away next week back East for our summer vacation. Usually we don't go in July, but it just worked out that way. And of course it's Canada's 150th anniversary of Confederation on July 1, so it's a big deal. We will bang pots and pans and watch fireworks and celebrate along the St. Lawrence River and Lake Ontario. From there we can see Upstate New York, but we will be on the other side of the water, sporting our Maple Leaf flags and boating around amid some of the Thousand Islands. I will report on it when I get back, until then I will leave you with two brief reviews of what I finished lately.
Jardine Libaire's novel "White Fur," which came out in May, is getting quite a bit of buzz this summer and I was lucky to get a copy from the library. It's about two 20-year-olds from opposite sides of the tracks who fall for one another amid the glitz and grit of New York City in the 1980s. They meet in New Haven, Conn., where Jamie Hyde is a junior at Yale. He's beautiful and wealthy, an heir to a family fortune with high expectations. Elise Perez lives next door in a rundown apartment with a roommate who found her sleeping in his car. Half white, half Puerto Rican, Elise is a high school dropout who doesn't know her father and ran away from her  mother's life in public housing in Bridgeport.
Nevertheless the attraction between Jamey and Elise is quite instant. And what seems to start as a sexual obsession becomes something greater — as they move to Manhattan together that summer. Yet as their relationship grows, there's forces — such as Jamie's intervening family — that threaten to tear them apart and will have consequences for them staying together. You have to stay tuned to the very end to see whether they will survive it.
It's a story that's been compared to "Romeo and Juliet" and Bret Easton Ellis's "Less Than Zero," and it reminded me a bit of a mash-up of those. Of course, the theme of star-crossed lovers on opposite sides of the tracks has been done many times before, but there's a freshness to this novel's episodic-like telling that I found appealing. It's raw, it's gritty, it's poetic at times, and there's a feel for New York City that brings the story to life. Both protagonists' views — Elise's and Jamey's — get fairly equal weight in the novel as do a bit of their family's. "White Fur" is not only a love story, but it also focuses a lot on their class distinctions and the divide between rich and poor, which they try to transcend. The different New York City spots they frequent only highlight the melting-pot microcosm of economic society that surrounds them.
There's not a lot of judgement in the book, other than two people trying to be together from opposite worlds. I thought the author put a lot into its writing and it came together fairly well — except for an episode or twist at the end that seemed to strain believability and that I didn't care for. Despite that part, I rounded it up to 4 stars on Goodreads, though I don't think it's a book for everyone. Just fair warning: it's rough around the edges, the sex is frequent and graphic and there's a bit of rough language in it as well. It's nice though that Elise and Jamey aren't two misfit drug addicts who don't know what they're doing. For the most part, they're pretty sober and clear about where their hearts come to lie.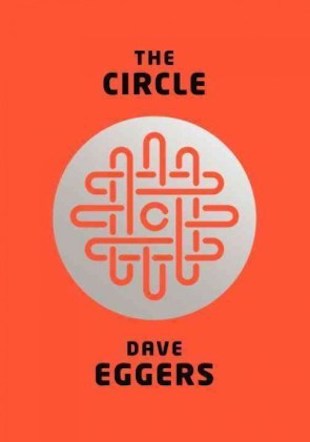 Meanwhile, I finished the audiobook of Dave Eggers's 2013 novel "The Circle," which I don't know why I didn't get to when it came out a few years back, but it is long. And the movie of it, which came out at the end of April with Tom Hanks and Emma Watson, was pretty much obliterated by the critics, with only 15 favorable ratings compared to 83 rotten ones on the site Rotten Tomatoes. Apparently it's considered one of the biggest movie disappointments so far of 2017, probably because of how topical and good the novel was. People were waiting for it after the book but then the movie didn't deliver. Ugh. I couldn't even talk my husband into going.
But I'm glad I went ahead with the audiobook because I found it quite entertaining and I laughed throughout it. It's a wonderful satire of Silicon Valley culture and social media, even if it is heavy-handed at times about its message. It seems Eggers had quite a bit of fun writing this one, sticking it to the tech giants at every turn.
It's a story about Mae Holland who can't believe her luck when she's hired to work at the Circle, a Bay Area tech company that's cornered the world market on social media and e-commerce. As she rises through the ranks, she quickly loses sight of her friends, family, and sense of self to meet her work quotas and gain social acceptance, eventually becoming privy to the company's plans to make the world safer, which include preventing child abductions through microchips, reducing crime through constant surveillance, and eliminating political corruption through transparency via personal cameras. Soon Mae's encouraged by the company's founder to participate in the experiment of full disclosure to "Go Clear" and wear a camera so the public can watch and comment on her every move. But when this has consequences on her family and friends, she must decide if she's doing the right thing, and whom to trust and be loyal to.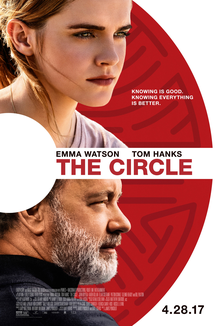 It's a story that's a little scary to think about if our every computer keystroke is quantified and tracked and there's little to no privacy, either online or off. Is this more of what we have to look forward to in the future? It's a grim thought and Eggers isn't shy in his novel about showing us the downfalls of this kind of dehumanized world. Though some didn't like the novel because they found it too heavy-handed or simplistic a screed on the tech world. And they thought Mae was too passive and accepting of the Circle's policies.
For the most part, I found it a fairly effective satire: funny and alarming at the same time. The corporate culture at the Circle's campus — where social activities after work hours are encouraged and tracked — are particularly laughable in the book. Pretty soon Mae is just about living on-site and it's a stifling feeling. She's railed on to share all of her experiences with her thousands of co-workers through inter-office messaging whether it be while out kayaking on the Bay, or visiting with her parents, or about who's she's dating. Oh there's way too much sharing! It's a social media company run amuck. You'll want to steer clear of it if you're ever offered work at such a place.
This was my first Dave Eggers novel, so I was pretty impressed. I thought it was a bit too long (and I'm sure overdone), but I enjoyed it and would read him again in the future. Some of his novels such as "What Is the What" and his memoir I've heard are excellent, so I will eventually get to them.
What about you — have you read "The Circle" or any of Dave Eggers's novels, or have read "White Fur," and if so, what did you think? Also Happy 4th of July and Canada Day to all who celebrate it. Enjoy.