Hi, how is your spring going? Have you watched any March Madness? Most of the snow and ice are gone here now (just left with some mud), and we are contemplating taking our first bike ride of the season today. I'm really excited that winter is over, hooray, though snowflakes can come here at anytime. I hope the buds are opening where you are, and that you are feeling spring fever. It's a great time of year. I will leave you with some reviews of things I finished last week.
All Grown Up by Jami Attenberg, 2016, Houghton Mifflin, 208 pages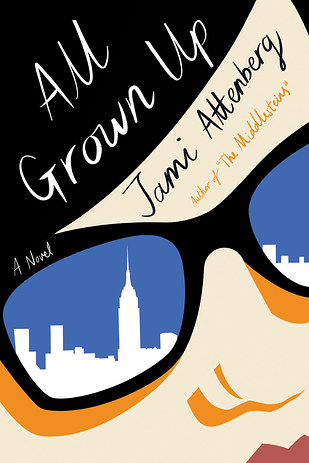 I picked this novel up thinking it might be a bit fun with some attitude — a single girl in the city kind of novel, from an accomplished author, that I heard was bitingly funny. And indeed it didn't disappoint in that regard. It's told in a series of vignettes from different points in the protagonist's life, which go back and forth in time. It read almost like it was a first-person memoir, but instead is a work of fiction.
The main character in the novel, Andrea Bern, is quite a piece of work. She's approaching 40, lives in Brooklyn, has no passion for her job in advertising, sleeps around with no intention of getting married, and is seemingly lost and going through a rough patch. She is trying to figure out what it means to be an adult since her world is devoid of what typical adults are like. All the while, she is dealing with the grief of her brother and sister-in-law who are caring for a terminally ill child; the absence of her mother, who leaves the city to help them; and her best friend whose marriage is imploding. There's also the baggage she carries around from dropping out of art school (her one true love), and the death of her father, who died from a drug overdose when she was a teenager.
Andrea would be totally sympathetic if she weren't so flawed. She's pretty selfish and self-absorbed and often not that likable. She's also insecure and at times childish, and I wanted to shake some sense into her. But along the way, while seeking connection, she seems to gain some heart, and I started liking her for being clever, candid, and pretty funny as well. She's snarky but sensitive too.
The story ends up being not so much about singledom — as perhaps just trying to find happiness, which most of us can relate to, though this book probably won't be for everyone. But it's a short, quick novel that turns out to be more touching than I would have initially thought — by an  author whose earlier books I've been tempted to pick up. I'm glad I got to this one. Have you read her before?
A Tale for the Time Being by Ruth Ozeki, 2013, Viking, 432 pages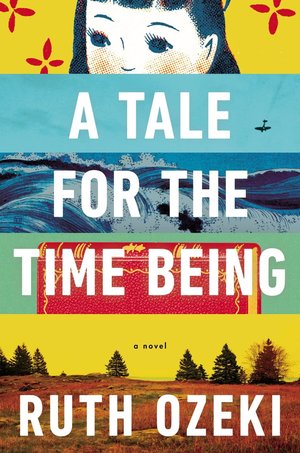 Meanwhile I listened to this novel as an audiobook, which is read by the author, who does a superb job of narrating the various characters. The book had been quite popular when it came out a few years back, but somehow I never got my hands on it. I'm glad I finally did. It starts with a relatively simple premise but then expands to cover so much. Who knew?!
It's about a married Japanese-American writer (Ruth) on a remote island off British Columbia who finds a bag with a diary, a watch, and letters that washes up on shore sometime after the 2011 tsunami hit Japan and caused a meltdown at the Fukushima Nuclear Power Plant. The diary turns out to be written by a teenager named Nao in Tokyo who's being mercilessly bullied at school. She had once lived in Silicon Valley in California, but her father was downsized there, so they returned to Tokyo, where her father has attempted suicide a couple times, and her mother works a lot.
The chapters alternate between hearing about Nao's life in Japan and Ruth's life on the island where's she going through writer's block and trying to figure out more about whose diary and letters washed ashore and where they came from. (Don't you love these lost artifact kinds of stories? Another one is Bich Minh Nguyen's novel "Pioneer Girl," which is also quite good.)
Both storylines of Ruth and the young Nao are quite captivating, though Nao's chapters are more engagingly told as she grapples with the harsh times she's going through. She's a plucky teenager, who's only solace is to write the life story of her great grandmother, a Zen Buddhist nun who's lived more than a century, and who turns Nao's life around when she goes to stay with her on summer break.
Oh there's much more to the story, this is only the tip of the iceberg. It's a book that covers some dark subjects, such as from Nao's life: depression, suicide, and bullying, and from Ruth's life: nuclear fallout, ocean pollution, and species extinction (and from both lives: 9/11). But the book is also oddly uplifting, even a bit funny at times, how the two characters persevere and transcend time and place to reach out to one another through the diary and letters.
The novel's essentially about the nature of time, and people in time: "time beings" as it says. For those who like a bit of philosophy in their fiction, and even quantum physics, which the story touches on near the end, then this novel is for you. It also includes a dose of magical realism, which luckily didn't overwhelm me, or the story too much.
For the most part, I was captivated by Ruth and Nao's lives, and I thought the novel was cleverly put together by the author. My only criticism perhaps was that it felt a bit uneven in parts, and could've been edited shorter. It goes on too long and for me didn't necessarily need to cover so much. For instance, I would've been okay without the quantum physics part. Still I was totally surprised by the depth and how involved the story of "A Tale for the Time Being" was. No wonder it was shortlisted for the 2013 Man Booker Prize. I thought it deserved it.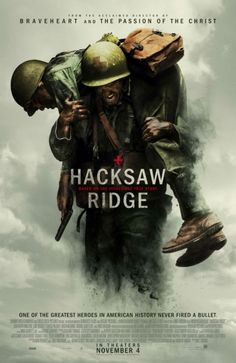 Lastly this week, I watched the Best Picture nominated film "Hacksaw Ridge," which is my second to last film in that category I haven't seen. (I still need to see "Fences.") "Hacksaw" is based on a true story about Desmond Doss, a combat medic in WWII who was the first man in American history to receive the Medal of Honor without firing a shot. Because of his Seventh-day Adventist's beliefs, Doss didn't touch guns and instead requested to serve as an unarmed medic.
The movie reminded me in some regards of other typical war, heroic films, such as "Saving Private Ryan" and "The Unbroken." The Battle of Okinawa, which it depicts, was brutal with huge casualties on both sides. The film is quite graphic in terms of showing loss of lives, and body parts blown off. Doss, played by Andrew Garfield, dodges around the battlefield dragging the injured to safety. His courage and exploits are amazing, and apparently he saved 75 lives from the battle.
And though it is like other war films, I was interested to find out about the life of Desmond Doss, who grew up in Lynchburg, Virginia, and dropped out of school in the 8th grade to help support his family through the Great Depression. His beliefs amid the war were quite atypical — so they are thought-provoking in the film. Apparently he lived quite a long time after the war, despite his injuries and contracting tuberculosis in the Philippines. He died in 2006 in Alabama.
What about you — have you read these novels or seen this movie, and if so, what did you think?