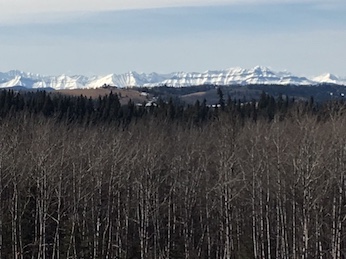 We've made it to April now, wow. Which reminds me of the saying: "April showers bring May flowers." Or are your flowers already out? I took the photo at left yesterday when I went bicycling; see the snowy mountains? The trees don't have their leaves yet, but it's starting to warm up here and we could get into the 60s later this week. I've already raked the yard for a spring cleanup and I hope things turn green soon.
Meanwhile a lot of new books are coming out this month, which we should discuss. Among others, there's new ones by Anita Shreve, Elizabeth Kostova, Randy Susan Meyers, David McCullough (a collection of his speeches), and even some long-lost unpublished short stories of F. Scott Fitzgerald's. I've whittled down my list to five or so new titles coming out to watch for, so let's get started.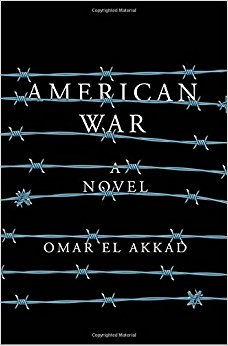 First off, I'll look to get my hands on Omar El Akkad's dystopian debut novel "American War," which is set in 2074 and recounts the outbreak of a second American Civil War between the North and South and its catastrophic aftermath.
Many are raving about this terrifying saga, which the New York Times's reviewer Michiko Kakutani calls "powerful" and one that "creates as haunting a post-apocalyptic universe as Cormac McCarthy did in "The Road" (2006), and as devastating a look at the fallout that national events have on an American family as Philip Roth did in "The Plot Against America" (2004)." These are certainly strong words from the often dour Kakutani, and so I hope to get to the book right away, especially since I really liked Ben Winters's slightly similar alternative history novel  "Underground Airlines" from last year.
Next up, I got to go with Elizabeth Strout's new novel "Anything Is Possible." Although I wasn't overly thrilled with her last novel "My Name Is Lucy Barton," which this one is a sequel to, I'm still a big fan of Strout's storytelling and have read most of her novels.
Apparently in this new one, "Strout reveals specific details of the horrible circumstances in which Lucy and her siblings were raised, as recollected by some of the inhabitants of Amgash, Ill., and the surrounding communities," so says Publishers Weekly. It interweaves a dozen or so characters and is similar in format to her well-known novel "Olive Kitteridge." I hear it's good, so I will not miss it.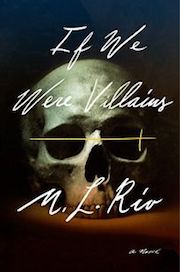 I'm also curious this month about M.L. Rio's debut novel "If We Were Villains," which is said to be a page-turning literary thriller, similar in nature to Donna Tartt's novel "The Secret History." It's set at a Illinois college specializing in Shakespeare studies, and follows a group of college students whose passions and insecurities over time escalate to murder; uh-oh. It's said to be an exploration of friendship and seems to be rife with obsession, betrayal, and the words of Shakespeare. I liked "The Secret History" so I think I will probably like this one as well, which is getting strong ratings on Goodreads. Apparently the author is pursuing Shakespeare studies in London so hence her idea for the novel likely came from there.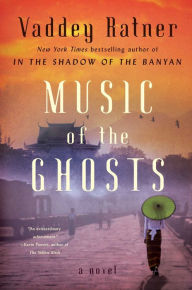 Next I'm interested in Vaddey Ratner's new novel "Music of the Ghosts" about a woman who returns to Cambodia for the first time since her harrowing escape as a child refugee. She comes to meet a man who wrote to her, claiming he knew her father at a Khmer Rouge prison where he disappeared 25 years ago.
Similar in themes to her first novel — "In the Shadow of the Banyan" — Ratner's new story is said to be a "tragic odyssey of love, loss, and forgiveness in the wake of unspeakable horrors," says Publishers Weekly. Gulp, count me in. I had planned to read the author's first book but then didn't get to it. But now I want to read both, even though reading about the Khmer Rouge genocide totally scares me. The author is a survivor from the regime in Cambodia, who now divides her time between Southeast Asia and Washington, D.C.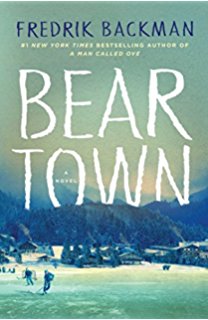 Lastly in books, I'm tempted to pick up Frederik Backman's new novel "Beartown," probably because I haven't read him before and he's such a popular author after "A Man Called Ove." I shoved the "Ove" story onto my husband — hint hint don't be a curmudgeon — and he liked it. And I'm sure I'll see the Swedish movie of it sometime. But for now, maybe I'll get onboard with Backman's novel "Beartown."
It's said to be about a tiny community deep in the forest that is hoping its junior hockey team can win the national championship and bring the place glory, but then a violent act occurs, which leaves a young girl traumatized and the town in turmoil. Hmm. Apparently the story is dark at times but also poignant. Will it be my first Backman read?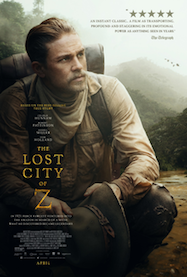 As for movies in April, there's a few that look promising. I'm a sucker for anything having to do with anthropology, archaeology, and explorers so "The Lost City of Z" — based on David Grunn's 2009 book about British explorer Col. Percival Fawcett, who disappeared along with his son while searching for a mysterious city in the Amazon in the 1920s — is right up my alley.
British actor Charlie Hunnam, who starred in the TV series "Sons of Anarchy," plays Percy Fawcett, and Robert Pattinson and Sienna Miller are in it as well. It's an adventure tale based on a true story that seems to have all the elements; what more do you need?
Also the movie adaptation of Dave Egger's 2013 novel "The Circle" is one I will likely see. It stars Emma Watson as the lead character who finds her dream job at a powerful tech company called the Circle, only to find out later that the company's invasive agenda goes way overboard. Tom Hanks plays the company's director, and the late Bill Paxton makes an appearance as Emma's father. (So sorry for Paxton's recent passing.) The storyline slightly reminds me of "The Firm" — remember that one? — though this one is more about privacy issues in a modern world gone technologically crazy. It's creepy stuff that doesn't seem too farfetched from reality.
Lastly for those interested in nature documentaries, photography, and wild animals there's Disneynature's "Born in China," which looks pretty amazing for its cinematography, subject mater, and scenery. It follows the stories of three animals families: notably a panda mother and her cub, a golden monkey and his baby sister, and a mother snow leopard struggling to raise her two cubs. I'm sure it's a film worth viewing and I'd especially like to see the footage of the elusive snow leopard. Apparently if you see the movie opening weekend, Disneynature will make a donation on your behalf to World Wildlife Fund to benefit the wild pandas and snow leopards, which is an added plus.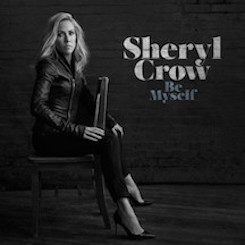 As for new albums in April, I'll pick Sheryl Crow's upcoming one "Be Myself." I'm a fan of her early albums and songs (such as "Leaving Las Vegas" and "If It Makes You Happy") so I'm a bit curious what this new one will be like. From what I've heard, it sounds like a return to her pop days, but hopefully it won't be too pop-py, if you get my drift.
What about you — which upcoming books, movies, and music are you looking forward to this month?