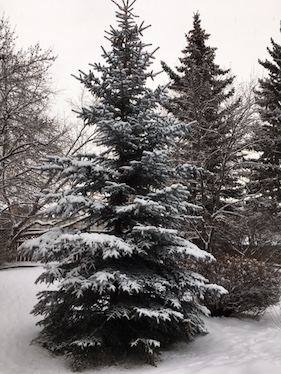 Light snow is falling here this weekend and it's all pretty and white outside. It's cold, too (6F, -15C), so it's better just to stay inside and read near the fireplace with a mug of hot cocoa. It's perfect for a good murder mystery, and I'm enjoying Jane Harper's novel  "The Dry"  currently, which I plan to review next week. I almost forgot about Super Bowl Sunday with all the distractions this week from the continuing Trump Gong Show, which troubles me to no end. But we do plan to watch the game, the ads, and the halftime performance by Lady Gaga. What about you? I hope it turns out to be a good game and a peaceful day.
Meanwhile February has arrived and it looks to be a good reading month. There's new novels coming out from  Joyce Carol Oates, Claire Fuller, Christina Baker Kline, Clare Mackintosh, and Heather O'Neill  among others, all of which I hope to look at, but I've picked a few other novels that have caught my main attention.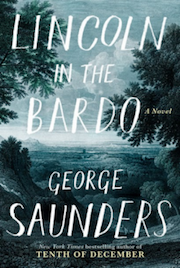 First off I need to check out George Saunders's historical novel  "Lincoln in the Bardo,"  which I've been hearing about since I saw the author at BookExpo last May. It seems a bit of an unusual supernatural story about President Abraham Lincoln and his beloved 11-year-old son Willie who dies in 1862. In the story, Willie is caught in a strange purgatory after dying, mingling among ghosts, where there's a struggle for his soul.
The book intertwines the living and the dead, as well as history apparently. It seems quite imaginative and I'm game for it. The author is known for his award-winning short fiction so this is his first novel. I'll be interested to see what I think. Have you read it already?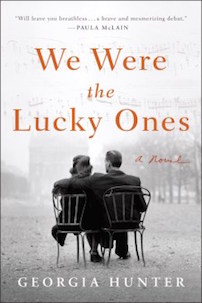 Then on my radar I have Georgia Hunter's debut novel  "We Were the Lucky Ones"  that chronicles the remarkable history of the young author's own Jewish family (the Kurcs), who were separated at the start of the Second World War in Poland and flung to such distant points as Africa, Brazil, and Siberia, determined to survive and reunite.
It sounds like a harrowing journey, one in which her grandfather and great-aunts and -uncles endured and persevered despite overwhelming odds against them. The author gives more insight into her research of her family and the book at her website. For those who liked Kristen Hannah's WWII novel "The Nightingale," this seems to be similarly gripping.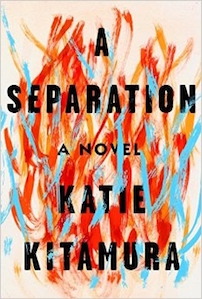 Next up I'm curious about Katie Kitamura's novel "A Separation,"  which appears to be another "Gone Girl" type of psychological whodunit. It's about a woman on the edge who tells the story of the end of her marriage to her husband in London and what happens when he disappears and she goes to look for him in Greece. Hmm. I know I should probably get over this Gillian Flynn, Paula Hawkins type of genre, but I'm being pulled back in by the spotlight that this novel is getting. It's said to be a slow burn of a story that builds with great force and intensity as the woman "discovers she understands less than she thought she did about her relationship and the man she used to love."  Hmm. We will see. I'm #18 in line for it at the library.
I'm also interested in Min Jin Lee's novel "Pachinko,"  a multi-generational saga of a Korean family from 1910 to 1989 that includes the Japanese occupation of Korea, and later the family's experiences as expatriates in Japan, where they "suffer endless discrimination but also moments of great love and renewal," according to Publishers Weekly.
"Pachinko" sounds like a fascinating epic, and though I don't normally read a lot of historical, multi-generational tales, this one is getting a lot of strong praise and favorable reviews and seems too good to pass up. I hope to win a copy of the book in the giveaway on Goodreads that's going on now. This is the author's second novel after "Free Food for Millionaires," which came out in 2007.
As for movies in February, Raoul Peck's documentary  "I am Not Your Negro," which chronicles writer James Baldwin's story of race relations in America from his unfinished novel, looks to be quite revelatory and strong. I have not read a lot of Baldwin's books, such as "Go Tell It on the Mountain" from 1953 or "The Fire Next Time" from 1963, but I plan to remedy that in the future. He was a tremendously influential thinker, writer and activist in so many ways … for Civil Rights and to writers such as Toni Morrison. This documentary appears to come at a period in America that seems timely.
Reviewer A.O. Scott of the New York Times called the film "life-altering" in a review on Friday, and Tre'vell Anderson of the Los Angeles Times said the film like James Baldwin is "unadulterated, uncompromising and unapologetic." From all I've read about it, the documentary sounds like a powerful must-see.
The movie "A United Kingdom" with David Oyelowo and Rosamund Pike is also getting pretty favorable reviews. It's based on the true story of the black Prince of Botswana who married a white woman from London in the 1940s, which caused an international ruckus. Their families didn't approve of the interracial marriage, nor did their governments, but somehow they persevered to assume power in his African country after independence. It seems like quite a story. Though the movie likely won't be as formidable to me as "Loving" was on the topic, it still seems worth seeing. The actor David Oyelowo I'm sure will remind me of his role as MLK in "Selma," and I hope Rosamund Pike doesn't remind me too much of her role as Crazy Amy in "Gone Girl." She was totally freaky but good in that.
Also note, Alicia Vikander and Christoph Waltz are in a period piece at the end of the month called  "Tulip Fever,"  about a young married woman who gets involved with a painter who's commissioned to paint her portrait in 17th-century Amsterdam. Uh-oh. Her husband, played by Waltz, isn't exactly thrilled by that. This appears to be Vikander's first appearance since her role in "The Light Between Oceans," which I liked.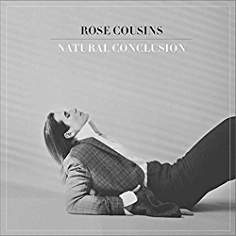 Lastly for February, there's new albums by Ryan Adams, Alison Krauss,  and the Canadian folk singer  Rose Cousins. I like all three of these musicians, but I'll pick Rose Cousins's new album  "Natural Conclusion"  since we're going to see her in concert here in March. It should be good.
What about you — which books, movies, or albums are you looking forward to this month?