January is usually a good literary month. It represents a clean slate for reading and goals and for starting anew — like being fresh out of the box, which I like. I just need to remind myself there's plenty of time to read lots of books this year and not to worry about pace. It's often the case that you can read some of your favorite books in January, I think it's because many come from Best Of Lists and piles saved from the prior year.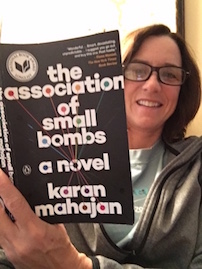 And Ta-Da: I was excited by my first read of this year, which as you can see from the photo at left was Karan Mahajan's novel "The Association of Small Bombs," which I first found out about when it became a finalist for the National Book Award and made the New York Times 10 Best Books of 2016 list. No small feat. Karan who? Well I didn't know either but now after reading his novel he's forever on my radar. Born in the U.S. but raised in New Delhi, India, Karan's another young talented author, who I was pretty amazed to learn is just 32, so likely he wrote some of this book while in his 20s. Oh my.
His novel "The Association of Small Bombs" has a fairly straightforward plot: it's about a bomb set by Kashmiri separatists that detonates in a New Delhi market in 1996 killing a handful of people, including two brothers, ages 11 and 13, and injuring their friend Monsoor. The book explores over a number of years the impact on the boys' grieving parents, the surviving Monsoor, and the terrorists who planted the bomb. So it starts simply from a heinous act but then branches out into the lives of both the victims and the perpetrators.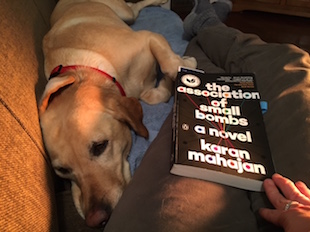 They undergo some surprising changes over time and I found Monsoor a compelling character. He feels guilty for his friends' deaths and seemingly suffers from psychosomatic symptoms. He's vulnerable and becomes lured into a fate that is not of his own doing. The ending I thought was not what I had hoped for, but overall the book, which takes place mainly in India, has many astute observations about terrorism, different ethnicities, and the times in which we are living. It throws a light on what's to be made of — or done with — the "small" terrorist attacks that seem impossible to stop and which the world has become inured to over time and frequency.
Admittedly the novel was a little heavy duty and some parts a tad dense for my first read of the year, but I was very impressed by it too. You really get a glimpse into the minds of those who committed the acts — and the story had me wondering if the bright Monsoor would recover and succeed; what would happen to the deceased boys' parents; and whether the terrorists would strike again. Apparently the novel is taken from an actual bomb attack that happened when the author was young at a market where his family sometimes shopped. Obviously it has stayed with him to a great extent; the details in this story are amazing. Look to Karan Mahajan in the future as he seems to be an author to watch.
As for January releases, such notable authors as Aravind Adiga and Paul Auster (880 pages!) have new novels coming out as does the popular author Chris Bohjalian. But I am looking forward to a few others below that have caught my eye.
"Idaho" by Emily Ruskovich — This debut novel is being quite raved about and is apparently a nonlinear story that comes together slowly over time and can't be read quickly. It takes place in a rugged landscape of northern Idaho and is about a family whose lives have been shattered by a shocking violent act. The husband's second wife tries to piece together his past and what happened to his first wife and daughters. Hmm. And here I was interested in it for the Idaho terrain. Shannon over at River City Reading has already read it and says "it's an amazingly powerful book that's set an extremely high bar for my reading year."
"The Girl in Green" by Derek B. Miller — This novel is about two men, a British journalist and an American soldier, who meet briefly in Iraq at the end of the Gulf War in 1991 and then reunite 22 years later in another war in a risky quest to save a girl shown from a video in an insurgent attack. It's said to have a bit of humor and satire about it combined with being a moving thriller. Somehow I missed the author's popular debut novel "Norwegian by Night," but now I am game for this one, especially since it just came brand new to me from the library.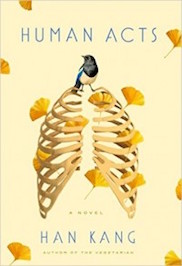 "Human Acts" by Han Kang — Written by the Man Booker prize-winning author of "The Vegetarian," this new one sounds as disturbing and dark as her first one did. It's about a violent student uprising in South Korea in which a young boy is shockingly killed. Knowing how grim this one is said to be, do I really want to go there? I didn't read "The Vegetarian," but I'm sort of thinking I need to try a Han Kang story. What do you think?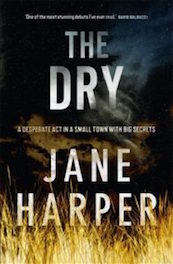 "The Dry" by Jane Harper — This one is a fast-paced, suspense thriller, hailed by many as a stunning debut. As Amazon puts it: it's about Federal Agent, Aaron Faulk, who returns to his hometown in Australia to mourn, and inevitably investigate, his best friend's apparent suicide. What comes next, says reviewer Penny Mann, is a "series of twists and turns that will keep you guessing all the way until the end." It's a nail-biting, highly praised thriller, set in Australia — what more do you want?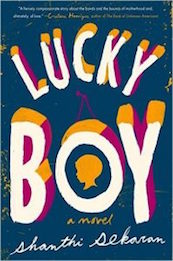 "Lucky Boy" by Shanthi Sekaran — I read a couple of great immigrant novels last year, and this one looks to be another in that category. (Per the publisher's summary): When Soli, an illegal Mexican immigrant working in Berkeley, Calif. is arrested, her child is put into foster care, where he comes to the attention of Kavya and her husband, who try to adopt him. The boy's destiny thereafter and that of his two mothers teeters between two worlds as Soli fights to get back to him. This emotionally wrenching story is said to be sweeping its readers away, so count me in.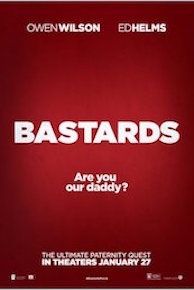 As for movies coming out January, I'm still trying to see the ones I listed in my last post in time for the Academy Awards. By the way, I enjoyed watching the Golden Globe Awards and was rather amazed to see that "La La Land" took home all seven of the awards for which it was nominated. Wow quite a stash — Hollywood seems to love movies about itself — but that doesn't necessarily mean it will win a lot of Oscars. I need to see "Moonlight" pronto though it's not playing anywhere around here.
Also I realize the movie adaptation of the bestselling book "A Dog's Purpose" is coming out this month, but I want to read the book first by W. Bruce Cameron. I'm #32 in line for it at the library, ha, sucker! But if it's a "bad" screwball comedy you need to get through winter and Inauguration Day, maybe check out "Bastards" with Owen Wilson and Ed Helms. A few laughs about now might do us all a bit of good, either that or a good cry and a flask of whiskey.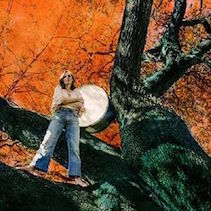 Finally, in new albums this month, there's not a lot I see. I'm listening to a country singer I heard on NPR named Natalie Hemby, who's debut album "Puxico" has just come out. Also one of my favorites Tift Merritt is due out with her new album "Stitch of the World." I'll be checking out these more in the days ahead.
What about you — which books, movies, or albums are you looking forward to this month?