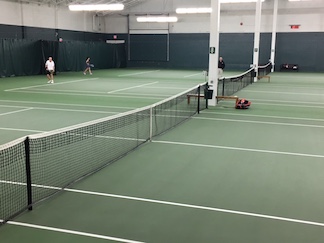 Oh thank goodness we survived the April tax season and are now into the more pleasant month of May. The tennis tournament I played in over the weekend was fun though I didn't win any top prizes. I battled in both singles and doubles and seem to have more work to do with my game over the summer. So I guess that's all right, if only my bad knees will cooperate. (Note to knees: stay healthy despite the twists, turns, and pounding on the court you will endure.) Meanwhile there's plenty of new releases to talk about this month, so let's get started.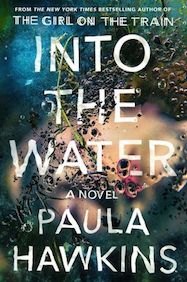 First off, who will be diving into Paula Hawkins's new novel "Into the Water"? Ugh it's received some pretty poor reviews from The Guardian as well as The New York Times, but will that stop us from reading an author whose prior book (need I mention the title) sold 20 million copies worldwide? Maybe. It doesn't bode well that "Into the Water" includes 11 narrative voices that the Guardian says are "almost impossible to tell apart" and end up being both "monotonous and confusing." Moreover Janet Maslin of the New York Times writes: Hawkins's "goal may be to build suspense, but all she achieves is confusion. "Into the Water" is jam-packed with minor characters and stories that go nowhere." Yikes. I think I'll take a rain check on this one, though I did enjoy her prior blockbuster book for the genre that it was.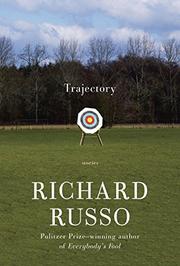 Instead I might try Richard Russo's new book called "Trajectory," which is a collection of four relatively long short stories. All of these stories, I've heard, are about aging people — college professors, a writer, and a real estate agent. Apparently it's a book filled with characters quite different than Russo's usual blue-collar, small-town Maine citizens, but I'll believe that when I read it.
I enjoyed his 2001 Pulitzer Prize-winning novel "Empire Falls" as well as the movie adaptation of his 1993 book "Nobody's Fool" with Paul Newman, which was great. He's a gem of a writer, and if you're a fan, I heard this latest one is a must-read. So I hope to dive into it soon.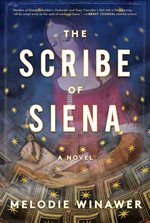 Another one I'm considering is Melodie Winawer's debut novel "The Scribe of Siena." Apparently it's one part historical mystery and one part love story that includes elements of time-travel that blends the modern day with 14th-century Siena. Some say it's reminiscent of Diana Gabaldon's "Outlander" and Tracy Chevalier's "The Girl with the Pearl Earring," if you liked those.
Usually I wouldn't say I'm a fan of time-travel narratives, but some of the high praise this one has received on Goodreads makes me want to snatch it up — as well as the fact that I visited Siena a few years ago and found its history quite fascinating. I wouldn't mind going back in time to check out life in medieval Siena.
I might also like to try J. Courtney Sullivan's novel "Saints for All Occasions" about two Irish-Catholic sisters who journey to America full of hope only to find that a subsequent secret drives them apart. Hmm. Maybe this one, involving Catholic guilt, silences, and secrets, will appeal to the folks who liked the novel and movie "Brooklyn," though I think this novel will differ a bit from that. I guess I want to know more about the secrecy going on.
I haven't read Sullivan before, so that makes me curious too. From what I've read about the novel on Goodreads, it might be just the right family saga for a beach read.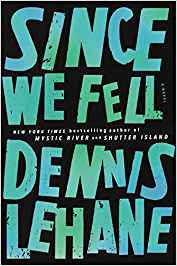 Lastly, I'll probably check out Dennis Lehane's latest novel "Since We Fell," which sounds like it gets crazy midway through and doesn't let up. Remember Lehane's novel "Shutter Island"? Well if you liked that kind of psychological, tense thriller, you'll probably like this one as well.
It's about a former journalist (his first female protagonist) who after an on-air mental breakdown, now barely leaves her house. Still she enjoys a good marriage until apparently a chance encounter "sucks her into a conspiracy thick with deception, violence, and possibly madness," which she must find the strength in herself to overcome. Yikes it sounds a bit like "Shutter Island" Part 2, but perhaps it'll be a fast-paced read while catching rays and drinking beer on the back deck. We'll see.
Meanwhile in movies for May, I know that fans of "Guardians of the Galaxy," who have been waiting patiently, will now be happy for the long-awaited Vol. 2. I'm sure "Guardians" will rule the month at the box office exponentially, yet it will have to compete with another "Pirates of the Caribbean" film at the end of the month. I have lost track of those, but apparently Johnny Depp, Geoffrey Rush, and Keira Knightley are still apart of the swashbuckling script.
There's also a new "Alien" prequel flick, this time called  "Alien Covenant," which looks scary as all heck. I did see "Prometheus" back in 2012 and this apparently is the sequel to that. I'm a bit of a Michael Fassbender freak and luckily he's returned for this one, though I'm not sure I'll see it — as it would probably make me jump out of my skin.
But I am game for the movie "The Dinner," which is adapted from the Herman Koch novel you might remember. Oh yes, how could one forget. It's a novel I thought was pretty effective and disturbing. In the movie, the two couples are played by Steve Coogan and Laura Linney, and Richard Gere and Rebecca Hall. Quite a good cast.
The movie has been hailed by some critics as a "provocative journey" and panned by others, with only a 48 percent approval rating on Rotten Tomatoes, Ouch. From what little I've read about it, the numerous flashbacks get in the way of the story's suspense, but I've been trying not to read too much about it because I still hope to see it. Call me crazy for that.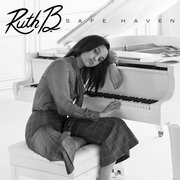 Lastly for May, there's new albums in pop music by Harry Styles, and Ruth B (she's from Alberta!); and in country music by the Zac Brown Band; and in singer-songwriter folky music by Justin Townes Earle — all of which sound pretty good. But I'll pick the album — "Safe Haven" — by the young Ruth B for my pick this month since she's a local to the province and her song "Lost Boy" is still pretty infectious.
What about you — which upcoming books, movies, and music are you looking forward to this month?