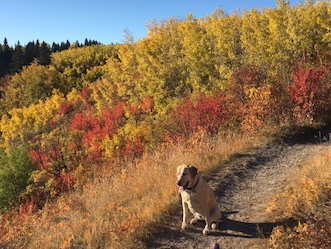 Ahhh it's October. I hope you are enjoying fall where you are. It's been nice here the past few weeks and I love the colors. But wait, what's this I hear … they're calling for 10 to 20 cm of snow today on Monday; are you kidding me?! Darn, the only happy camper will be our dog, Stella, who enjoys the cold. We'll see how much we get. Meanwhile there's only three reading months left of the year, so I'll try and bear down to get to some of the better novels of 2017. This month an array of new releases look to be enticing and I'll discuss those in the paragraphs that follow, but first I'll leave you with a couple of brief reviews of what I finished last week.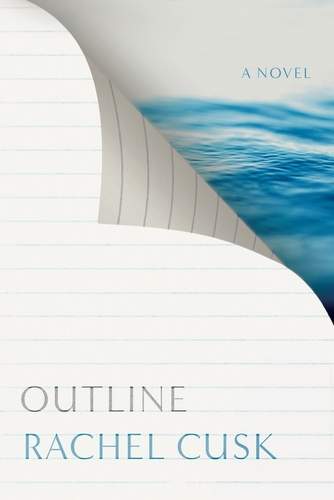 Rachel Cusk's 2014 novel "Outline," the first in a trilogy, is one of the more different novels I've read this year — the story follows a woman who travels to Athens to teach a summer writing workshop and details the conversations she has with various people and friends she meets there. Not much is divulged about the woman herself but those she's in contact with tell her much about their daily lives, such as their loves, losses, ambitions, perceptions and things that have happened to them. Quite a few of them have been divorced or have had relationships that have fallen apart.
They spill the beans to her, so the woman must be a sympathetic listener, though she isn't much of a talker. You get only glimpses of what she's about and her background. Over time from bits and pieces you gather: that she's from London, she's divorced, has two sons and is in debt. Only towards the end do you learn her name is Faye. It seems her divorce has been rough on her — like quite a few of those narratives she listens to — which are from students, or fellow writers or friends or the man she sits next to on the plane. All of the narratives put together feel sort of like a meditation on the relations between men and women.
It's not much of an action story, more of a thinking one, but I found Cusk's writing kept my attention. Her descriptions were restrained but often pitch perfect; they seemed to capture some of Faye's inner mood and the different kind of living she mentions trying to start. A few people have told me they didn't care for the novel and I can see where it wouldn't be for everyone — a story made out solely of conversations between various people and the main character — can get old, but for the most part I thought Cusk wrote it well enough to pull it off. She seems quite a smart cookie and though I'm not sure I understood everything she mentions in her short novel, I appreciated the command of her writing.
I eventually plan to get to her second book in this trilogy — "Transit" — which has recently been shortlisted for Canada's 2017 Giller Prize.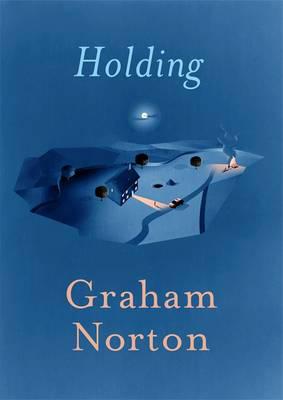 Next up, I finished the audiobook of Graham Norton's 2016 debut novel "Holding," which I'm pleased to say was a total delight. I went into the story blind and didn't realize until after that the author is a TV and radio presenter in the U.K. Do you know of him? His novel is about a small village in Ireland whose inhabitants' lives are disrupted when decades-old human remains are discovered on an old farm. The remains are suspected to be those of Tommy Burke, a former love of two different ladies in town. As police Sergeant PJ Collins tries to solve the case (the first real one of his career), a lot of resentments, secrets and regrets are stirred up in the community along the way.
It's an enjoyable small caper of a story — revealing the lives of half a dozen characters in the village. I got right into it and found the storytelling quite entertaining, especially with a bit of the spotlight on overweight Sergeant PJ Collins, who is quite a sympathetic hoot. You'll have to wait till the very end to find out about the case, but that's not really the story's main appeal. Instead it's the frumpy village and the characters stories. I thought it had a lot of charm and heart to it — as well as being funny and sad at times too.
The author reads the novel for the audio and performs all the parts very well — making it one of my favorite audios of the year. Who knew? I wouldn't be surprised if a second novel with police sergeant PJ Collins were to follow.
But now on to October releases and my, there's a slew of upcoming ones by an array of well-known authors, including Alice Hoffman, Isabel Allende, Mark Helprin, T.C. Boyle, Jeffrey Archer, Walter Isaacson, and even a memoir by Amy Tan. I'm zeroing in on a few others that I'd like to get my hooks into.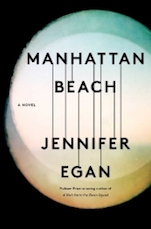 Most noticeably the marketing has been high for Jennifer Egan's new novel "Manhattan Beach." Gracious it's been all over the place. If for some reason you were on Mars and missed her Pulitzer-Prize-winning novel "A Visit From the Goon Squad," which I did, then there's time to get back onboard with this more traditional historical novel of hers. It's said to be set on the Brooklyn docks during WWII and follows an intrepid young woman into a world populated by gangsters, sailors, divers, bankers, and union men. Hmm, I'm game as I need to try Egan out. She seems to be the literary darling of most every critic.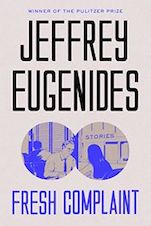 Also Jeffrey Eugenides has a collection of short stories out called "Fresh Complaint" that I probably will grab. Ever since he won the Pulitzer Prize for "Middlesex" and I read his novel "The Marriage Plot," I've been keen on his fiction.
The stories in this new book are said to be ones he's been steadily producing through the years; even his M.F.A. thesis is included within it. I may not be a frequent reader of short story collections, but if it's from Eugenides then I must venture forth for it. Still I must ask: when is his next novel coming out?!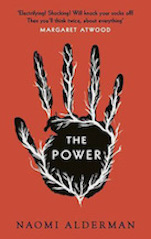 Next up, there's British author Naomi Alderman's dystopian novel "The Power," which won the 2017 Baileys Women's Prize for Fiction. A protege of Margaret Atwood's, Alderman's book was influenced by and dedicated to her. It's apparently about teenage girls who develop the ability to inflict pain through jolts from their fingers, thus enabling them to become the dominant gender and resetting the world's order. As the Guardian's reviewer says of the book: "What starts out as a fantasy of female empowerment deepens and darkens into an interrogation of power itself, its uses and abuses and what it does to the people who have it." Hmm, count me in.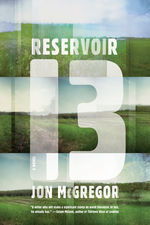 Lastly in books for October, I'm curious to check out Irish author Jon McGregor's novel "Reservoir 13" and perhaps C. Morgan Babst's debut novel "The Floating World" too. Apparently McGregor's latest is an atmospheric novel that begins as a mystery about a disappeared 13-year-old girl in an English village and morphs into something a bit different. Instead it chronicles the lives of the villagers over the years and the impact the girl's disappearance has on them. McGregor seems to be a rising star with three of his four novels being longlisted for the Booker Prize, so I'm game to try out this new one.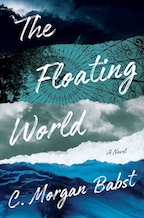 As for C. Morgan Babst's novel "The Floating World," which is also getting high praise, it's about a New Orleans family that is shattered and scattered by Hurricane Katrina and its aftermath. Said to be another essential Katrina story, it "explores family, race, class, and the essence of disruption," so says author Walter Isaacson, who calls it a powerful and lyrical novel. I still haven't read Jesmyn Ward's novel about Katrina "Salvage the Bones" — but this one sounds like I need to add it to the pile as well.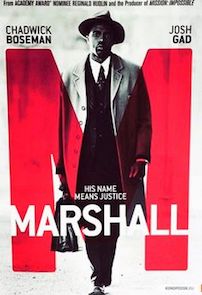 In movie releases for October, there's a lot coming out. For those "Blade Runner" fans the sequel "Blade Runner 2049" looks to be very favorable with critics scoring 85 on Metacritic and 96 on Rotten Tomatoes. Still even though I like Ryan Gosling and all that, I'm not really keen to see it. Don't ask me why — the trailer just didn't appeal to me.
But I am a bit interested to see the movie about the early law days of Thurgood Marshall, the first black Supreme Court justice who served 24 years on the high court. It's called "Marshall" and stars Chadwick Boseman — who played Jackie Robinson in the movie "42" — as Thurgood. Apparently it's about a lawsuit he worked on before his landmark case Brown v. Board of Education. I wonder why they didn't choose that case for the movie?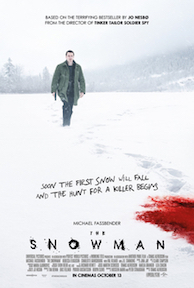 I'm also a bit curious about the murder mystery, crime thriller "The Snowman" based on the book by Norwegian author Jo Nesbo. The movie stars Michael Fassbender as Detective Harry Hole who investigates the disappearance of a woman whose pink scarf is found wrapped around an ominous-looking snowman. I haven't read the book, but I rarely skip a major Fassbender film (with the exception of the "X-Men" stuff). He's usually divine.
Neither of the movies "Marshall" or "The Snowman" has received any reviews yet, so I'm winging it on my picks. I couldn't seem to select the Idris Elba/Kate Winslet plane-crash flick "The Mountain Between Us" because the content of its trailer seems to strain credulity left, right and center, but perhaps the movie could make a decent rental if you want to be stuck with them, lost on a mountaintop.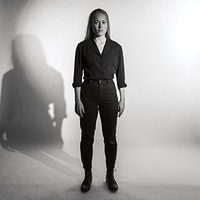 Finally in albums releases for October, there's new ones by Liam Gallagher, Beck, and Robert Plant among others — all worth listening to. Though since I'm a fan of folk music, I'll pick The Weather Station's new album, which is conveniently titled "The Weather Station," and is a Canadian band fronted by Toronto songwriter Tamara Lindeman. She's quite good.
That's it for me. What about you — which October books, movies, or music are looking forward to?