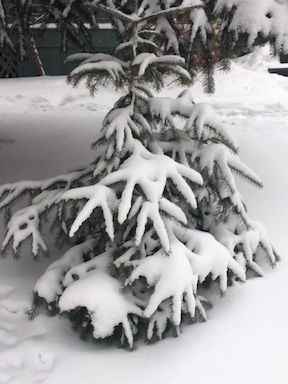 We got hit with snow this past week and today the temps are hovering around 8F/-13C (yikes) — see my little pine tree out in the front yard. It stands next to a very tall parent tree, but I've always liked this little one best. It's grown quite a bit since we moved here. It's my Charlie Brown Christmas tree. I'll put some red balls on it and maybe some lights when we get closer to that time of year, but wait, I'm jumping a bit ahead of myself. What about November? Will you be traveling for the U.S. Thanksgiving? We will be staying here and traveling instead at Christmas, but maybe we'll make a turkey dinner.
The year is winding down quickly now and I'm trying to read some of the acclaimed books  from 2017 that I might have missed. There's not a whole lot of notable fiction releases out this month, or albums for that matter, but movies are ramping up. In books, there's new ones by John Banville, Janet Fitch, Andy Weir, and Louise Erdrich among others. Erdrich is sure putting out books quickly these days. It seems like it was just the other day that her novels "The Round House" and  "LaRose" came out, and now this one the "Future Home of the Living God" is already upon us.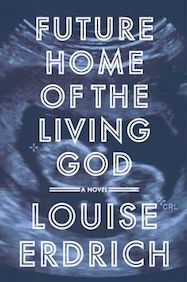 I must say I'm quite curious to read it. If Erdrich has turned to writing dystopian/speculative fiction in this troubled day and age, then I figure I need to get to it.
A bit like Atwood's "Handmaid's Tale," Erdrich's story takes place in the U.S. in a dystopian future ruled by a religious government in which pregnant women are being rounded up and reproductive rights taken away.
But in this one, evolution is now moving backwards, affecting every living creature on earth, yikes. The protagonist is a pregnant Native American woman on a reservation in Minnesota who tells much of the story in a letter to her unborn child. I think it'll be filled with some interesting observations and ideas, so count me in for this.
Also I might not be able to resist Andy Weir's second space novel "Artemis," after liking his debut book "The Martian." This one is set on the moon several decades into the future and has a female protagonist named Jazz. She's grown up in the moon's only city Artemis and hopes to strike it rich doing a shady job for a wealthy businessman, but — as you might expect — it doesn't go quite as planned.
I'll have to read it to find out more, though perhaps I should test it out on my husband first. Readers don't seem to be loving it as much as they did "The Martian," but it does have some of the same kind of humor in it I've been told.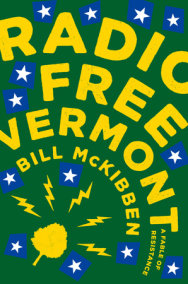 Next up, I'm also curious about eco-activist Bill McKibben's debut novel "Radio Free Vermont: A Fable of Resistance." With a title like that and a premise about a hippy protagonist who is broadcasting from an undisclosed location advocating that his state Vermont secede from the U.S. — it's a bit attention-grabbing. I sort of thought Gov. Jerry Brown wishes California were totally autonomous by now, but I hadn't thought much about Vermont in that way though there is the Bern factor.
McKibben's story sounds like a rollicking tale of eco and political activism much in the vein of Edward Abbey's 1975 novel "The Monkey Wrench Gang." I like the idea of a "Fable of Resistance," my only worry would be if it gets too didactic. But Kirkus Review says it's a "timely yarn that, though a little obvious and a little clunky, makes for a provocative entertainment."
Lastly in books, for those who like California noir, there's Ivy Pochoda's new novel "Wonder Valley." Apparently a traffic jam is the springboard for this story about the gritty lives of Southern California drifters who are entwined first by circumstance, then by love and revenge, according to Kirkus Reviews.
I'm not too sure what to think about picking up this multi-character novel, similar maybe to the film "Crash," but I want to try out the author, whose last novel "Visitation Street" received some high praise. She seems to be one to watch.
As for movies, November is a big month. I always fall first for the historical dramas such as "Darkest Hour," which is coming out around U.S. Thanksgiving and stars Gary Oldman as Winston Churchill — oh yeah.
It's set during the early days of WWII when the British PM must decide whether to negotiate with Hitler or fight on despite considerable odds. It's received 70+% favorable ratings on Metacritic and Rotten Tomatoes, quite a bit better than Rob Reiner's movie about "LBJ" with Woody Harrelson as President Johnson, which isn't getting too much love surprisingly. It's cool though that Jennifer Jason Leigh stars in it as Lady Bird Johnson — so I'll probably end up seeing it as well.
For those who liked the popular 2012 children's novel "Wonder" about a 10-year-old boy who has a rare medical facial deformity, the movie adaptation comes out this month with Julia Roberts and Owen Wilson starring as the parents. The story reminds me a bit of the films  "The Elephant Man" from 1980 and the movie "Mask" from 1985. Oh I still will watch "Mask"  if I see it while changing channels: Eric Stoltz and Cher put in some pretty good performances. But I will wait on "Wonder" for now. It might have a bit too much goo in it for me.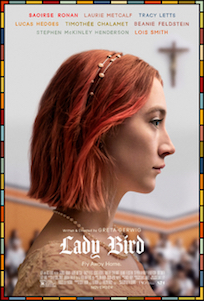 Meanwhile the movies "Lady Bird" and "Three Billboards Outside Ebbing, Missouri" seem to be getting the most critical hype this month. "Lady Bird" is not about President Johnson's wife, but is a comedy-drama about a high school girl — who gives herself the nickname Lady Bird — and her parents who move to Northern California for a year.
I must say the trailer looks pretty funny with Saoirse Ronan as the girl, who comes off smart-alecky and quirky. I have liked Saoirse's performances in "Atonement" and "Hanna," and  indie actress Greta Gerwig — whose roles are always a bit humorous and quirky — writes and directs the movie. So because of these two, count me in.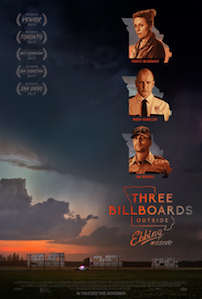 As for "Three Billboards Outside Ebbing, Missouri," it looks to have a more serious storyline but apparently it's a dark comedy about a mother who challenges the local police to solve her daughter's murder after they fail to catch the culprit.
I didn't have much reaction to the movie's trailer, but it's getting strong reviews and stars Frances McDormand as the mother. I loved her in "Fargo," but will this be anywhere near as good? Some of the same dark humor looks to be in this one too — along with having a strong female protagonist. So we'll see.
As for November albums, if you're a fan of pop music, or your kids are, you're in luck because Taylor Swift has "Reputation" coming out. Remember the days when she put out country music? No more. Just pure pop pop. Even Maroon 5 seems overtly dance pop-py these days with the band's new album "Red Pill Blues" coming out.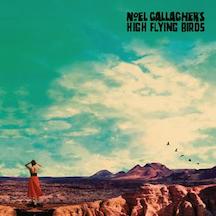 For me, I usually need a little more rock (or folk) to my tunes so I'll pick Noel Gallagher's High Flying Birds and their album "Who Built the Moon?" for my choice this month. Enjoy your November.
What about you — which books, movies, or music coming out this month — are you most anticipating?