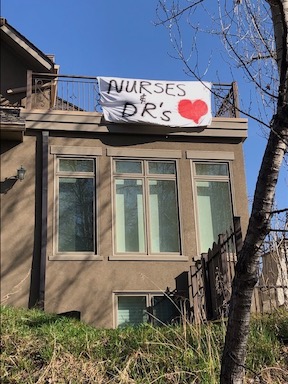 I hope everybody is hanging in there. The number of daily virus cases here has dropped quite a bit, which it seems is due to the two months of lockdown and distancing and hand-washing procedures. But now things are about to open up gradually in stages, so we will see if we can keep the cases from spiking too much.
Tennis friends are asking to hit again as the City has given the green light to outdoor singles play albeit with new guidelines. So I will try tennis today, which will feel strange after life in lockdown. Meanwhile at left is a sign I saw while on my morning dog walk recently. I agree with the sentiments: Thanks to our frontline workers of nurses, doctors and staff, who have saved lives fighting this terrible disease … many of whom have lost their own lives in the process. So tragic. Our hearts go out to them.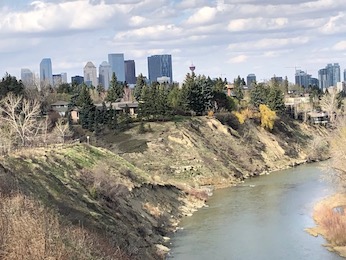 As for book news, I see that the annual BookExpo, which was scheduled to be held at New York City's Javits Center, will instead be made virtual this year and free to the public from May 26-29, so stay tuned to the Expo's Facebook page for more upcoming information.
I have only gone to one BookExpo, which was in Chicago in 2016, but it was a lot of fun and quite informative. For those who don't know: BookExpo is the publishing industry's biggest trade event where those who are connected to the biz come together to find out about upcoming titles, authors, new technology, and trends. It's one big book industry / marketing /sales and blogger fest. 
It reminds me there's so many events going on virtually these days. You can find live concerts, lectures, classes, gym training, book talks and other online streaming things on top of all the podcasts you were already trying to hear each week. It's a smorgasbord out there. Your favorite bookstore is likely streaming a live event even as we speak. I've checked out a few virtual book talks via D.C.'s Politics & Prose bookstore and Denver's Tattered Cover bookstore. It's neat when you can watch them streaming live, though you can also catch them after they've passed too. Have you checked out any? And now I'll leave you with a couple of reviews of books that I finished lately.
Writers & Lovers by Lily King / 320 pages / Grove Press / 2020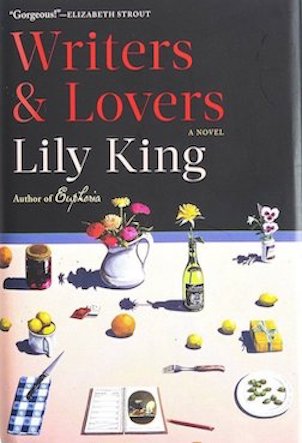 Why I Picked It Up: I liked the author's last book in 2014 — "Euphoria" — which was historical fiction and based on the life of anthropologist Margaret Mead.
Synopsis: The novel's protagonist is named Casey, age 31, who waits tables at a restaurant in Harvard Square where she bikes to from across the river … and who works hard despite various stresses in her life to finish her debut novel, which has taken six years of her life. She struggles financially (under college and grad school debt) and is still grieving the loss unexpectedly of her mother. She also has health concerns, is writing daily early in the mornings, working double shifts late into the night, and needs to decide between two guys she's seeing on the sly.
My Thoughts: Ohh to be young … without much cash and on the go …. in the setting of Boston and the Charles River. I always seem to fall for coming-of-age tales and this one is endearing enough to root for Casey, who's having a few crises all at once. Are these the best kinds of stories or what? It reminded me slightly of Laura Zigman's new novel "Separation Anxiety" — since I read it recently — which is also about a writer on the brink of chaos and breakdown. I was glad for the ending of both novels … they aren't all downward spiral … which I was so thankful for. I can't be worrying about Casey forever, but I liked and was glad to spend time with her.
There's quite a bit in the story about Casey waiting tables, which reminded me a bit of Stephanie Danler's novel "Sweetbitter" since I finished that one recently. These are two restaurant, coming-of-age writer stories I read in the same month. I better bus my own tables after this. Also it was my second read by Lily King … whose novel "Euphoria" is quite different than this. "Writers & Lovers" is lighter and has some amusement to it. It isn't as serious in tone as "Euphoria," though it still has conflict and anxiety to wade through.
Last Night in Montreal by Emily St. John Mandel / Unbridled Books / 256 pages / 2009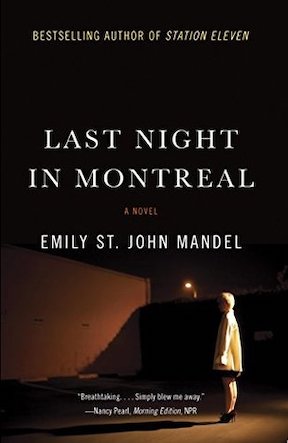 Why I picked it up: Because it's the debut novel of Emily St. John Mandel, the author extraordinaire of the 2014 novel "Station Eleven." She's also originally a Canadian and I need to read more from Canadian authors since I live here now. This novel reminded me slightly of author Heather O'Neill since her novels are often set in her hometown of Montreal.
Synopsis: The story centers around a child abduction case … Lilia, age 7, is taken by her father away from her mother and out of the country. She is raised as a fugitive on the go from town to town, trying to elude a private detective named Christopher that her mother has hired.
She has made a life for herself on the road with her father … and later even in her 20s, Lilia, who is talented at languages, is still traveling about, leaving relationships in her wake — her last being Eli in Brooklyn — a graduate student unable to finish his dissertation (about dead languages) and working at a boring security job at an art gallery. Eli's bereft that Lilia has left and so when he's contacted months later by the detective's daughter Michaela informing him that Lilia's in Montreal, Eli leaves to try and find her with the help of Michaela. Along the way, they piece together information concerning Lilia's abduction.
My Thoughts: This slim debut novel had some of the same trademarks as Mandel's National Book Award finalist "Station Eleven" from flashbacks in time, to themes of art and languages, and traveling, circuses, and Shakespeare quotes. Mandel seems to like to make her novels like jigsaw puzzles that circle around and back in time and reveal mysteries about a tragic event … after various stops and starts.
All of the characters in this are impacted by the unique fugitive Lilia … and Michaela's life sort of parallels Lilia's … with her detective father away on the road and her mother absent. So it held my interest on how it unfolds … with Eli chasing leads via Michaela around Montreal on Lilia's whereabouts.
It's not as compelling or creative as "Station Eleven" is …. but yet it's a debut novel that shows some of the spark and talent about where such a novel came from. It's a building block with similarities in which you get a feel for the characters, the abduction, and its aftermath. I'm still wondering about the ending, which surprised me a bit and left me on a ledge.
That's all for now. What about you — have you read either of these and if so, what did you think? And how is your area's opening going? Stay well my friends.