I hope everyone is enjoying their summer … as much as one can during these strange Covid times. Perhaps while sheltering in place you are reading more? Or is it less? I seem steady but not overly quick these days. And the past couple of weeks I've kept busy with nonfiction books, which is a bit unusual since I usually prefer fiction. Go figure. Of nonfiction, I mostly like the genres of: memoirs/biographies, histories, and natural histories … which by chance are the three I picked up recently. Which nonfiction do you prefer? I know there are a lot of cooking gurus out there, but unfortunately I am not one of them. I enjoy gardening and sports though seldom read books about them … unless they're in a good novel, right?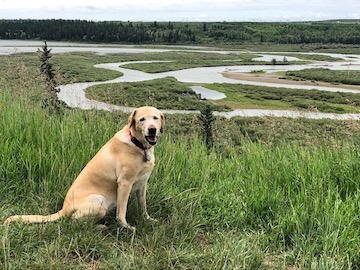 Meanwhile last week was my book assistant's birthday; Stella turned 8 on July 3, which in dog years is getting up there (like me). She's been having a good summer with twice daily walks and swims in the river on warm days. In general she's a spoiled girl with food and attention. She overlooks what I read but is usually put to sleep by most books I pick up. I try not to take it too personally. Meanwhile I hope everyone had a pleasant holiday last week. Did you see fireworks or have a barbecue? It seemed pretty subdued here though tennis games and bike riding were in full swing. And now I'll leave you with a few reviews of books I finished lately.
A Bookshop in Berlin: The Rediscovered Memoir of One Woman's Harrowing Escape From the Nazis by Francoise Frenkel / Simon & Schuster/ 287 pages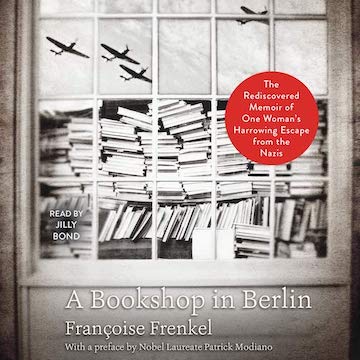 I listened to this woman's short memoir as an audiobook twice and thought her story was amazing. I love that her book was rediscovered in 2010 apparently at a charity sale … after it had been forgotten about since its original publication in 1945 under the title "No Place to Lay One's Head." It was just published in English last year.
Born in Poland, Jewish, and educated in Paris, Francoise Frenkel's true desire was to become a bookseller and own a bookshop, which she did when she opened a French bookstore in Berlin in 1921. As a lover of French literature, she managed her bookshop with all her gusto and joy, making it soon a beacon to various poets, writers, scholars and ambassadors of the day. But with the decade's passing, life for Jews and international immigrants grew dim in the mid-1930s with the rise of the Nazis … and in 1939 after the brutalness of Kristallnacht, she finally abandoned her Berlin bookshop and fled to Paris and later to the south of France, first to Avignon and then to Nice.
Told in first person narration, the memoir is a compelling eyewitness account of her life in Berlin during those years and later in Occupied France, where at first she finds things endurable but later after the 1942 census and the roundups started, things turned to hell. She recounts the arrests she witnessed, the deportations to concentration camps, the suicides … and her own efforts to survive, slipping from safe house to safe house, hiding out and trying to get viable documents to first stay in France as a Polish refugee … then to try to flee on a visa to neutral Switzerland.
The French police and militia, like the Nazis, in her account are barbarous and brutal, though she also spotlights the courage and kindness of the French people who helped hide her along the way. How she evades being caught and deported to the camps is at times miraculous and a white-knuckle experience. Eventually all the hardships she endures (all the while worrying about her family in Poland) and her ingenuity pay off as she's able to make a few attempts to get away, which is such a relief by the time it finally comes that it sort of made me feel like balling.
I found her memoir to be an important historical document and account of what happened from 1939 to 1943 (first in Berlin then in southern France) and it increased my understanding of those brutal days during WWII. I know there are many worthy Holocaust and Occupied France memoirs out there, but I was glad a blog pointed me to this one as not to miss … it's by a bookseller no less with a particular vantage point — as a Polish refugee, a one-time Berlin bookstore owner, and a patriot of France.
PS. It's interesting to note: that nowhere in this memoir does she mention her husband who apparently started the bookstore with her in Berlin but then fled to France in 1933 (years before her) and eventually perished at Auschwitz in 1942. Hmm, perhaps it was due to a falling out or because of some other mystery.
She Came to Slay: The Life and Times of Harriet Tubman by Erica Armstrong Dunbar / 37 Ink (part of Atria Books) / 176 pages / 2019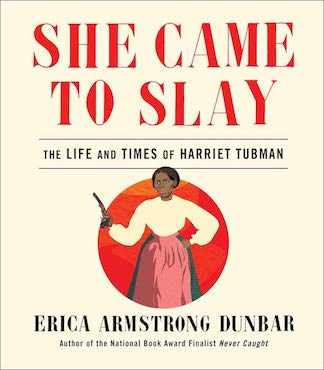 Next I listened twice to this lively biography of another amazing woman as an audiobook narrated by actress Robin Miles and wow I learned so much. From school history I knew Tubman escaped slavery in Maryland and then returned to lead other enslaved members of her family and friends to freedom along the secret Underground Railroad (of abolitionist shelters) to the North … but other particular details of her life and accomplishments were a bit hazy to me.
That's where this book and author (a history professor at Rutgers) really brought Tubman (born Araminta "Minty" Ross around 1822) to life in an accessible and three-dimensional way. Afterwards I rented the 2019 film version "Harriet" but didn't like it nearly much as this book, which gave a more accurate and fuller historical picture of Tubman's life story, which involved her doing much more than I ever remembered.
Tubman's daring trials are all played out here — her brutal life in slavery, her dramatic 1849 escape and journey of 90+ miles to reach freedom, and her many return trips in the 1850s to lead and help approximately 70 family members and friends escape to the North. I didn't realize she was a petite 5-foot-tall woman who possessed a lot of strength … but also endured a serious head injury (a fractured skull) early in her life from a heavy object that was thrown and hit her that put her into a sleep at times. She believed these episodes gave her visions that she interpreted as revelations from God.
It was also interesting to know about her meeting with abolitionist John Brown and that she helped him recruit supporters for his 1859 anti-slavery raid on Harpers Ferry, as well as her role in the Civil War as a nurse and scout for the Union Army, who in 1863 guided an armed mission on a raid along the Combahee River in South Carolina, which liberated more than 700 slaves. Tubman also knew the great orator Frederick Douglass and other notables of the day and gave lectures to abolitionist audiences and later supported the suffragette movement. In 1859 she bought property in Auburn, New York, from U.S. Sen. William Seward, and went on to earn wages and a military pension that were — with a lot of effort — finally awarded to her late in her life for her efforts in the War. She married twice (being 22 years older than husband #2), and had many relatives, but only one adopted daughter.
Though much has been written about this iconic figure before, I thought this short but enticing book gives many fascinating details in a fresh way that kept me captivated throughout her life. Perhaps I hadn't realized that: (a) so much was truly known about her, and (b) Tubman was involved with many things beyond the Underground Railroad.
She had come out of a world of slavery and the oral tradition and some particulars of her life and the routes she took and people along the Railroad were kept secret or are unknown. Still she became widely known and respected during her lifetime, fighting for notable causes and assisting others for most of her 91 years until her passing in 1913. She wasn't one to give up or back down, and despite all the slaveholders trying to catch her during her years guiding slaves to escape on the Underground Railroad, she says: "I never ran my train off the track and I never lost a passenger."
The Hidden Life of Owls: The Science and Spirit of Nature's Most Elusive Birds by Leigh Calvez / Sasquatch Books / 224 pages / 2016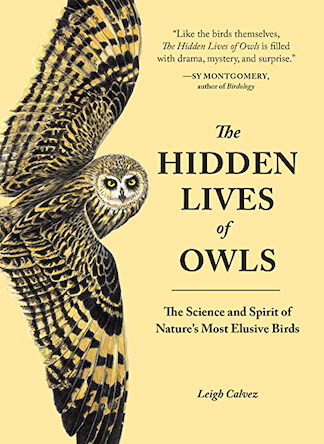 Finally, I've gotten into owls lately. They're just the coolest birds that can, among other things, turn their heads 270 degrees and they have a knack for nearly silent flight. I came across this book that turned out to be a good intro into learning about them through 11 different owl species the author goes out to watch and learn about mostly in the Pacific Northwest but also in Montana and Alaska. Some of what is described and discussed is: where owls live and nest, where they migrate to, what they eat, how they raise their young, how males and female duties differ, what terrain they like, when they're active (mostly at night) and what survival challenges they face.
As an owl novice I didn't know, for instance, that owls eat their prey head first (many times whole), and the indigestible parts of their prey become pellets that are regurgitated about 6 to 8 hours later. Most female owls are bigger than males, and they don't build their own nests but use other birds' nests or cavities they find. The females alone sit on the eggs in the nest for many weeks at a time, while the male brings her food. And most owls hatch their eggs asynchronously, making the chicks different ages within the nest. I was amazed too how far ranging owls migrate during different seasons from various places including: Russia, Mexico, the American West, and Canada. At times they can arrive in places never expected … like when Snowy Owls were seen in the parking garage at Dulles Airport … perhaps just taking a rest break before heading on their way.
I have a new appreciation for owls after reading this and hope to go on some hikes to see some around here. So far since they are quite elusive, I've only seen the Great Horned Owl but there are many other kinds around the area to look for. The book also introduces various owl experts and conservationists in the field who are working to band the birds to research them to see where they go and measure and weigh them in an effort to study and try to help them.
It was interesting to see the techniques used for trapping the birds to put a band on their leg, which included: nets and playing recorded owl calls; and trapping others in their burrows with recorded calls; or feeding them mice. The scientists seem to know quite a bit about their behavior by spending years tracking data about them. All in all the book was a helpful primer for me, though it doesn't include photos of the various species just an illustration at the beginning of each chapter. It's also not too strong on narrative other than the author's quest to learn about various owls, though the book is filled with a good sense of wonder and appreciation for these magnetic birds.
That's all for now. What about you — have you read books on any of these subjects? Stay well.